Fewer immigrants are being caught crossing U.S.-Mexico border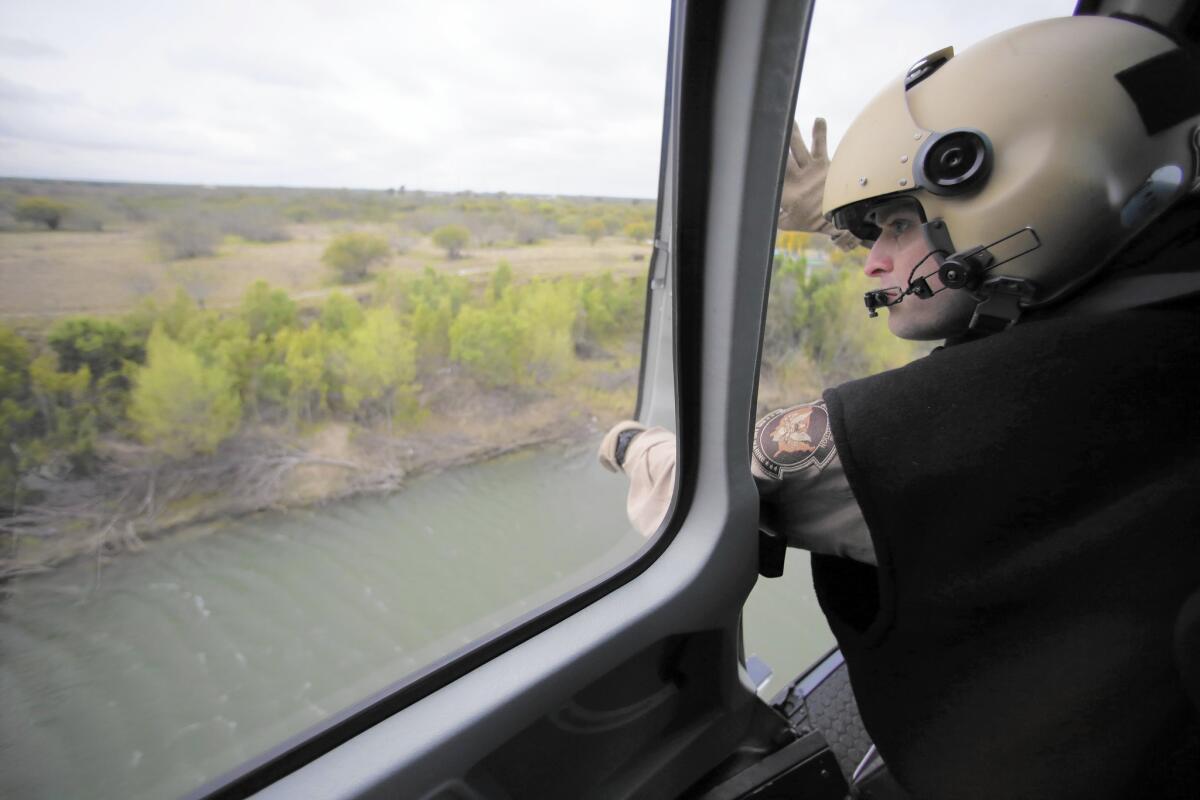 Reporting from WASHINGTON —
The number of immigrants caught crossing the Southwest border continues to fall sharply, Obama administration officials said Friday, a decline due in large part to the end of the surge in people coming from Central America.
Border agents caught about 152,000 people crossing during the last six months, 28% less than the same period a year earlier.
Homeland Security Secretary Jeh Johnson said the administration and governments in Central America were successfully countering the false message that people who made it across would get to stay in the U.S.
The numbers of unaccompanied children caught at the border, 15,627, is down 45% from the same time a year earlier. The totals have fallen dramatically since their peak last June, when a flood of children and families fleeing crime and poverty in Central America provoked a border crisis.
Johnson said he believed the decline in detentions was a good indicator that fewer people were trying to cross illegally. He said the massive investment in increased border security over the last decade — with drones, sensors, more than 600 miles of new fences and a doubling of the size of the Border Patrol — was showing results.
"The word's gotten out that it's now harder than it used to be to cross our southern border," Johnson said, adding that people were now more reluctant to pay hefty fees to a "coyote," or smuggler, to take their relatives north. "People risk a failed investment."
Johnson said he had asked for funding for even more high-tech measures. "Surveillance technology is the wave of the future," he said.
The announcement was intended as a bit of good news at a tough time for the Obama administration's immigration initiatives.
Last year, President Obama took executive action to sidestep Congress and provide temporary legal protection to millions of people living in the U.S. illegally. But the program remains bottled up in federal courts, while judges consider a constitutional challenge filed by Republican-led states.
"We'll take a close look at what the next court decision is and move from there," Johnson said. "We are still very determined to do what we can within our existing legal authority to fix the immigration system."
Under Obama, the department has pulled back on its enforcement machinery, saying it no longer puts a high priority on removing people who have lived in the U.S. for years and don't have a significant criminal history.
Meanwhile, Johnson and other Homeland Security officials have been touring the country, trying to persuade mayors and police chiefs to once again cooperate with the U.S. Citizenship and Immigration Service agents who want to capture immigrants who are in the country illegally and have been arrested on charges of violent crimes.
Dozens of cities and counties passed laws barring police from cooperating with the so-called detainer requests.
"We want to get at the criminals," Johnson said.
Twitter: @JTanfani
Sign up for Essential California for news, features and recommendations from the L.A. Times and beyond in your inbox six days a week.
You may occasionally receive promotional content from the Los Angeles Times.