10 Images
In Focus: Staff photos from December 30 - January 5
For 56 years, members of the Polar Bear Club have made an annual ritual of dipping into chilly ocean waters. This New Year's Day was no different, as club members skittered into the sea at Cabrillo Beach in San Pedro. It wasn't a race, and participants didn't even have to swim; all they had to do was get soaked.
(Annie Wells / Los Angeles Times)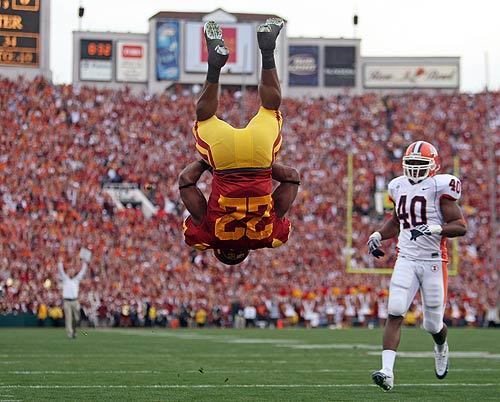 Desmond Reed's touchdown somersault into the end zone pretty much summed up USC's 49-17 victory over Illinois in the Rose Bowl: It was a laugher, at least for the Trojans. Reed's touchdown gave the Trojans a 14-0 lead in the first quarter, although his stunt also earned them a penalty for excessive celebration -- one of three times they were called for unsportsmanlike conduct after touchdowns. Of Reed's flip into the end zone, Coach Pete Carroll said: "I couldn't have been more upset when it happened, but now that it's in the history books it's something he'll be remembered for."
(Wally Skalij / Los Angeles Times)
USC tight end Fred Davis waves a sword to the crowd after the Trojans' victory over Illinois.
(Robert Gauthier / Los Angeles Times)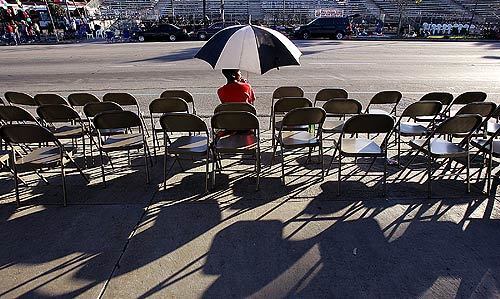 The day before the Rose Parade, Nigel Walk, 12, of San Bernardino staked out a prime viewing spot on Colorado Boulevard.
(Luis Sinco / Los Angeles Times)
Nuestros Angeles de El Salvador, a marching band from El Salvador, had one of the toughest treks of any of the participants in the Tournament of Roses festivities. Their funding for plane tickets fell through a few weeks before the big event, so band members headed north by bus on Christmas Day. They got to Pasadena five days later, rolling into town Sunday only hours before their slot at Bandfest, the annual showcase of Rose Parade bands held at Pasadena City College.
(Genaro Molina / Los Angeles Times)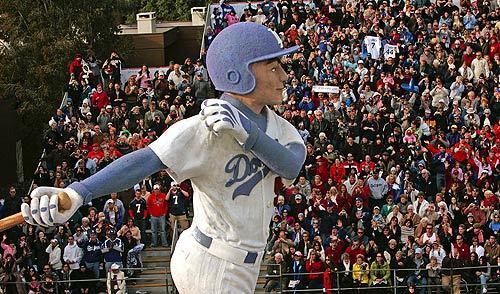 The Dodgers' first entry in the Rose Parade featured a giant batter. No, not a San Francisco Giants' batter -- a 35-foot-tall man in blue taking a swing for the heavenly fences.
(Anne Cusack / Los Angeles Times)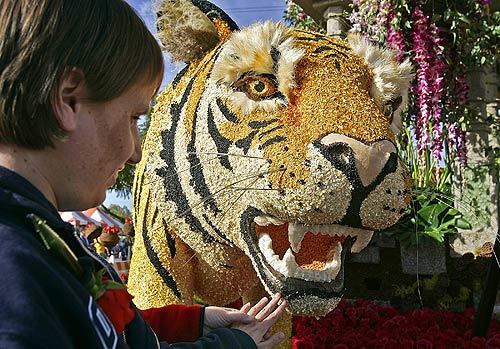 Sue Frey, who is blind, feels the texture of flowers and other materials used to create a tiger on Rain Bird International's "Preservation Celebration" float, which won the Sweepstakes Trophy for most beautiful entry with outstanding floral presentation and design. "It's all 3D," Frey said. "I can feel all the letters, the textures and the flowers."
(Allen J. Schaben / Los Angeles Times)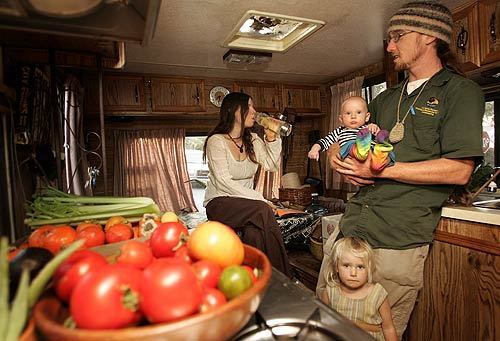 Harley Hill, 27, holds his son Theo in the RV he shares with his wife, Megan Connelly, 23, left, and daughter Anabelle Sophia. All are beneficiaries of the city-sanctioned Safe Parking program, which allows people to live -- sometimes for years -- in cars or RVs in about a dozen parking lots that belong to the city, the county, churches, nonprofits and a few businesses in industrial areas.
(Stephen Osman / Los Angeles Times)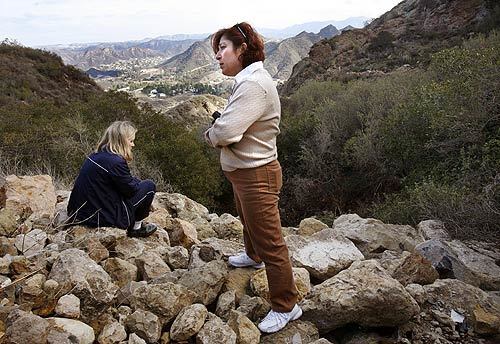 College student Donna Jou has been missing since June, and over the weekend about 100 people went to the Santa Monica mountains near Malibu to hunt for some sign of her. Among the searchers were Donna's mother, Nili Jou, right, and Celeste Jacobsen, a friend of the family. So far, there's no word that they found anything that might be connected to Jou's disappearance.
(Michael Robinson Chavez / Los Angeles Times)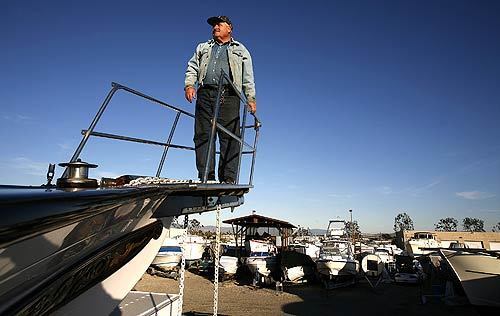 Karl Markvart stands on the bow of a friend's boat at Boatyard Storage in Costa Mesa, where Markvart is building his dream. Markvart, 69, is building a 32-foot sailboat inspired by a drawing he saw in a book as a boy in Prague.
(Mark Boster / Los Angeles Times)