12 Images
Last-Minute Preparations
Sign
A sign welcoming attendees to next week's Democratic National Convention is seen through barbed wire at the Fleet Center in Boston. The barbed wire and a mesh fence comprise what is being called a "free speech zone," where protests will be allowed to take place during the convention.
(AP)
Final touches
Construction crews and technicians continue to put the final touches on the Democratic National Convention floor in Boston.
(AP)
Podium seal
Construction workers prepare to hang a seal on the center podium.
(AP)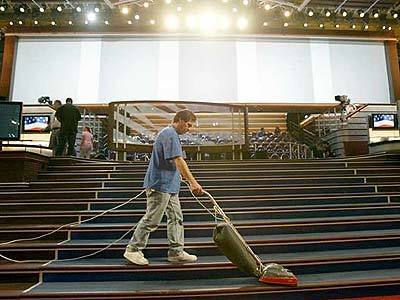 Cleaning
The steps in front of the center podium are cleaned.
(AP)
Podium
Construction crews and technicians walk behind a piece of the podium waiting to be put into place.
(AP)
Map
Mark Abraham of the U.S. Senate Press Photographers' Gallery studies the layout of the convention floor.
(AP)
Seating
A sign marks the New York delegation's seats at the Fleet Center in Boston.
(AP)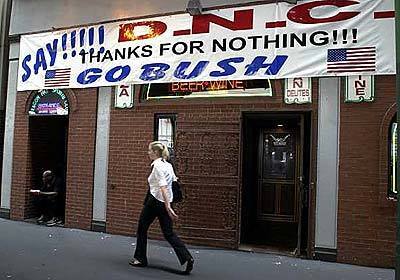 Protest
A woman passes a sign critical of the Democratic National Convention at a restaurant across from the Fleet Center. The owner of the pizza parlor has complained of having to close his business during next week's convention.
(Darren McCollester / Getty Images)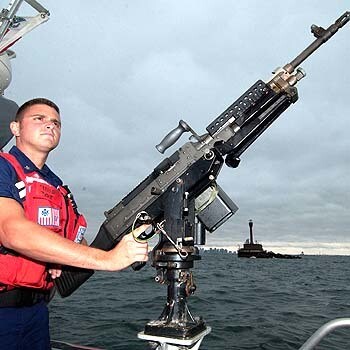 Securing the convention
Coast Guard Petty Officer Third Class Albert Herrington patrols the Boston Harbor in preparation for the Democratic National Convention.
(Getty Images)
Technical preparations
Verizon employee Tom McNamara runs fiber-optic cable inside the Fleet Center.
(Rick Loomis / LAT)
Setting up shop
Ross Weingarten, 18, of Washington, D.C., works as a runner for NBC inside the Fleet Center.
(Rick Loomis / LAT)
Bunker Hill Bridge
The Zakim Bunker Hill Bridge is framed by the old I-93 bridge over the Charles River. The new bridge, which carries tens of thousands of vehicles past the Fleet Center and into downtown Boston, will be closed evenings during the convention as a security precaution. The closure is expected to cause significant traffic problems in the city.
(Don Bartletti / LAT)