As White House prepares to reimpose sanctions on Iran, Pompeo calls country's leaders 'bad actors'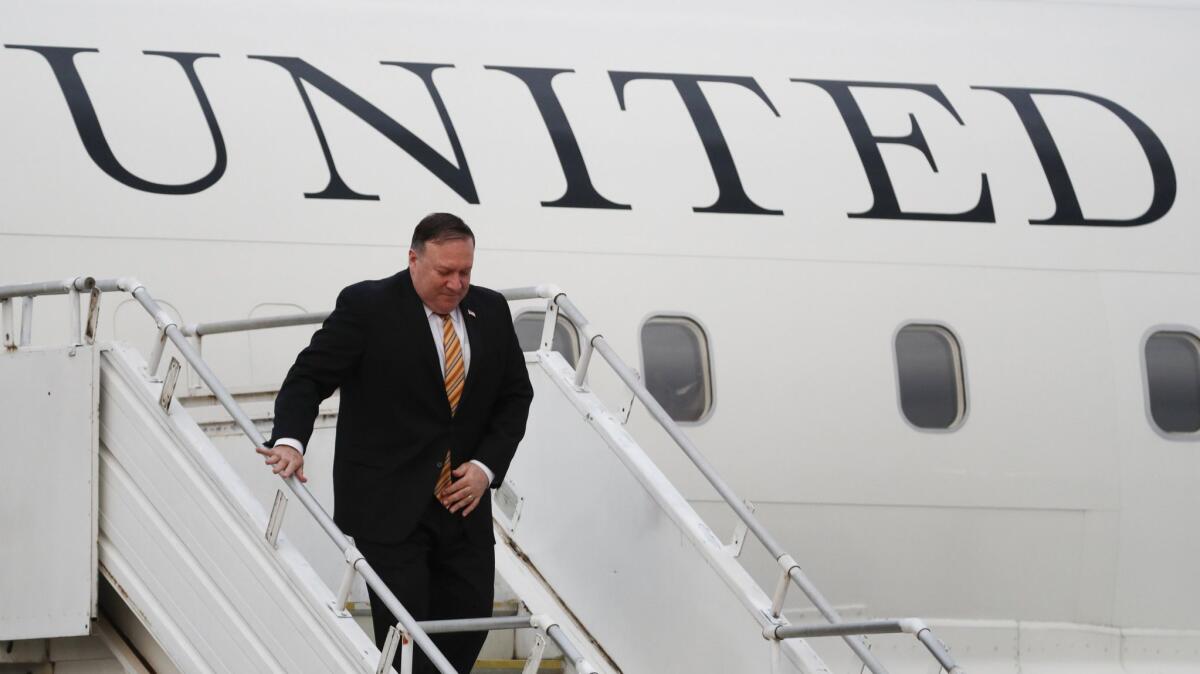 The White House on Monday is scheduled to announce the reimposition of tough economic sanctions on Iran, the first batch of sanctions to be revived since President Trump broke with the landmark Iran nuclear deal.
Trump has said the pact did not go far enough in curtailing Tehran's support for militant groups and other actions.
"The president is trying to find a way to move forward, but it's going to require enormous change on the part of the Iranian regime," Secretary of State Michael R. Pompeo said Sunday. "They've got to behave like a normal country. That's the ask. It's pretty simple. We think that most other countries, everyone with whom I spoke, understands that they [the Iranians] need to behave normally, and they understand that this is a country that threatens them."
The sanctions, which will target Iran's central bank and make it difficult for the country to conduct international business, including the exportation of oil and minerals, were lifted when Tehran signed the international nuclear deal in 2015 and agreed to dismantle most of its nuclear production facilities.
But Trump and hawks in his administration, such as Pompeo and national security advisor John Bolton, were determined to put Iran back on a blacklist that will harm its economy.
"These folks [the Iranians] are bad actors, and the president is determined to change the direction, of course," Pompeo said. He spoke to a small group of reporters on board his flight returning to Washington from a conference of Southeast Asian countries in Singapore.
At the conference, Pompeo lobbied for support from other countries, but the Trump administration's posture on Iran is not popular in several parts of the world because it abandoned a deal that was viewed as largely successful in curtailing Iran's nuclear ambitions. Other signatories to the 2015 deal — including European countries, China and Russia — have said they will try to keep it afloat.
Iranian Foreign Minister Mohammad Javad Zarif also attended the conference in Singapore and could be seen making his own country's case with delegates.
Pompeo has insisted Washington is not advocating for regime change in Iran, but veteran Iran-watchers say the administration's demands come pretty close.
Unlike North Korea, with whom the Trump administration is now eager to negotiate, Iran never produced a nuclear bomb.
"We're happy to talk if there is an arrangement that is appropriate, that can lead to a good outcome," Pompeo said. "Perhaps that will be the path the Iranians choose to go down." He added, however, that there's "no evidence" of that thus far.
The administration has said a second batch of sanctions will be revived in November.
For more on international affairs, follow @TracyKWilkinson on Twitter
Sign up for Essential California for news, features and recommendations from the L.A. Times and beyond in your inbox six days a week.
You may occasionally receive promotional content from the Los Angeles Times.