U.S. alarmed over surge in coca production in Colombia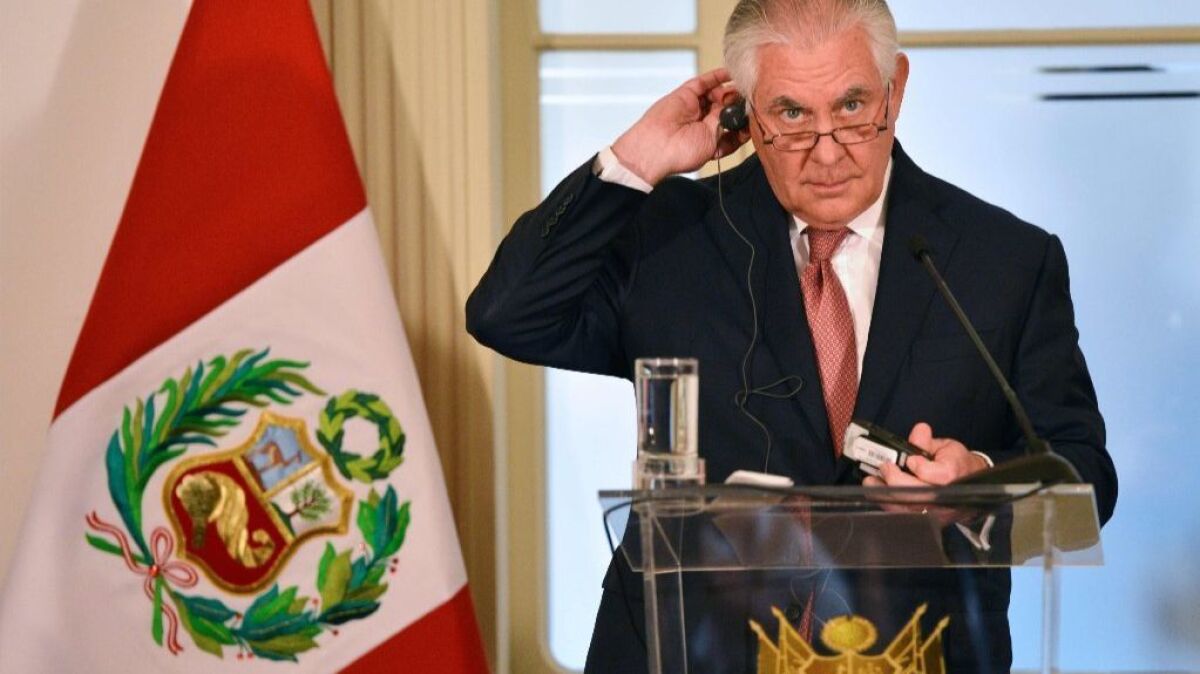 Reporting from BOGOTA, Colombia —
Colombia was a darling of the Obama administration, which fully embraced the South American country's torturous path to peace after the hemisphere's longest civil war.
But alarmed by the peacetime surge in coca production, the Trump administration has warned it may return to a policy defined by the war on drugs, and punish Colombia as it struggles to recover.
Secretary of State Rex Tillerson arrived Tuesday in the Colombian capital, Bogota, in an effort to reassure Colombians that Washington remains determined to work with the country on drug interdiction and the pursuit of peace.
In contrast, President Trump last week threatened to cut off U.S. aid to countries that he said were "laughing at us," taking money from Washington but not doing enough to cooperate on drug interdiction.
Tillerson has tried to finesse the mixed messages coming from Washington as he has visited Mexico, Argentina and Peru in a weeklong trip to Latin America and the Caribbean.
In Lima, Peru, on Monday, for example, he said he was raising the topic of joint U.S.-Latin America crime-fighting efforts "in every stop I am making throughout the hemisphere."
"This is really a hemisphere-wide challenge, and every country has its own challenges," Tillerson said. "The more we can share, the more we can connect our activities, the more progress we can make to disrupt these [criminal] organizations."
Speaking to reporters Tuesday, Tillerson rejected suggestions he was having a hard time in some of his meetings. He said he had gotten "all the access we need" and had achieved "pretty much everything we set out to accomplish" on the trip.
Coca production in Colombia has gone up 50% in each of the last two years, with about 247,000 acres now under cultivation, according to U.S. officials. More importantly, each acre cultivated is more productive than before.
Reacting to that surge, Trump threatened to decertify Colombia last year, meaning aid would be stopped or reduced until the nation made progress in eradicating the coca crops. He has not carried out the threat, but the administration has backed away from President Obama's pledge to provide $4.5 billion in aid over the next 10 years.
A first tranche of the money was disbursed near the end of the Obama administration but the Trump administration has not made clear whether it will follow suit.
Colombians feel angry, slighted and bewildered, said Bruce Bagley, a Colombia expert at the University of Miami. Washington spent $10 billion to help end Colombia's civil war and abandoning the country now — as it attempts to resettle millions of former guerrillas and displaced civilians — could be dangerous, he said.
"This is a very crucial period for the peace process," Bagley said. "Colombians feel the Trump administration doesn't understand its own interests, much less [Colombia's] desperate need at this critical juncture."
William Brownfield, then assistant secretary of State for international narcotics and law enforcement affairs, testified to Congress last year that Colombia was a key U.S. partner for two decades and had made progress in combating coca cultivation and production.
But since the civil war ended, he added, Colombia has become "the world's largest producer of cocaine and is the origin of approximately 90% of the cocaine seized in the United States."
He blamed, in part, Colombian President Juan Manuel Santos' decision to suspend the unpopular, U.S.-financed program of aerial spraying to destroy coca crops.
Many conservatives in Washington blame the peace process. Like Santos' conservative opposition in Colombia, they argue that the peace accords granted concessions to the former leftist guerrillas that allowed them to turn to drug trafficking.
Some former members of the Revolutionary Armed Forces of Colombia rebel organization apparently began planting more coca to get more money from the government crackdown on production of the raw material used to make cocaine.
Camilo Reyes, the Colombian ambassador to the United States, has lobbied Washington policymakers to continue their support. "There have been enough signals to show the administration and Congress do support and will go on supporting the peace process," he said.
"There needs to be patience for this to work," said Lisa Haugaard, executive director of the Latin America Working Group, a Washington-based advocacy organization that is monitoring the Colombian peace process. "This is the only peace accord in history with a drug policy chapter. It takes time."
"I can't emphasize enough how important U.S. support for the peace process has been," said Jason Marczak, director of the Adrienne Arsht Latin America Center at the Atlantic Council in Washington.
Then-Secretary of State John F. Kerry traveled to Cartagena, Colombia, to witness the signing of the peace accord in September 2016. Santos later was awarded the Nobel Peace Prize for his stewardship of the accord.
In a war that spanned a generation, more than 250,000 people were killed, and networks of terrorists and drug gangsters flourished in the vacuum.
For more on international affairs, follow @TracyKWilkinson on Twitter
Must-read stories from the L.A. Times
Get the day's top news with our Today's Headlines newsletter, sent every weekday morning.
You may occasionally receive promotional content from the Los Angeles Times.