Powerful East Coast storm kills 9, triggers coastal flooding and leaves millions without power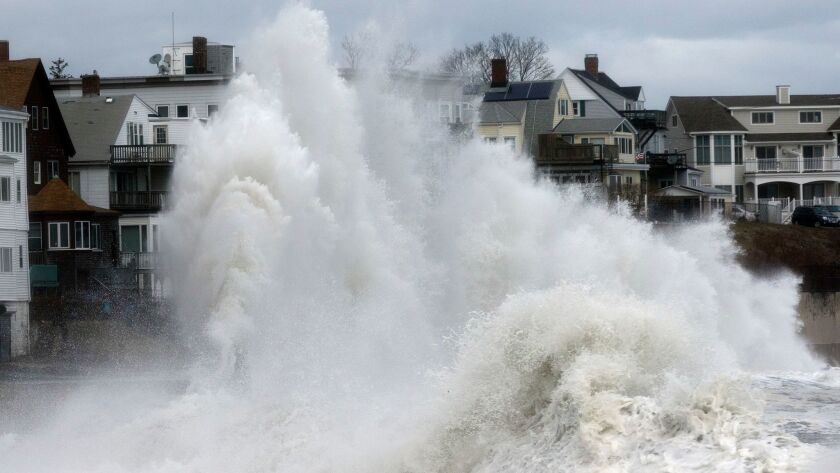 A powerful winter storm that pummeled the Northeast, killing at least nine and leaving 2 million homes and businesses without power, unleashed heavy rain and snow but inflicted its deadliest damage with fierce winds.
The death toll had stood at eight until Saturday night, when police in Andover, N.J., reported that a man was killed after coming in contact with downed power lines.
Four people died when winds toppled trees onto vehicles; those killed were a 57-year-old man in Upper Merion Township, Pa.; a 25-year-old man in Stamford, Conn.; a 37-year-old man in Plympton, Mass.; and an 11-year-old boy in Putnam Valley, N.Y.
In Chester, Va., a 6-year-old boy died when a tree crushed him while he slept in his bed.
"This storm was a high-end wind event for the East Coast. There were power outages from the wind alone," said Walter Drag, a meteorologist with the National Weather Service in New Jersey.
In Sussex County, N.J., "some people won't be getting power until March 7, maybe as late as the 9th," Drag said.
It's the most wind damage seen on the East Coast since Hurricane Sandy in 2012, he said.
In Massachusetts, the main concern was flooding.
On Friday, wind gusts whipped through Massachusetts and Rhode Island as fast as 93 mph, according to National Weather Service meteorologist Lenore Correia in Boston. Streets in Boston and the nearby suburb of Quincy looked like rivers. Authorities rescued hundreds of people who either ignored or delayed in heeding evacuation notices.
Some flocked to hotels, like the Comfort Inn in Quincy, where general manager Homer Borromeo said they have been at full capacity since Friday.
"We're always equipped for busy times. We were preparing for the storm last week," he said.
The hotel did have a power outage early Saturday, but electricity was restored within two hours, Borromeo said.
Five units of the Massachusetts National Guard helped rescue people in the city, and video showed rescuers walking through waist-high water.
Quincy Mayor Thomas P. Koch released periodic statements on YouTube, updating the city of about 93,000 residents on damage and rescue efforts. "It's been a rough several days, I know, for a lot of folks," he said in one video update. "We still have 5,700 people out of power."
The city has 8 miles of sea walls, and they will have to be inspected carefully, along with water mains and sewer lines, he said. "We're pretty concerned about some roads that have taken a beating," he said.
Koch also described a visit to an evacuation shelter Friday night and shared how one family described the storm. "They were just in the house and a wave of water just actually knocked a wall right out of the house, and they lost everything."
Hundreds of miles south in Maryland, the majority of the incidents in Prince George's County were wind-related, said Mark Brady, the county fire department's spokesman.
"Everything worked in our favor except for the high volume of calls," Brady said. Fire departments in the county usually experience 400 calls for service a day. On Friday the county saw more than 1,000 calls.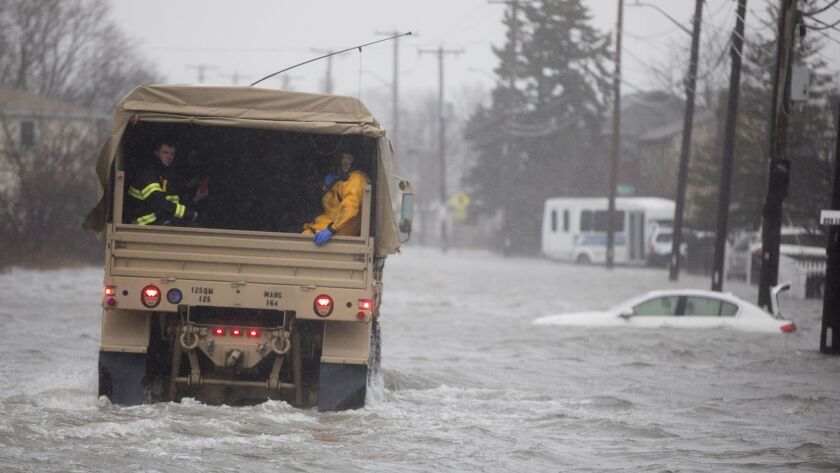 Drag said that another storm is anticipated for next week, but that it's too early to determine its direction or whether it will develop into another massive storm.
Maryland Gov. Larry Hogan, Massachusetts Gov. Charlie Baker and Virginia Gov. Ralph Northam announced states of emergencies Friday.
"We are continuing to see a number of serious accidents on bridges and roadways, and power outages throughout the state," Hogan said in a statement.
The storm hit Friday and weakened Saturday as it headed out to sea. In Boston winds died down significantly to 15 mph, with the rain having stopped between midnight and 2 a.m.
More than 600 flights within the U.S. had been canceled by late afternoon Saturday, according to the flight-tracking website FlightAware. Boston Logan International, Philadelphia International and John F. Kennedy and LaGuardia airports in New York saw the most cancellations.
Amtrak canceled service to and from Boston, the District of Columbia and New York on Friday for what the company on Twitter called "hazardous conditions." Trains resumed service Saturday with modified schedules.
Thousands of messages flooded the Twitter handles of Amtrak, Delta Airlines and other transportation companies with complaints, questions and demands for refunds and clarity.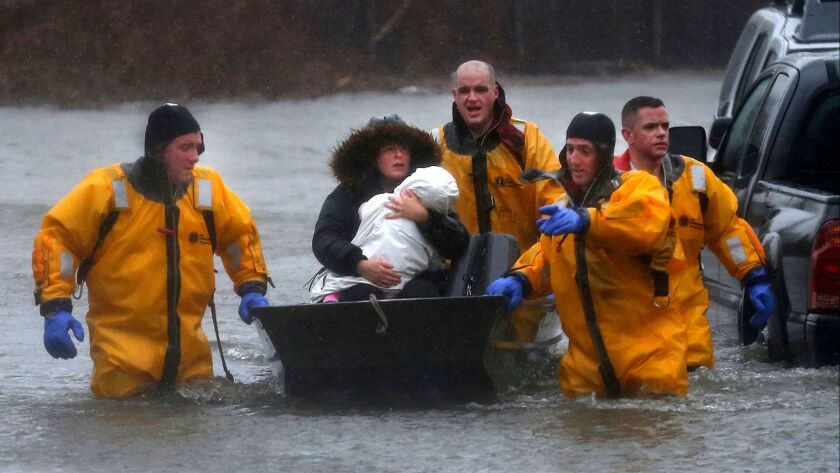 LaGuardia Airport reported more than 600 cancellations Friday afternoon. A viral video on Twitter showed winds blowing hard enough to lift a portion of a hangar's roof.
In New York, Gov. Andrew Cuomo ordered emergency operations centers to open from Long Island to Buffalo. Snowfall in New York ranged from 10 to 20 inches, and more than 300,000 people were without power.
The nor'easter's reach extended from Maine to North Carolina, where the state's Outer Banks received storm and flood warnings. In the beach town of Nags Head, authorities warned of moderate to severe flooding but that didn't seem to deter some residents.
Peyton Gwinn, a hostess at the seafood restaurant Tortugas Lie in Nags Head, said, "We've been busy for the past couple of days … nothing's stopped us or our customers, yet."
michael.livingston@latimes.com
Twitter: @mikelive06
---
UPDATES:
7:50 p.m.: This article was updated to report a ninth death connected to the storm.
7:15 p.m.: This article was updated with information about Maryland, North Carolina and Quincy, Mass.
4:50 p.m.: This article was updated to report eight storm-related deaths and to include comments from Walter Drag and Lenore Correia.
This article was originally published at 10:20 a.m.
---
Must-read stories from the L.A. Times
Get all the day's most vital news with our Today's Headlines newsletter, sent every weekday morning.
You may occasionally receive promotional content from the Los Angeles Times.