Starved for jobs and money, small Oregon town stops short of selling its water
Reporting from CASCADE LOCKS, Ore. —
Drinking in the sweeping view from the Locks Café, mayor and riverboat captain Tom Cramblett had to laugh at the thought of his little Oregon town being caught up in an eight-year fight over sharing its water.
Out the windows, the mighty Columbia River rolled past at 265,000 cubic feet per second on its serpentine journey from the Canadian Rockies to the Pacific Ocean. To the mayor's back was the snow-capped peak of Mt. Hood, whose melt helps feed tributaries, creeks and falls that collect in the Columbia Gorge.
"And it rains here almost 80 inches a year," said Cramblett, 65, a beefy, gray-bearded man decked out in riverboat fashion including suspenders and shoulder epaulets.
See the most-read stories this hour >>
Café worker Brian High, 26, a recent San Diego transplant, said he's here for the water too. "The gorge, the river -- I got tired of just visiting."
What has the mayor grousing about water this afternoon is a lengthy fight between environmentalists and civic leaders over a small spring that feeds into the 1,243-mile Columbia. Compared with the river, Oxbow Springs is a drop in the bucket. But its pristine mountain water is coveted by Nestle, the world's largest food producer, which wants to bottle 140 million gallons of it annually and sell it under the Arrowhead brand.
Despite the Swiss conglomerate's promise of wages for water, that's not going to happen soon. On Tuesday, Hood River County voters approved a ballot measure to block the company's plans. Oregon Measure 14-55, which holds any bottler to a daily production of 1,000 gallons (about 10 times less than Nestle hoped for), was passed by a 69% favorable vote, with an impressive turnout of 66%.
Aurora del Val, leader of the ballot campaign for the Local Water Alliance in Hood River, said Wednesday that her group celebrated the "incredible landslide victory" the night before at a local winery.
"I'm pretty psyched, and sleep-deprived," she said. "But other communities around the nation, who are also under the threat of losing water rights, have already been contacting us. As far as we know, this is the first county to ban large-scale industrial water bottling."
Nestle was obviously disappointed with the outcome of an effort that began in 2008 with a proposal to draw from the springs, trucking the water in tankers to a proposed $50-million bottling works in town.
Nestle spokesman David Palais said in a statement: "While we firmly believe this decision on a county primary ballot is not in the best interest of Cascade Locks, we respect the democratic process."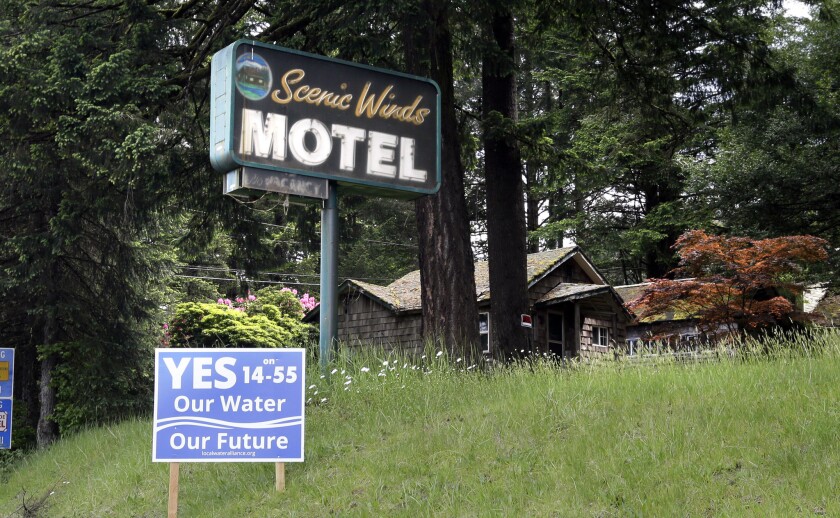 Cascade Locks city leaders had backed Nestle's bid, citing the benefits of an expanded local taxing source and the 50 jobs it was supposed to bring. That would be a big boost to the economically depressed, tourist-dependent town of just over 1,000 residents, 40 miles east of Portland. In return, Nestle would obtain a valuable resource to help slake America's thirst for plastic-bottled water.
Environmentalists argued that besides the energy costs of producing and disposing of more plastic bottles, and a bottling plant that would add 200 truck trips daily, Nestle's water grab could aggravate the region's risk of shortages due to climate change and drought.
Nestle had seemingly been closing in on a deal with Cascade Locks -- one of the oldest settlements on the Columbia and once home to locks that lifted marine traffic past the river's Cascade Rapids (the locks were replaced in 1938 by a similar lift downriver at the Bonneville hydroelectric dam).
NEWSLETTER: Get the day's top headlines from Times Editor Davan Maharaj >>
But opposition grew, and Oregon's Democratic Gov. Kate Brown stepped in to slow the process last year, saying it required more public involvement. The water alliance filed its ballot measure last fall and began to question the motives of a corporate giant with $10 billion in annual revenue.
Financial reports showed each side had spent about $40,000 on mailers, radio pitches and campaign videos -- although Nestle was not directly involved. Or so it seemed. A filing made just days before the vote revealed the corporation had actually contributed $105,000 to a political action committee, the Coalition for a Strong Gorge Economy, to oppose the measure. In a last-minute response, the environmentalists denounced that as corporate evildoing.
Nestle gave no indication after the vote what it might do next, if anything. But there's widespread belief the fight is far from over.
"This is about our town, not Hood River or anyplace else," said Cramblett, taking a break from the wheelhouse on the 147-foot sternwheeler as passengers boarded for a dinner cruise.
The opposition was centered out of town and they had no say in Cascade Locks politics, Cramblett said -- although Del Val says she's a resident and lives just four houses from the mayor.
Jobs are badly needed around here, says Cramblett, who has three of them. When he's not behind the pilot's wheel or presiding as mayor, he works as a groundskeeper in surrounding Marine Park, beneath the old steel toll bridge to Washington.
"Our tourist season lasts from July through August," the mayor says. "I have to work 60 hours a week to make a living wage most of the time.
"We have no industry here. We've lost some population. We had to cut some services. The one thing we have to sell -- water -- we can't."
Cramblett said the vote would probably be challenged in court.
"We may just be getting started."
ALSO
Passion of Bernie Sanders and his supporters turns against Democrats
Water conservation rules will ease in some parts of California, get stronger in others
Abortion opponents gain momentum as South Carolina becomes 17th state to enact restrictions
Anderson is a special correspondent.
---
Must-read stories from the L.A. Times
Get the day's top news with our Today's Headlines newsletter, sent every weekday morning.
You may occasionally receive promotional content from the Los Angeles Times.