Biden heading to Central America to address child immigration wave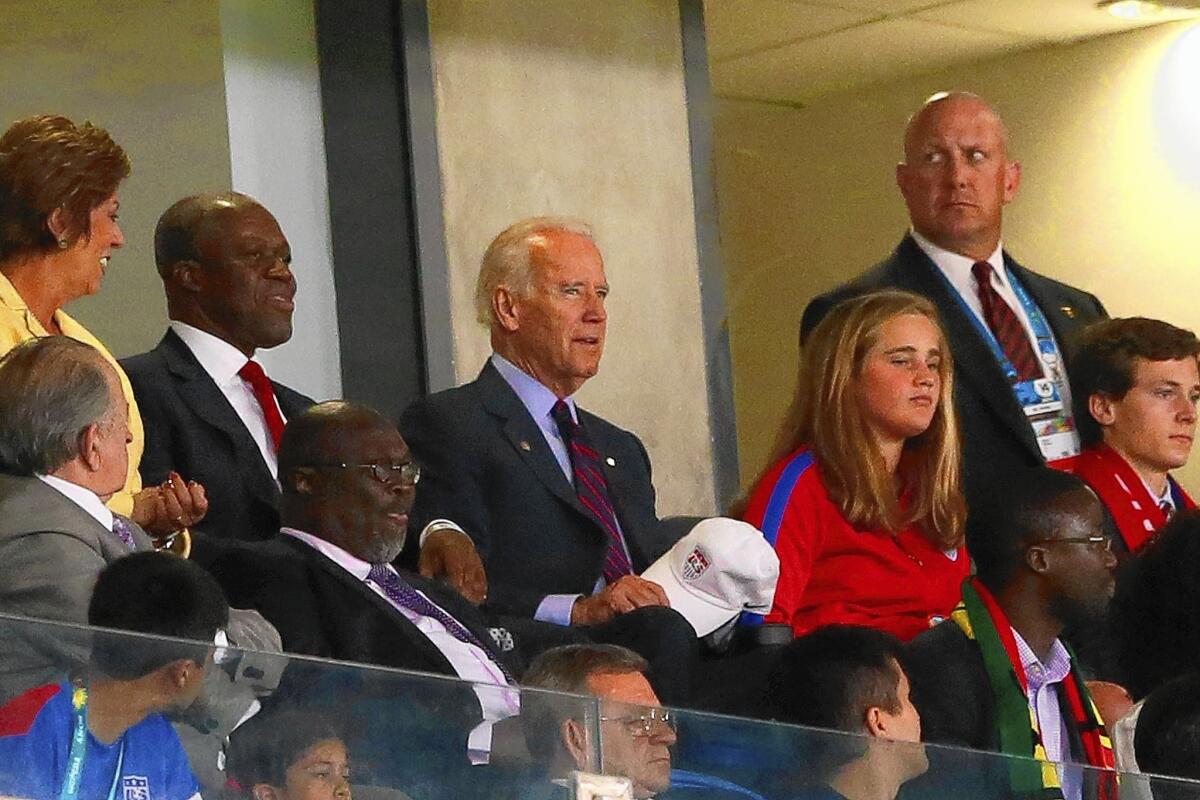 The White House is expanding a public campaign aimed at dispelling rumors in the U.S. and Latin America about its rules regarding deportation of young immigrants — part of an effort to slow the rising number of minors crossing into the U.S. without parents or guardians.
Administration officials were working with foreign leaders, reaching out to Latino media and developing public service announcements in a coordinated push to battle inaccurate information that has helped fuel an increase in dangerous border crossings, a White House official said Monday.
As part of that effort, Vice President Joe Biden will be dispatched later this week to Guatemala to coordinate a regional response with Central American leaders, officials said.
The vice president will make a public statement on the perils of making the trek north and emphasize that the administration's program to avoid deportations of young people whose parents brought them illegally to the U.S. in previous years does not apply to new arrivals. The program, Deferred Action for Childhood Arrivals, is known by the acronym DACA.
Fixing misconceptions about the policy is an "an important factor" in solving the problem, said the official, who declined to be identified when discussing the vice president's plans.
Obama administration officials said last week that they had enlisted the Federal Emergency Management Agency to ease crowding at centers in Texas and Arizona where young immigrants are housed as they await deportation proceedings. Officials said they were seeking $160 million in new funds from Congress to assist in swiftly processing the young immigrants.
White House Press Secretary Josh Earnest said Monday that officials were trying to communicate to Central American governments that "there are steps these countries can take to ensure the safety of their children and to dissuade parents from entrusting them into the hands of strangers to try to deliver them to the United States."
"We'd like to shut that off as quickly as we can," Earnest said.
The focus on misconceptions about the administration policy is a shift for the White House, which has shown an almost reflexive defensiveness about its immigration policies.
Last week, as officials launched a coordinated effort to stem the flow of new arrivals, Earnest had dismissed as partisan criticism the notion that minors could be leaving home under the wrong impression that they would be allowed to stay.
"I wouldn't put a lot of stock in the ability of Republican members of Congress to divine the thoughts and insights of children in Central American countries," he said then.
A senior administration official at the time described the idea that DACA might be contributing to the problem a "conversation in political circles." The official said reports from the children who had made the journey to the U.S. had revealed that the driving factors were "the lack of perception of what they might find in the United States and more really extraordinary violence going on in their communities in the countries that they come from."
Those comments may reflect the potential political fallout that the surge of new arrivals could generate. The White House has promised to make other changes to immigration policy if Republicans don't pass a broader overhaul this summer. A backlash against Obama's current unilateral action could limit political support for new actions.
The DACA program, created by Obama in 2012, allows some young immigrants who arrived in the country illegally as children to apply for a deportation waiver. Applicants must have been in the country since June 2007 and have arrived before they turned 16.
Officials have been repeating that message on Spanish-language media for several days, and Obama's top domestic policy advisor, Cecilia Muñoz, has appeared on a round of major Spanish-language news programs in hopes that the details will filter through from families in the U.S. to relatives in Central America.
State Department officials, meanwhile, have been working on drafting public service announcements on the dangers that minors face on the trip north, a White House official said.
Biden will carry the same message, as well as a promise of new aid to the region, during his Friday stop in Guatemala, officials said. He'll also meet with Guatemalan President Otto Perez Molina, El Salvador President Salvador Sanchez Ceren and a senior representative of the Honduran government, Coordinator General Jorge Ramon Hernandez Alcerro, officials said.
The stop was added to a previously scheduled visit to South America, including Brazil, where Biden attended the U.S. team's World Cup match Monday night.
kathleen.hennessey@latimes.com
Twitter: @khennessey
Sign up for Essential California for news, features and recommendations from the L.A. Times and beyond in your inbox six days a week.
You may occasionally receive promotional content from the Los Angeles Times.