Parkland students and anti-violence activists are registering voters in Chicago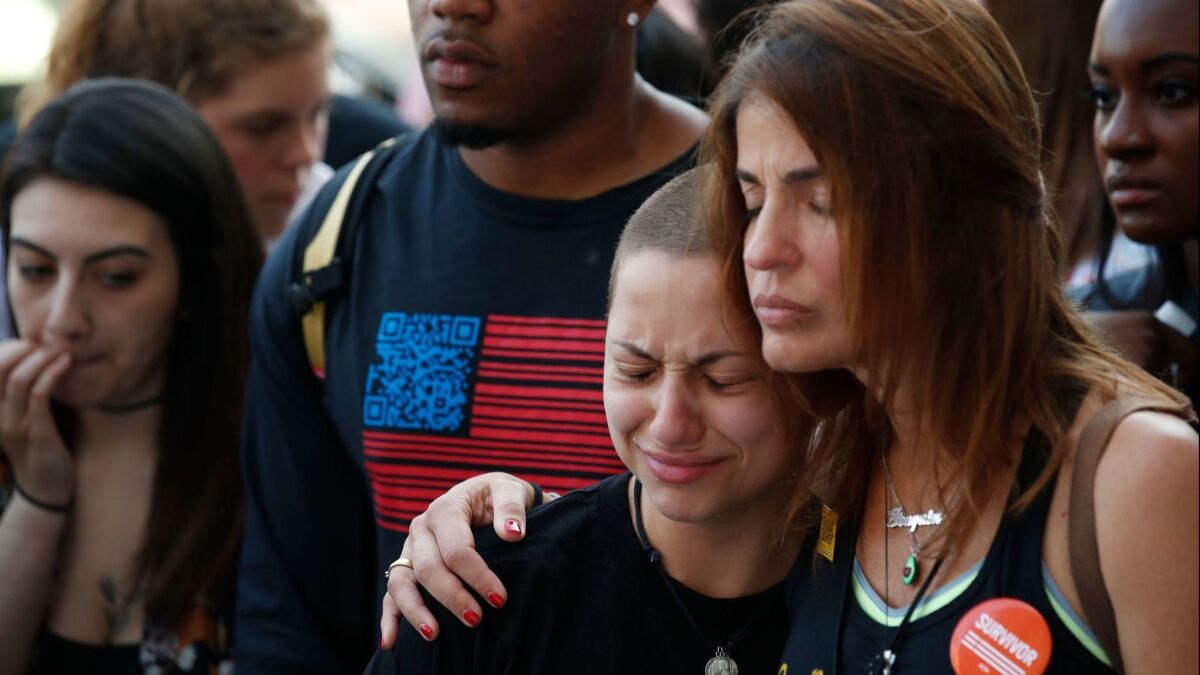 Reporting from CHICAGO —
Chicago anti-violence activists and a group of Florida high school shooting survivors fanned out across the city's South Side on Saturday, knocking on doors and registering people to vote in a bid to build support for changing the nation's gun laws.
Ryan Deitsch, 18, from Marjory Stoneman Douglas High School in Parkland, Fla., where 17 people died Feb. 14, said the shooting has afforded the survivors a national spotlight they are now using to try to build a groundswell of support.
Their goal is to reach "anybody who lives here and is tired of the status quo."
"We need to be able to live out the American dream and if we're just being gunned down at 21 or younger we can't," he said. "It's killing the future of this country."
Chicago is the first of more than 25 stops on a tour Parkland students are taking this summer, targeting communities rocked by gun violence, or where lawmakers supported by the National Rifle Assn. are seeking office.
They plan on holding rallies, town halls and registering people to vote. Later Saturday, the group held a town hall in Naperville, an upscale suburb where Republican Rep. Peter Roskam has been a consistent supporter of gun rights and has received donations from the NRA.
"They should be speaking to their own people to realize what the problems are," Deitsch said. "Politicians become so detached from the situation that the people they represent aren't represented."
In addition to knocking on doors and talking to people on the South Side, which activists believe is unfairly portrayed in news stories about Chicago violence, the group planned to host a cookout in a park where people could also sign up to vote.
On Friday, the group held a rally at a church, featuring former Arizona Rep. Gabby Giffords, who was gravely wounded in a 2011 shooting. She told the crowd to vote on election day to effect the change they want. Entertainers Jennifer Hudson, Chance the Rapper and will.i.am also appeared.
"We need to vote people in who will speak for us, or take them out if they are not," said activist Ke'Shon Newman, 16, of Chicago.
Deitsch said strengthening state gun laws is good, but ultimately a federal effort will be required to tamp down gun violence.
---
Must-read stories from the L.A. Times
Get the day's top news with our Today's Headlines newsletter, sent every weekday morning.
You may occasionally receive promotional content from the Los Angeles Times.