Chicago Tribune photographer wins Pulitzer Prize for 'superb' portraits of child shooting victim
For months, E. Jason Wambsgans sought to chronicle the effects of Chicago's gun violence on children.
The Chicago Tribune photographer took portraits of a handful of child survivors, but there was always a limit to how deep he could go. Parents often feared retaliation. Other times, victims moved away, or were too busy for visits from photographers and reporters.
But with Tavon Tanner and his mom, it was different.
The 10-year-old boy had been shot in August while playing on his front porch in Chicago. The photographer met him soon after.
"I sensed that he wanted to tell his story," said Wambsgans, 44. "He wanted to share his grief."
Over the course of about three months, Wambsgans took a series of stunning portraits that this week earned him a Pulitzer Prize, journalism's highest honor, for feature photography.
Wambsgans was honored for his "superb portrayal" of Tavon and his mother "striving to put the boy's life back together after he survived a shooting in Chicago," the Pulitzer citation said.
When Wambsgans first met the boy last fall, they instantly hit it off. Tavon had just finished a summer photography project and helped Wambsgans set up his equipment. Soon after, Wambsgans began snapping portraits.
"He would kind of fluctuate from the most angelic smile to this kind of heavy sorrow," Wambsgans said. "But it felt entirely real."
About 10 minutes into the meeting, Tavon recounted the events that led to his shooting. The photographer asked the boy whether he could see his scar.
Tavon lifted his shirt, exposing a scar that stretched from the middle of his chest down past his belly button.
Wambsgans shot two frames and glanced at his camera screen. Overwhelmed with emotion, he set his camera down.
"I knew immediately that it was one of the most powerful pictures I've ever made," Wambsgans said. "It was this incredible gift that he had shared with me."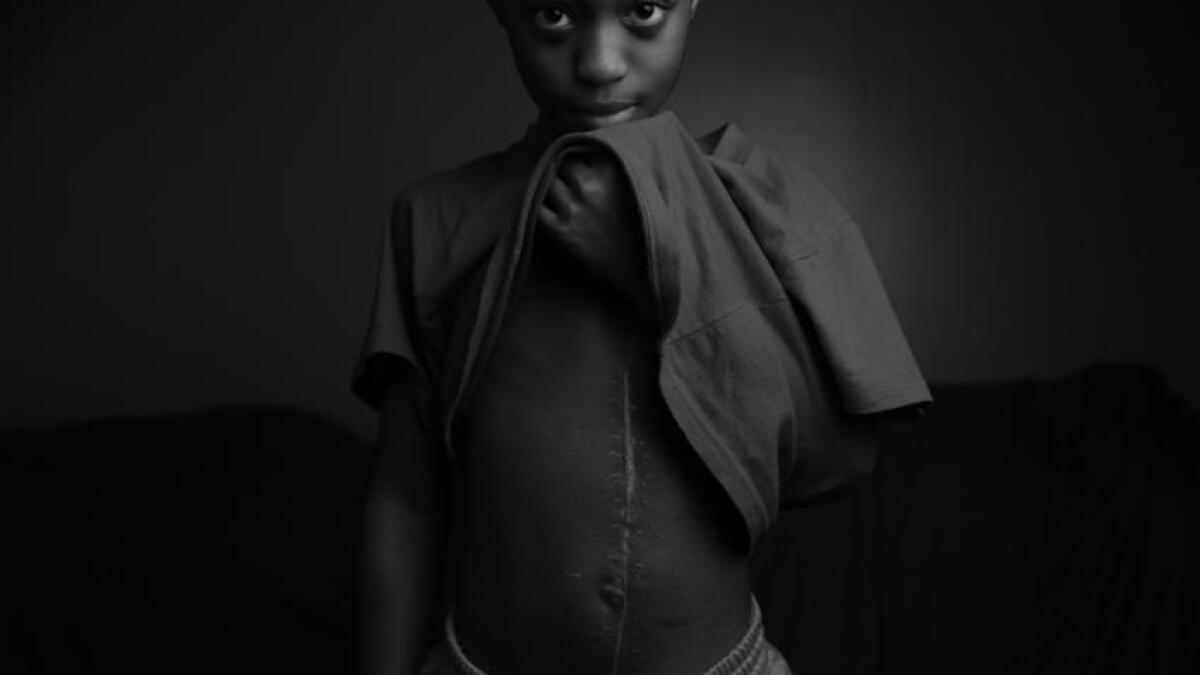 In the weeks that followed, Wambsgans regularly visited Tavon and his family. Sometimes, they'd play catch in the boy's living room. Other times, Wambsgans walked Tavon home from school.
Wambsgans photographed Tavon in his hospital room before and after surgeons removed the bullet that was lodged below his left shoulder. He spent Thanksgiving with Tavon and his family.
"I think that Jason really knew how to give Tavon space, and when to shoot and when not to shoot," said Todd Panagopoulos, the Tribune's director of photography and video.
Since 2013, Tribune photographers have diligently chronicled Chicago's struggle with gun violence. Wambsgans, a Detroit-area native and Tribune staff photographer since 2002, was one of a handful of photographers who regularly worked graveyard shifts, along with reporters, to cover shootings in the city.
Wambsgans' photo essay was published alongside a report by columnist Mary Schmich, a previous Pulitzer winner.
alene.tchekmedyian@latimes.com
Twitter: @AleneTchek
---
UPDATES:
3:25 p.m.: This article was updated with quotes from the photographer.
This article was originally published at 9:55 a.m.
---
Must-read stories from the L.A. Times
Get the day's top news with our Today's Headlines newsletter, sent every weekday morning.
You may occasionally receive promotional content from the Los Angeles Times.