The Catholic Church knew he was an abuser, but helped him get a job in public schools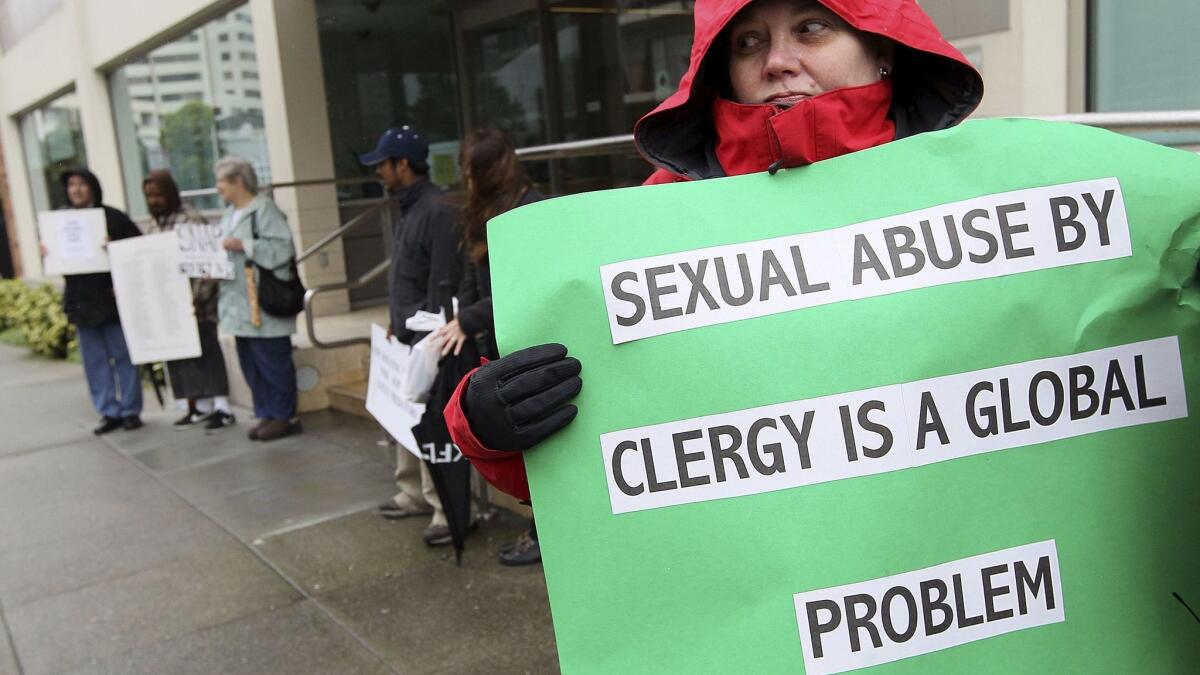 Reporting from SEATTLE —
Time and again, the record shows, Brother Edward "Chris" Courtney was accused of child sexual abuse in the Roman Catholic schools where he taught, and the church responded by moving him to another jurisdiction.
That makes his case similar to those of hundreds of other priests and brothers who committed sexual abuse before the problem exploded into national consciousness more than 15 years ago.
What sets Courtney apart is this: According to a lawsuit settled last week in Seattle's King County Superior Court, he was ultimately shuffled off to a public school, where he continued to commit sexual assault.
Courtney, now 82 and retired in Hawaii, was a member of the Christian Brothers religious order who has been accused of assaulting at least 55 boys during his three decades as a Catholic school educator in a variety of jurisdictions from New York to Seattle.
It was in Seattle, where he served as principal of a parochial school, St. Alphonsus, that his Catholic school career came to an end after allegations of groping. Catholic and Christian Brothers officials then wrote letters of recommendation to the state school system and, ignoring a legal requirement, never reported his history of sexual assaults. That omission allowed Courtney to obtain his license to teach in public schools, where the assaults continued, according to the lawsuit and criminal court records.
The Seattle Archdiocese agreed to pay $1.3 million to one of Courtney's public school victims — an unidentified male who was sexually assaulted in the early 1980s at a now-closed Tacoma-area school. Archbishop J. Peter Sartain also issued an apology.
The church and the Christian Brothers' congregation have now paid out an estimated $30 million in court settlements to Courtney's nationwide victims, 52 of them in one settlement alone that caused the congregation to declare bankruptcy in 2011.
In a news release, the Seattle Archdiocese pointed to changes it had made in the wake of the church scandal that began unfolding in 2001 with a Boston Globe investigation of abuse by priests. Now, criminal background checks are required for all archdiocese employees and volunteers who have unsupervised contact with children.
Courtney, however, did not have a criminal record until after he began teaching in the public school system and was convicted of assaulting a student at an Othello, Wash., elementary school.
Jason Amala, one of the latest victim's Seattle attorneys, said in a statement this week that he was unaware of "another case where the defendant [the archdiocese] removed a known abuser from their private school system and then actively helped them get a job in the public school system."
Mary Dispenza, leader of Seattle SNAP (Survivors Network of those Abused by Priests) praised the settlement and noted that a second, similar lawsuit accusing Courtney of molesting another public school student is currently moving through the courts.
Last year, the Seattle Archdiocese issued a list of 77 priests, brothers (including Courtney), deacons and a nun identified as sexual predators. The archdiocese has not provided any details of the alleged offenses.
Court files, though, lay out Courtney's story.
Problems surfaced nearly immediately after the Seattle-born brother took his first permanent assignment in 1960, at age 22, at New York City's Sacred Heart School. Christian Brothers records state that he began to prey on grade school students and was transferred to Brother Rice High School in Chicago, where more problems soon arose.
He was moved to St. Laurence High School in Burbank, Ill., where he was also accused of abuse. The allegations continued after his transfer in 1968 to Brother Rice High in Birmingham, Mich. Two years later, he was sent to St. Leo High in Chicago, where — following more abuse allegations — he was transferred back to St. Laurence.
He was asked to leave St. Laurence following an allegation involving a freshman boy. This time, the church and congregation sent him far afield — to the West Coast, where he wound up at O'Dea High School in Seattle in the mid-1970s, records show.
Within two months, he was coaching intramural basketball at O'Dea and the complaints started again. One student said he was attacked by Courtney in a locked classroom. The boy's father later confronted school officials, who asked Courtney to make a public apology.
Courtney refused and was sent to a retreat in Canada for sexual deviancy treatment. When he returned to O'Dea, new abuse reports surfaced. He was moved to a Catholic elementary school and then to St. Alphonsus, where he was named principal.
It wasn't long before complaints surfaced from St. Alphonsus students, including two boys who said Courtney had groped them.
Courtney admitted to the youths' charges and agreed to resign. But with the archdiocese's help, he ended up as a public school teacher in Seattle, Tacoma and central Washington. The Christian Brothers even paid Courtney's way at Seattle University to earn accreditation so he could become a school principal.
When molestation accusations once again surfaced, Courtney took flight — aware this time that public school officials had alerted police.
Three years later, he was arrested in Nevada and returned to Washington. But with his past unknown to the court, he pleaded guilty in 1989 to one count of indecent liberties and was given a suspended sentence of 24 months and ordered to register as a sex offender — for one year.
The extent of his serial attacks began to come to light about four years ago following a $16.5-million agreement with the bankrupt Christian Brothers, when 52 of 400 U.S. abuse claimants named Courtney as their attacker, records show.
Courtney, who did not respond to phone messages at his home in Oahu this week, denied in a 2009 court deposition he committed any serious offenses over the years. He "improperly touched" some students, he said, but he was young and "I guess that's maybe why I didn't realize that these things bothered others as much. I don't know."
Anderson is a special correspondent.
ALSO
'Here I am, 26, with no friends, no job, no girlfriend': Shooter's manifesto offers clues to 2015 Oregon college rampage
In Las Vegas, the casino is always watching — and yet it missed Stephen Paddock
Michigan helped make Donald Trump president. Is it ready to elect the nation's first Muslim governor?
Sign up for Essential California for news, features and recommendations from the L.A. Times and beyond in your inbox six days a week.
You may occasionally receive promotional content from the Los Angeles Times.