U.S. speeds up human clinical trials for promising Ebola vaccine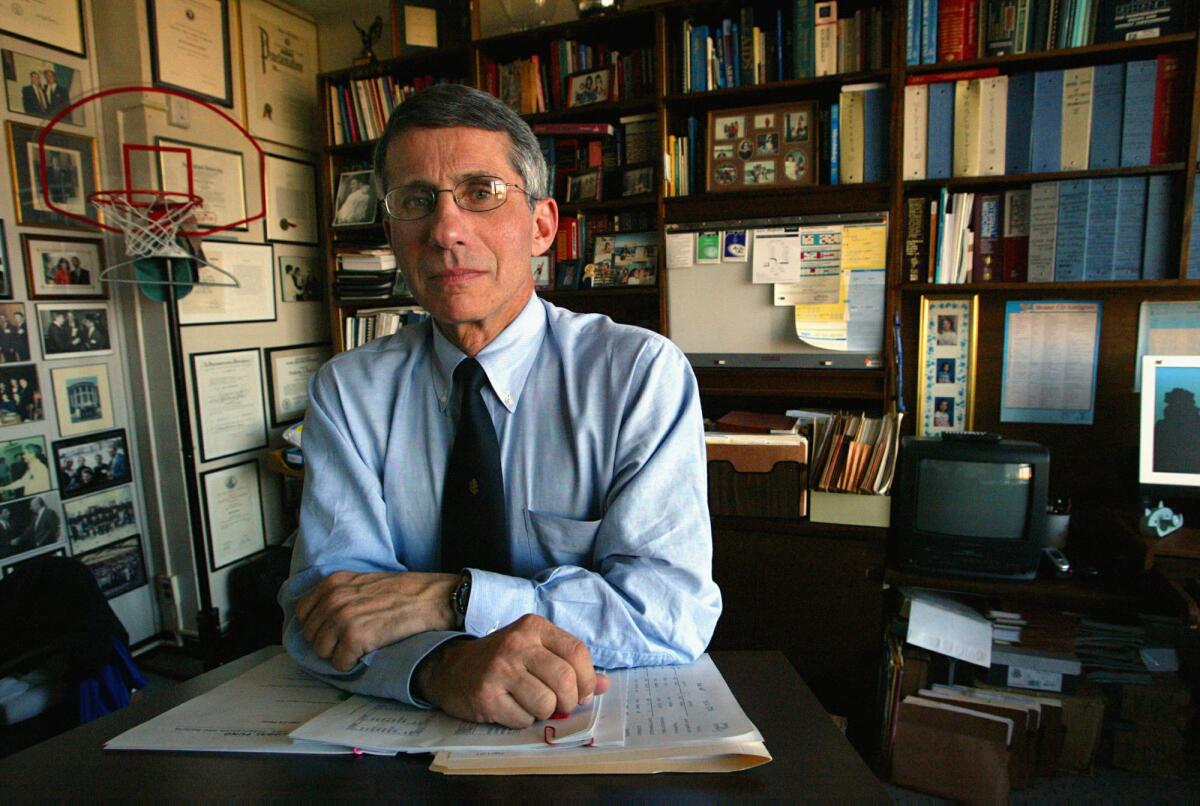 Reporting from Washington —
Researchers at the National Institutes of Health are accelerating human clinical trials for what scientists hope is a promising new vaccine to combat the deadly Ebola virus.
Phase 1 of the clinical trials, which were previously not expected to begin until the end of September, will start early next month in response to the Ebola outbreak in West Africa, said Dr. Anthony Fauci, director of the NIH's National Institute of Allergy and Infectious Diseases. Fauci said researchers hoped to finish Phase 1 by the end of November rather than January 2015, as originally planned.
"We're dealing with an urgent situation," Fauci said. "We want to respond as safely as we can but also as quickly as we can."
The NIH's Vaccine Research Center has been working on the vaccine for years with Okairos, a Swiss-Italian biopharmaceutical company now owned by British drug maker GlaxoSmithKline. The experimental vaccine has shown promising results in nonhuman primates, Fauci said. The vaccine will be tested on 20 healthy adults at the NIH Clinical Center in Bethesda, Md.
Known as a chimpanzee adenovirus vector vaccine, the experimental vaccine contains no infectious Ebola virus material. According to Fauci, the chimpanzee adenovirus is a "dead virus," meaning it cannot replicate once it enters the body. The dead virus is intended to trigger the body to make antibodies, which would reproduce if a person was exposed to Ebola.
Researchers will compare the human immune response to the vaccine to previous tests on monkeys to determine whether the vaccine is effective.
It remained unclear when the vaccine would be ready, but Fauci said it may be available sometime in 2015, depending on Food and Drug Administration approval.
The acceleration of the vaccine's development is part of a worldwide effort to respond to the Ebola outbreak, which has claimed the lives of more than 1,100 people in Guinea, Sierra Leone, Liberia and Nigeria. Currently, there is no proven treatment or vaccine.
Last week, the Canadian government said it would donate 800 to 1,000 doses of an experimental Ebola vaccine to the World Health Organization for use in Africa.
To help encourage the development of treatments, the WHO has sanctioned the use of some experimental drugs that may help combat the outbreak.
ZMapp, an experimental drug developed by San Diego-based Mapp Biopharmaceutical Inc., has been used to treat two American foreign aid workers and three Liberian doctors. But the company recently issued a statement on its website saying that the "available supply of ZMapp has been exhausted."
Meanwhile, the husband of one of the American missionaries ended his quarantine in North Carolina and visited his wife Sunday at an isolation room at Emory University Hospital in Atlanta, a Christian missionary group announced Monday.
David Writebol, who has shown no symptoms of the disease but was quarantined as a precautionary measure after returning from Liberia, said his wife, Nancy, was continuing to improve. Nancy Writebol, 59, and a missionary doctor, Kent Brantly, 33, were flown from Liberia this month for treatment at Emory's special containment unit, one of just four in the country.
"I have had the great joy to be able to look through the isolation room glass and see my beautiful wife again," David Writebol said in a statement. "We both placed our hands on opposite sides of the glass, moved with tears to look at each other again."
marianne.levine@latimes.com
Times staff writer David Zucchino in Durham, N.C., contributed to this report.
Sign up for Essential California for news, features and recommendations from the L.A. Times and beyond in your inbox six days a week.
You may occasionally receive promotional content from the Los Angeles Times.