Oh, say, can you be quiet during the national anthem?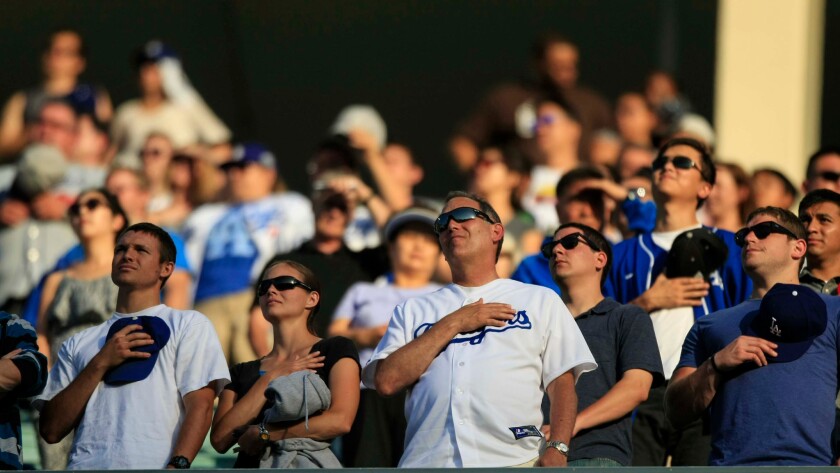 At 15 major league ballparks on Independence Day, something routine, and wonderful, will happen. Well before the first pitch, people will rise, some placing their right hands over their hearts, some singing along, even during the screechy parts of "The Star-Spangled Banner."
That's in the seating area of the stadiums.
But away from the seats, the national anthem sometimes competes with the hollers of children playing, the crinkle of chips bags at lunch tables, the gushing of beer out of taps and the thumping march of footsteps.
In contrast, there's Dodger Stadium, where something entirely different sometimes plays out in the concourses because of the legacy of a once-longstanding policy.
Lights dim at food stands. Workers step away from beer taps and cash registers. Ushers and other employees come to a halt and remove their caps.
As the Dodger Stadium staff pocket guide noted until last year: "Respect for patriotism is very important to the Dodger Organization. When the national anthem is played prior to the start of each game, we will pause."
But that policy, which even called for stopping ticket-scanning at entry gates, was scrapped when Major League Baseball mandated metal-detector screenings, slowing entry. Now, Dodger Stadium joins most other sports venues in the Southland – and across the nation: They lack formal policies about how workers outside the seating area should honor the national anthem, leaving varying degrees of respect to unwritten rules about observance.
Horse racetrack Santa Anita Park in Arcadia and NASCAR venue Auto Club Speedway in Fontana don't have official guidelines for areas away from the stands.
USC, UCLA and the Rose Bowl also don't have formal policies barring visitors from buying food or rushing to their seats. At the Honda Center in Anaheim, some employees remove their hats and stand at attention. But for the most part at an L.A. Kiss arena football game there, tickets moved and Bud Lights poured as the rockets cast their red glare. One Sunday, Angel Stadium's home plate entry gates halted for the anthem but people who'd just entered didn't as Dippin' Dots beckoned.
Galaxy home field StubHub Center allows workers to sidestep an observance policy in the concourse when confronted with capacity crowds. Staples Center gives the OK for ticket scanners and metal detectors to keep humming during the national anthem.
It was at the Staples Center in 2013, for a Kings hockey game against the New York Islanders, that I decided to begin surveying sports venues about what workers on the outside rung do during the national anthem.
I've watched Major League Baseball games at about 35 ballparks and football, basketball and other sports at another two dozen spots. Most of the time, I've warmed my seat plenty by the time the anthem chimes.
But as I hurried to the press box that December, I recalled the few times my family and I were late to our seats. Maybe we'd wandered to check out different corners of a new ballpark. Or we hadn't anticipated parking challenges.
Whatever the reason, we got caught in the hallways – our seats far off – with the national anthem coming through the tunnels leading to the seats. I'd stop. I'd hold my hands out and brake my parents. I couldn't say if I drew inspiration from patriotism, a desire to honor our military at the height of the wars in Afghanistan and Iraq, or if I simply wanted to show respect for the people performing the national anthem. But it just felt right.
It felt right to others too, but around us many people kept walking and talking.
I would hope fans would take a moment to reflect and respect the anthem. It's a small price to pay to give two minutes to honor this fantastic country.
John Lloyd Young, singer
Yes, it can be hard for employees and fans in the hallways to notice that the national anthem is playing. That would explain why last year at Camelback Ranch, the Dodgers' spring training facility in Arizona, it took until "o'er the ramparts" line to reach a full moment of silence.
The Cleveland Cavaliers basketball team has found a clever approach to encouraging decorum during the anthem. In recent games, singers have turned the microphone away from themselves after a few lines and let the crowd take the lead. By empowering fans, the Cavs created a spectacle people want to be a part of.
The old Dodger Stadium policy had existed at least since it first opened in the 1960s, according to Peter O'Malley, whose father owned the team at the time.
"As it evolved, more people thought it was a good thing to do," he said.
Steve Ethier, the Dodgers' senior vice president for stadium operations, said he hadn't come across anywhere with a more encompassing policy. The only places where activity didn't stop were the stadium's parking gates because of security considerations.
Concession stand workers continue to observe the national anthem when they can, though the team doesn't require it, officials say.
Having to wait two minutes to get their hands on a Dos Equis at a food stand catches some fans off guard, said Jason Tingley, executive chef for Dodger Stadium concessionaire Levy Restaurants. But employees are trained at the beginning of the season to tell patrons what's going on. There's hardly any pushback.
Singer and former "Jersey Boys" star John Lloyd Young finds it surprising people wouldn't stop for the national anthem. Growing up on an Air Force base in Plattsburgh, N.Y., he had to hear an instrumental rendition of the anthem play before movies. He would hold his hand to his heart throughout, as the theater screen displayed waving flags and iconic Americana, such as Mt. Rushmore.
"Can you think of anything less serious than watching a movie, and here you were with the national anthem," Young said minutes before singing the song at Dodger Stadium. "I would hope fans would take a moment to reflect and respect the anthem. It's a small price to pay to give two minutes to honor this fantastic country."
On the day Young performed, the Dodgers honored Marine Staff Sgt. Maria Garcia of Corona as military hero of the game. Before she left with a frame holding a flag that once flew atop Dodger Stadium, she shared what the national anthem meant to her: "When everyone stops to breathe in the patriotism, it brings chills."
ALSO
In Colorado, conservatives grapple with the Trump conundrum
Tesla and Google are both driving toward autonomous vehicles. Which company is taking the better route?
Op-Ed: Flags are great for holiday celebration, but hyper-patriotism is un-American
---
Must-read stories from the L.A. Times
Get all the day's most vital news with our Today's Headlines newsletter, sent every weekday morning.
You may occasionally receive promotional content from the Los Angeles Times.