The trick play that Nevada used to whisk O.J. Simpson out of prison
Reporting from LAS VEGAS —
It seemed to be the most anti-O.J. Simpson of moments.
The famous — and infamous — football great disappeared into a waiting car outside a Nevada state prison on Sunday, newly paroled, and disappeared into the darkness of the desert where the media spotlight couldn't find him.
Nevada Department of Corrections spokeswoman Brooke Keast said that was by design.
The plan for Simpson's release stemming from his 2008 conviction of robbery and kidnapping at a Las Vegas casino had been fluid during the week. But as media requests began pouring in and her department began getting "a lot of comments and phone messages that were very aggressive in nature," she said they had to run a trick play.
That meant issuing misleading statements about when Simpson would leave.
"There was a lot of concern about something happening. When I started being inundated with media and people who claimed to be media but didn't have emails that resembled bona fide news agencies, it sent up a red flag," Keast said. "Perhaps I'm dealing with someone who wants to harm someone. We realized we couldn't vet people on site like we did during the parole hearing. It became a matter of safety for him, our staff and the community."
So Simpson, who served nine years, wasn't transferred to the High Desert State Prison — about 45 minutes north of Las Vegas — as many parolees are, and where reporters were led to believe he would be set free. And he was released on the weekend despite claims by the Department of Corrections that parolees aren't released on Saturdays or Sundays.
Simpson was released from the Lovelock Correctional Center at 12:08 a.m. Sunday — eight minutes after he became eligible for parole.
Keast said there were no media present at the time he left — avoiding fears of a chase on Nevada highways that might have brought back memories of the notorious Ford Bronco chase in 1994.
"We thought we saw one local news crew on site down the road, but they left," she said.
"It was incident free, nobody followed; it was exactly what we'd hoped we could do for public safety," Keast said. She added that she had no information on Simpson's intended destination.
"I do not know where he's going. I didn't want to know, to be honest," she said.
Simpson's attorney, Malcolm LaVergne, interviewed before his client's release, did not reveal any plans, but said Simpson was excited to be leaving prison.
"I can tell from his voice on the phone last night that he's looking forward to freedom and hugging his family on the outside," LaVergne said.
By late Sunday afternoon, Simpson appeared to be maintaining a low-profile and, in an email Sunday, LaVergne said all other information about Simpson's first hours of freedom would be "confidential until further notice."
According to Nevada State Parole and Probation Capt. Shawn Arruti, Simpson submitted a parole release plan that called for him to live in Las Vegas. Arruti said the plan was investigated and approved by the Division of Parole and Probation.
Keast said Simpson left with two boxes — one filled with legal paperwork and the other with personal items he'd acquired in the prison store. He also had a debit card, but she didn't know how much money was stored on it.
Speculation had swirled over when Simpson would be turned loose after the Nevada Parole Board granted him parole in July for serving a portion of his 33-year sentence and getting credit for good behavior and taking classes in prison.
But with Simpson, controversy and attention seem to chase him wherever he goes — dating back to 1994 when he was arrested and charged with murder in the deaths of his estranged wife Nicole Brown and of her friend Ron Goldman in Los Angeles.
His trial was called "the Trial of the Century" and garnered worldwide attention after his arrest, which began with a slow-speed pursuit by police while a friend drove him in a white Ford Bronco.
He was eventually acquitted of the murder charges in 1995, his trial creating a circus-like atmosphere outside the Los Angeles County Criminal Courts Building and spawning a seemingly endless public debate over whether he had gotten away with murder.
In 1997, a civil jury ruled in a wrongful death suit that Simpson was responsible for the deaths and awarded the Goldman family $33.5 million in damages, but little of the award was ever collected.
Simpson didn't help quash the speculation, authoring a controversial book in 2007 called "If I Did It." The proceeds from that book, however, were required to go to the victims' families under terms of the civil suit.
David Cook, who represents the Goldmans, said the civil judgment against Simpson remains in effect for another eight years before it must be renewed. He said that the amount Simpson owes now has ballooned to $70 million and that if he tries to cash in on his fame, they'll be ready.
"From a purely mercantile point of view, the fact that he's out resuscitates the judgment — brings it back to life," Cook said. "Of course he can sit there and retire, playing golf or eating his seafood and steak and listening to his iPhone — he can do that — but if he seeks to monetize his name, we're going to grab it."
Goldman family members had remained outspoken about their belief that Simpson killed Ron Goldman, and sister Kim Goldman wrote a book in 2015 called "Can't Forgive" that laid out the anger and pain she felt over the killing of her brother.
The Goldmans issued a statement Sunday afternoon.
"Now that Simpson has been released from prison, we the Goldman family will continue our quest in securing the only form of justice for Ron we have available; the rights to our civil court case judgment where Simpson was found to have willfully and wrongfully caused the deaths of Ron and Nicole," the statement said. "We anticipate that the Nevada Board of Parole will uphold the conditions of Simpson's parole and not provide leniency."
The parole board in Nevada, however, was not allowed to consider the events of 1994 in their deliberations and instead considered the facts around the case in Nevada in 2007, when Simpson was accused of leading a group of men into a Las Vegas hotel and casino to steal sports memorabilia at gunpoint.
Nicole Brown Simpson's body was found outside her home at 875 S. Bundy Drive in Brentwood. Police examine the area where her body was found.
(Francine Orr / Los Angeles Times)
California Highway Patrol units chase Al Cowlings, who is driving the white Bronco, and O.J. Simpson, hiding in the rear, on the 91 Freeway shortly after Simpson was charged in slayings.
(Al Schaben / Los Angeles Times)
Simpson holds up his hands before the jury after putting on a new pair of gloves similar to the infamous bloody gloves during his double murder trial in Los Angeles.
(Vince Bucci / Associated Press)
O.J. Simpson reacts in 1995 as he is found not guilty of murdering his ex-wife, Nicole Brown Simpson, and her friend Ronald Goldman. With him are members of his defense team, F. Lee Bailey, left, and Johnnie Cochran Jr.
(Myung J. Chun / Los Angeles Times)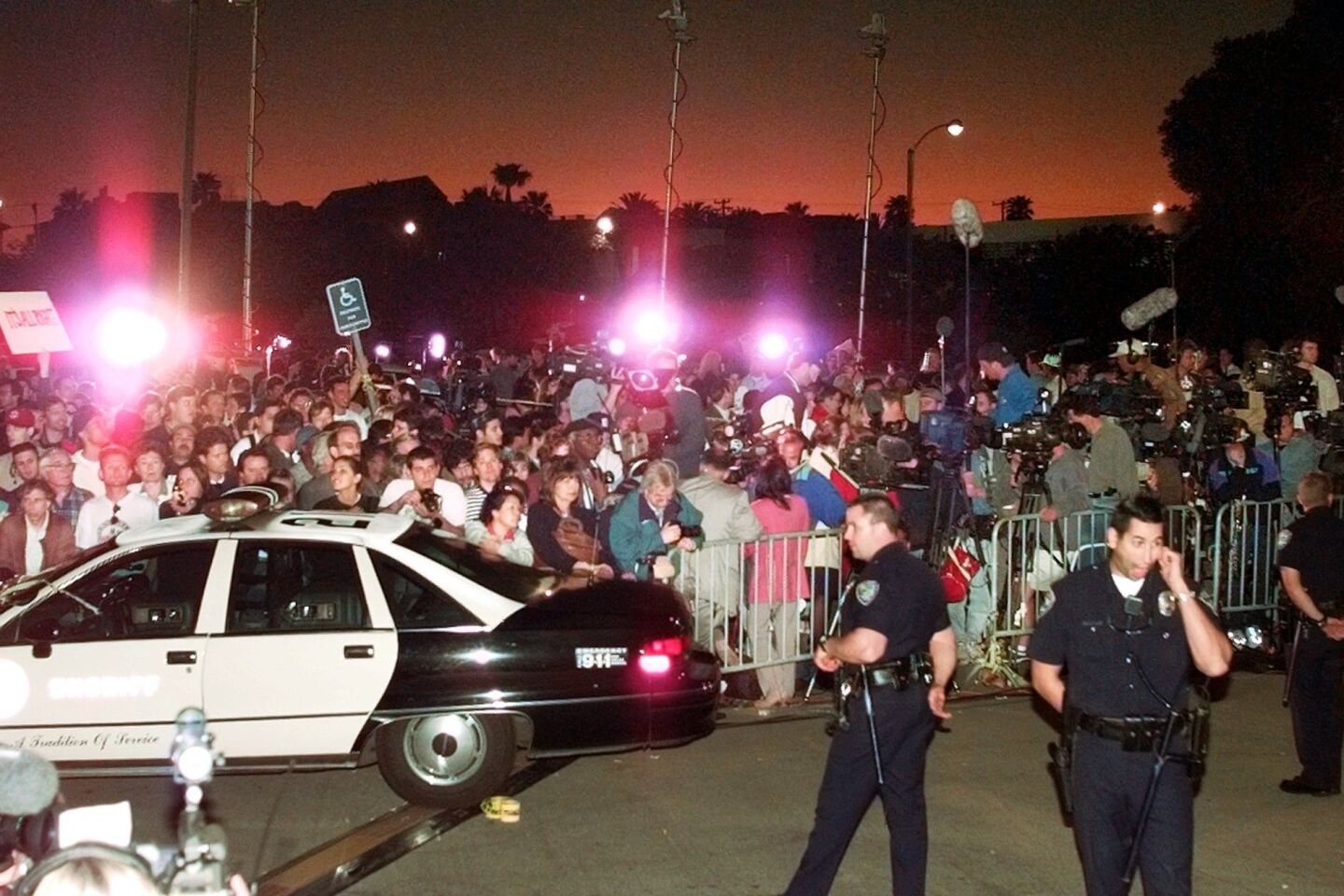 A large crowd gathers outside Los Angeles County Superior Court in Santa Monica to hear the verdict in the wrongful death civil trial against Simpson. He was found liable in the deaths of Nicole Brown Simpson and Ronald Goldman.
(Mark J. Terrill / Associated Press)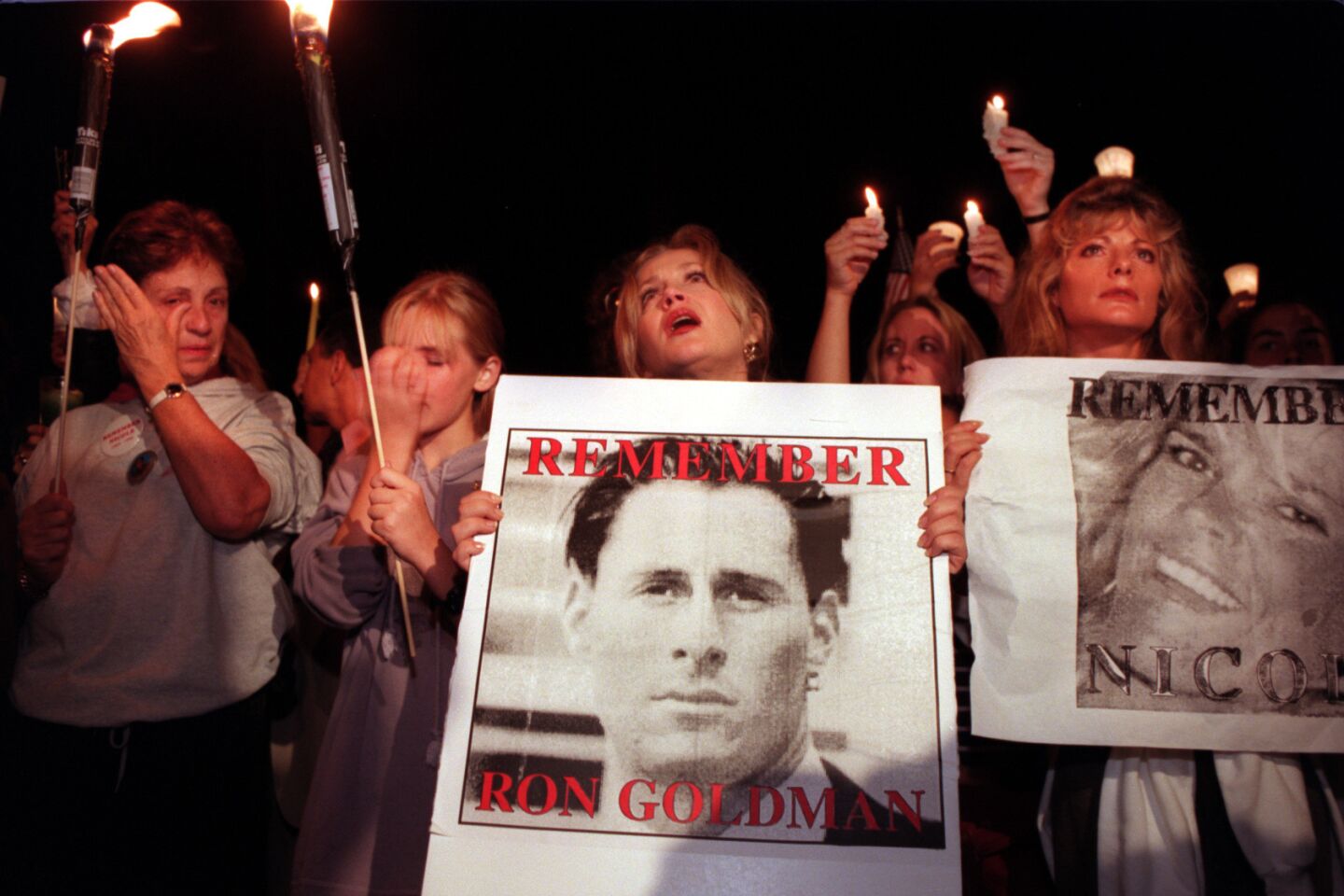 A candlelight vigil is held for Nicole Simpson Brown and Ron Goldman near the murder scene on Oct. 7, 1995.
(Francine Orr / Los Angeles Times)
The board had to determine whether, based on that case, he was not a threat to society, and had served his time in prison without incident.
"I've done my time," Simpson told the board in July. "I've done it as well and as respectfully as I think anyone can."
At his hearing, he suggested he'd like to go to Florida, and his attorney has also said that was where Simpson had hoped to locate.
"I can easily stay in Nevada, but I don't think you guys want me here," Simpson told the board, which elicited some laughter.
But officials with the Florida Department of Corrections said they had not received any paperwork regarding Simpson being transferred to them as of Friday, and Florida Atty. Gen. Pam Bondi said she didn't want him in the state.
Bondi wrote a letter Friday urging the state Department of Corrections to reject Simpson's request to live in Florida.
"Floridians are well aware of Mr. Simpson's background, his wanton disregard for the lives of others, and of his scofflaw attitude with respect to the heinous acts for which he has been found civilly liable," she wrote. "The specter of his residing in comfort in Florida should not be an option. Numerous law enforcement officials in Florida agree with this position. Our state should not become a country club for this convicted criminal."
The terms of his parole include restricting him from consuming alcohol "to excess" or possessing a weapon. He cannot use drugs unless prescribed legally and is subject to regular screenings to ensure he's in compliance with those terms. He cannot associate with convicted felons.
If he chooses to leave Nevada, Simpson would be required to seek written permission from the Division of Parole and Probation.
Simpson became eligible for release on Oct. 1.
Twitter: @davemontero
ALSO
O.J. Simpson at USC practice? Not any time soon, Clay Helton says
How the director of ESPN's 'O.J.: Made in America' found new ground on Simpson
O.J. Simpson is a 'sociopath, a narcissistic liar, a murderer, a thug, a kidnapper, a robber,' Fred Goldman says
---
UPDATES:
7:20 p.m.: This article has been updated with details on the release, deception and parole conditions.
3:22 p.m.: This article was updated with Goldman family statement.
1:30 p.m.: This article was updated with additional details of the release.
1:05 p.m.: This article was updated with comments from Goldman lawyer, publicist.
This article was originally published at 12:50 a.m.
Must-read stories from the L.A. Times
Get the day's top news with our Today's Headlines newsletter, sent every weekday morning.
You may occasionally receive promotional content from the Los Angeles Times.