These are the Florida students behind the movement to end gun violence
The shooting massacre of 17 people this month at Marjory Stoneman Douglas High School in Parkland, Fla., not only reignited the debate over gun control but also launched a group of teenage activists.
Students from the school have given dozens of interviews, gained hundreds of thousands of followers on Twitter and visited the White House and the Florida state Capitol. They've challenged senators and congressional representatives on live television and gone viral in videos of their pleas to prevent another slaughter.
Here are some key figures in the #NeverAgain movement.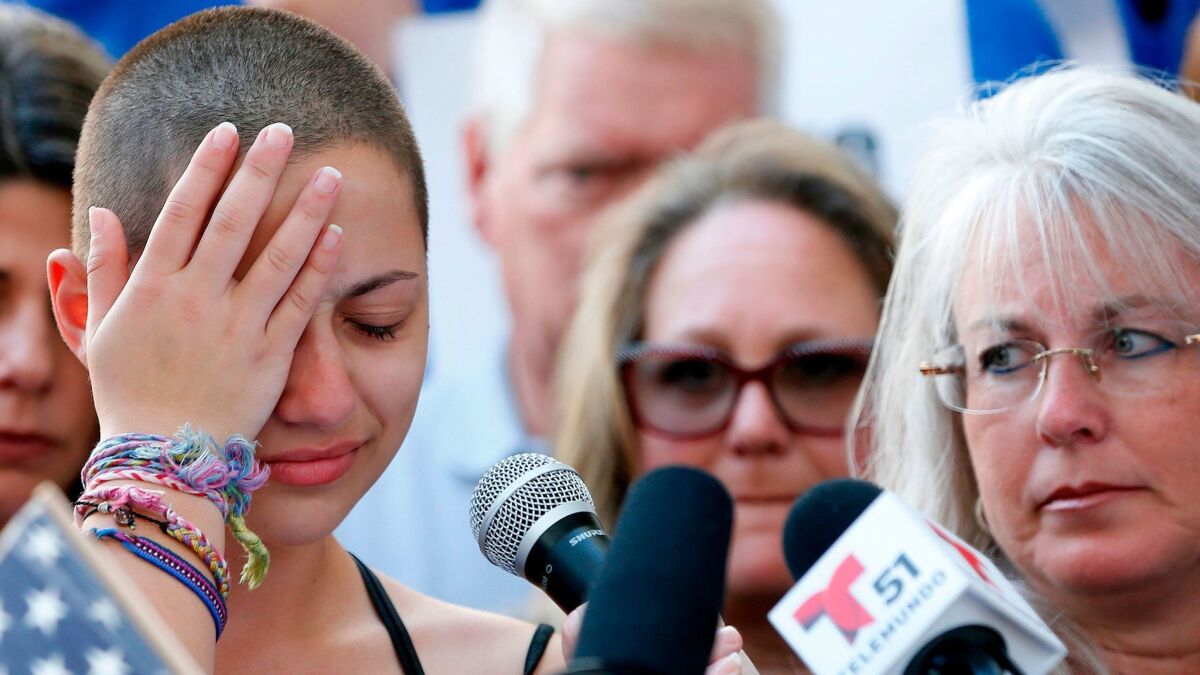 Emma Gonzalez, 18
Gonzalez, a senior, gave an impassioned speech Saturday at a Ft. Lauderdale rally for gun control.
"Every single person up here today, all these people should be home grieving," Gonzalez said. "But instead we are up here standing together because if all our government and president can do is send 'thoughts and prayers,' then it's time for victims to be the change that we need to see."
"They say no laws could have prevented the hundreds of senseless tragedies that have occurred," Gonzalez later added. "We call b.s."
At a CNN town hall Wednesday, Gonzalez pressed National Rifle Assn. spokeswoman Dana Loesch on whether she believed it should be harder to obtain semiautomatic weapons and modifications, like "bump stocks," that make them fully automatic.
"I don't believe that this insane monster should have ever been able to obtain a firearm, ever," Loesch responded. "I do not think that he should have gotten his hands on any kind of weapon."
David Hogg, 17
Hogg, a senior who directs the school's television station, interviewed other students about the shooting while they were under lockdown.
In a widely seen interview on CNN the day after the shooting, Hogg implored lawmakers and the president to take action.
"We're children. You guys are the adults," he said. "You need to take some action and play a role. Work together, come over your politics and get something done."
Hogg, who now has more than 140,00 followers on Twitter, has become a leading face of the student activist movement. Appearing on NBC's "Meet the Press" on Sunday, he criticized President Trump for asking why Democrats hadn't passed gun control legislation when they controlled both houses of Congress under President Obama.
"You're the president," he said. 'You're supposed to bring this nation together, not divide us. How dare you."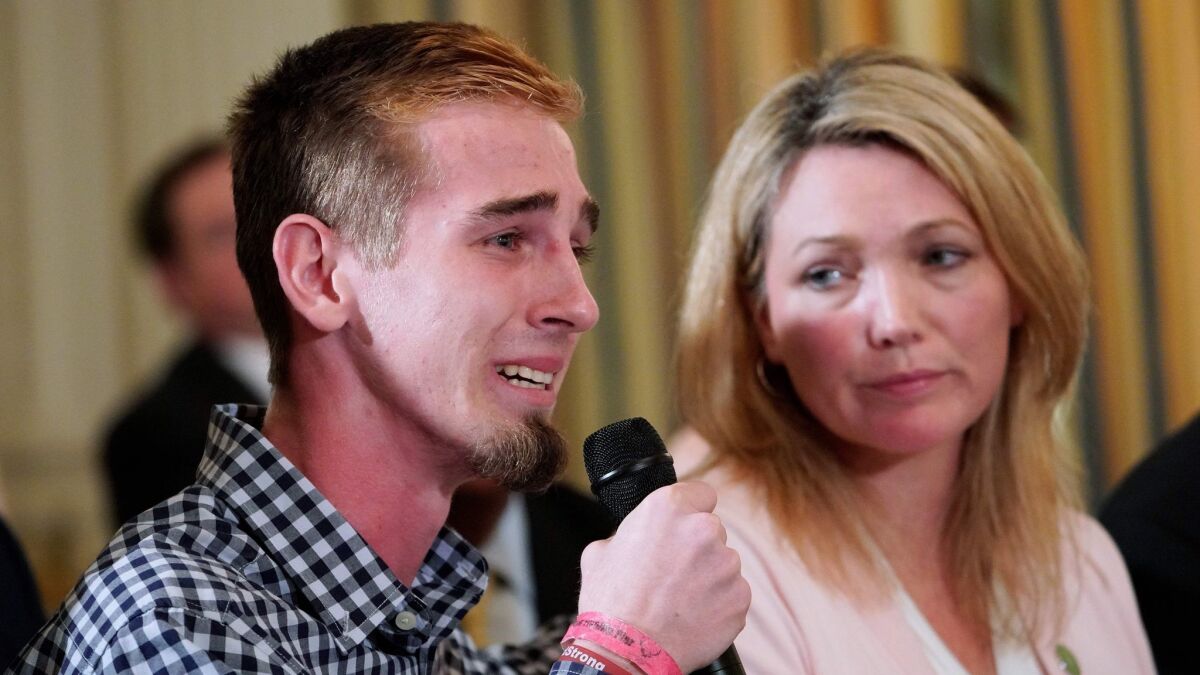 Sam Zeif, 18
During the shooting, Zeif, a senior, exchanged text messages with his 14-year-old brother, Matthew, who was in a classroom one floor up. Matthew's teacher, Scott Beigel, was shot dead after ushering students to safety. Sam later shared the exchange on Twitter, where it was "liked" more than 150,000 times.
"I didn't plan for them to go viral," Zeif said at the White House meeting with Trump. "I just wanted to share with the world because no brothers, or sisters, or family members or anyone should ever have to share those texts with anyone."
Zeif lost Joaquin Oliver, a friend he described as "practically a brother."
"I turned 18 the day after" the shooting, Zeif told Trump. "Woke up to the news that my best friend was gone. And I don't understand why I could still go in a store and buy a weapon of war."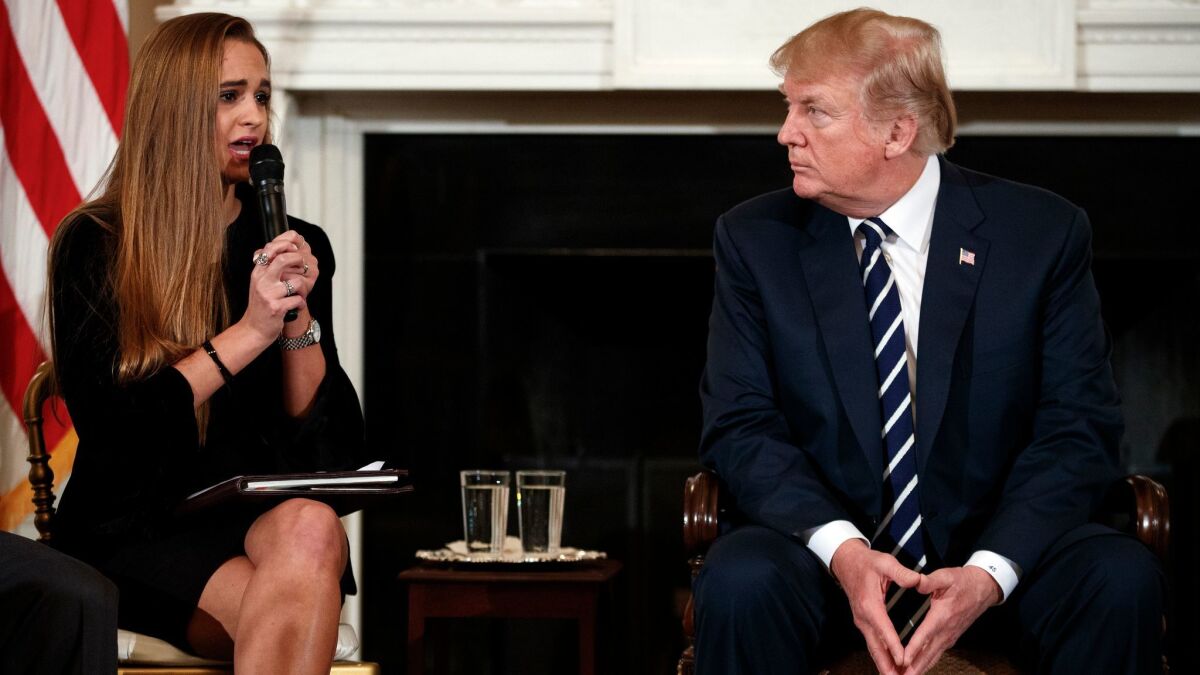 Julia Cordover, 18
Cordover, the senior class president, told Trump at the White House meeting that she hoped a compromise could be reached to prevent further mass shootings.
"I was lucky enough to come home from school, unlike some of my other classmates and teachers. And it's very scary," she said.
Cordover called Trump's move to ban bump stocks "a step in the right direction," but said there was more work ahead.
"I'm confident that you'll do the right thing," she told the president.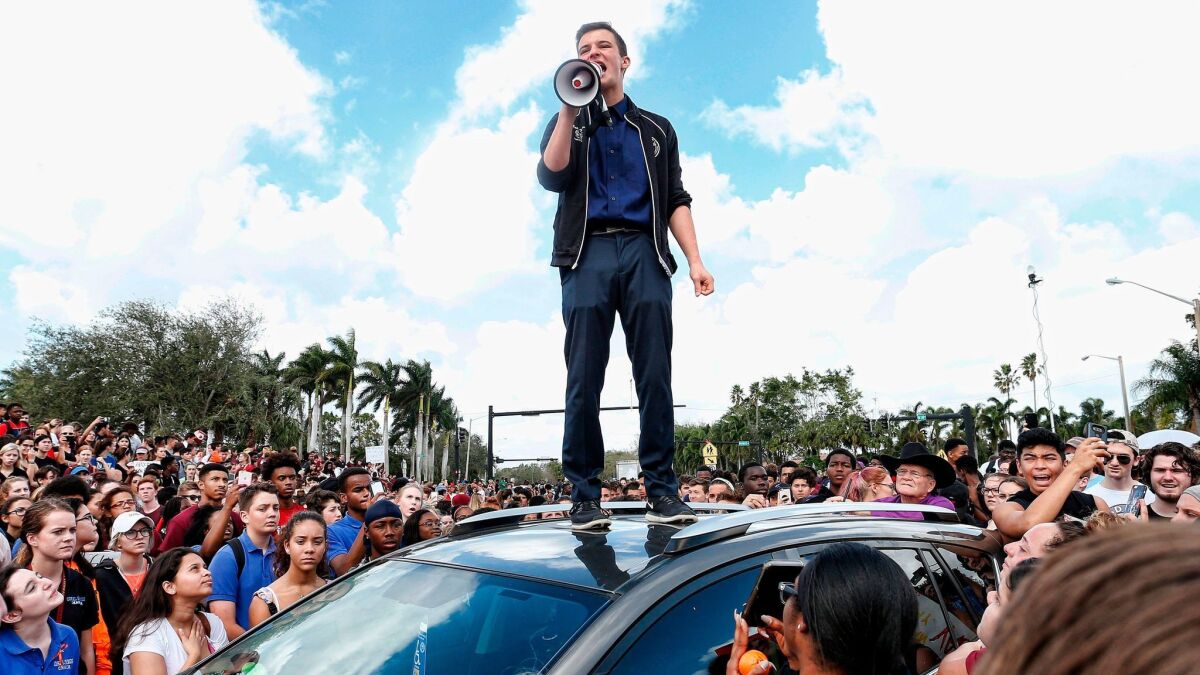 Cameron Kasky, 17
Kasky, a junior, was part of a group text that began after the shooting and became a way for friends to support one another and discuss how to respond to the violence.
Those students went on to start the "Never Again" movement. Kasky has said the name was his suggestion.
He also started a GoFundMe page that has raised nearly $2 million for the March for Our Lives in Washington, D.C., on March 24 and for sister marches across the country.
"Angry, scared, confused, grieving, and sick of the NRA fostering and promoting this gun culture," says Kasky's Twitter profile, which has grown to have more than 150,000 followers.
On Wednesday, Kasky got into a heated exchange with Florida Sen. Marco Rubio at the CNN town hall, where he repeatedly asked the Republican if he would refuse donations from the National Rifle Assn.
"So, Sen. Rubio, can you tell me right now that you will not accept a single donation from the NRA in the future?" Kasky asked.
"The answer to the question is that people buy into my agenda," Rubio replied. "And I do support the 2nd Amendment. And I also support the right of you and everyone here to be able to go to school and be safe."
Jaclyn Corin, 17
Corin, a junior, hid in a classroom during the shooting. Afterward, she helped organize a bus trip for dozens of classmates to the state Capitol in Tallahassee to rally for gun restrictions.
"I knew that I wanted to change something," Corin told the Naples Daily News. "I'm the type of person, when something bad happens to me, I can't just sit back and cry and go in a ball. I like to speak out and I like to act and distract myself from pain."
Students teared up as they watched the Florida House of Representatives vote down a motion to consider a bill to ban assault rifles. The vote in the Republican-dominated House was 36 to 71.
Kyle Kashuv, 16
A self-described Republican and Trump supporter, Kashuv told CNN after the shooting that he still supported gun rights but believed there should be some restrictions.
"We have such a limited government that should not be totally reliant on ... the police. We should be able to defend ourselves as citizens. I still totally believe that, but I think that there should be a limit to who could acquire such weaponry," he said. "If you're not of the right mind-set, you're not mentally stable, then you should not be able to acquire that."
Kashuv traveled to Tallahassee with his classmates. "Something has to be enacted to make sure this never happens again," he said in an interview on the bus.
He created his Twitter account, @KyleKashuv, during the trip with a one-word bio that reads "#MDSstrong."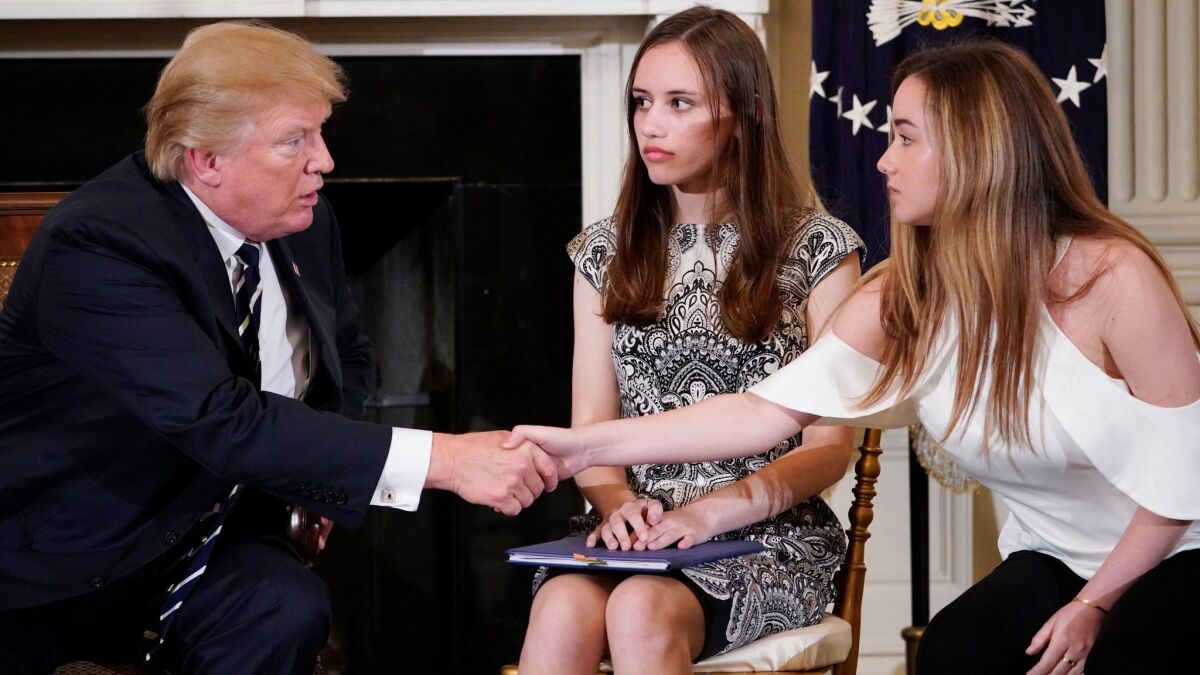 Ariana Klein
Klein, a junior, called Trump "a great leader" at the White House meeting on Wednesday and urged ideological enemies to talk more with one another.
"I just want to say that everybody right now is so stuck on what they believe, that they're not even listening to what other people believe. We need to listen to the other points of views," she said. "We all need to realize that we all have different points of views and that we need — this solution is not going to be a singular thing. It's going to be multifaceted and it's going to be created by a collection of different people working together."
"And we all have to realize that we all have our opinions, and together we're going to be able to work to a solution. And this is not just Parkland anymore; this is America. This is every student in every city, everywhere. It's everybody. It's not small. It's everything."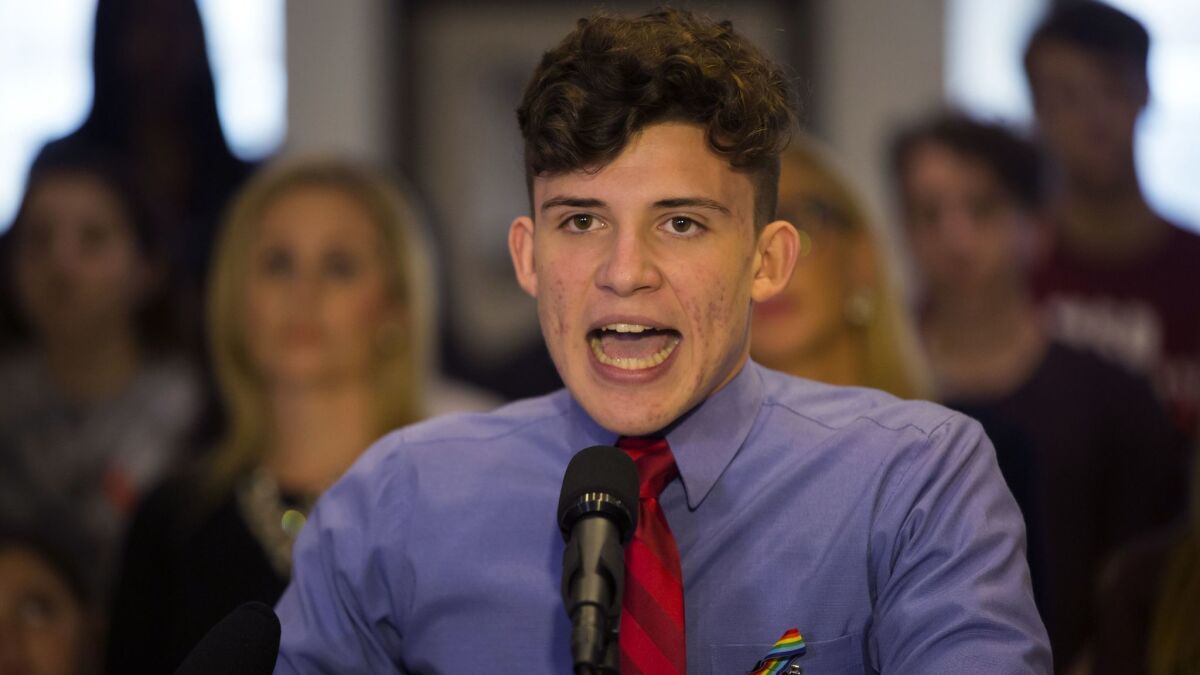 Alfonso Calderon, 16
Calderon made headlines after giving an impassioned speech during a televised news conference as students rallied in Tallahassee. He defended students against critics who said they were too young to understand politics.
"We will not be silenced. It has gone on long enough," he said. "Just because we are kids we are not allowed to understand but, trust me, I understand. I was in a closet, locked for four hours with people who I would consider almost family crying and weeping on me begging for their lives."
"I understand what it's like to text my parents, 'Goodbye, I might never ever get to see you again. I love you.' I understand what it's like to fear for your life. And I don't think we should ever be discredited because of that. I don't think we should ever be silenced because we are just children."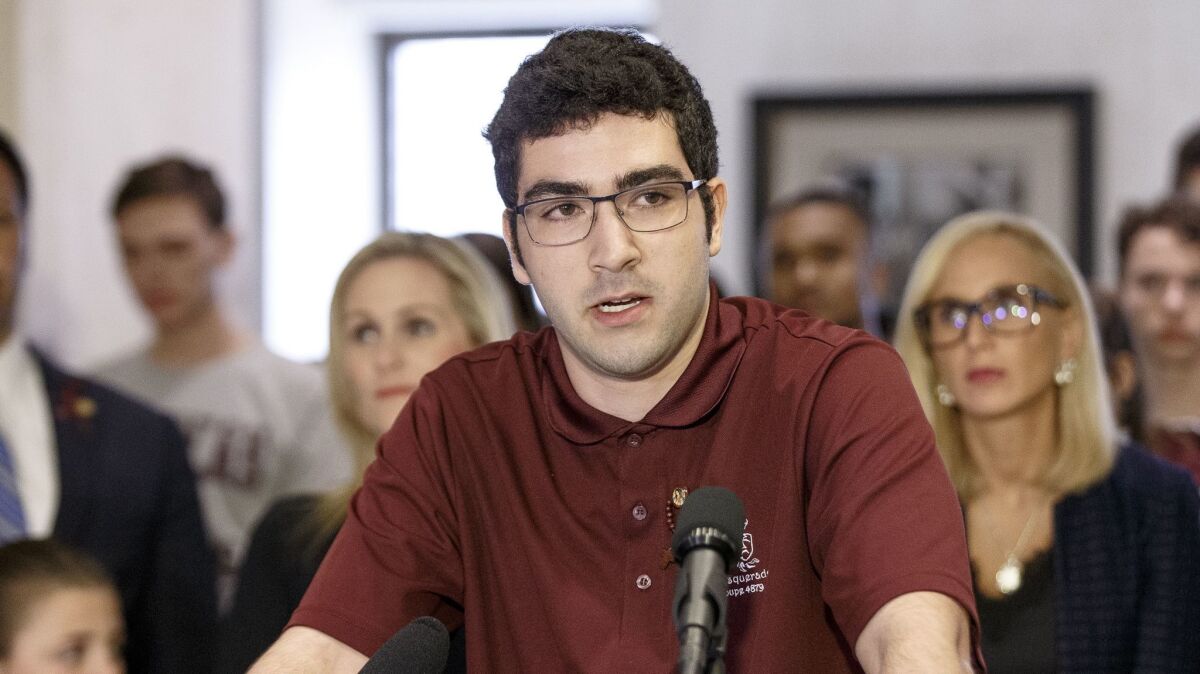 Lorenzo Prado, 17
Prado, a junior, was near tears as he spoke at the same Tallahassee news conference and described hiding in his school's auditorium sound booth and getting pinned down after a SWAT team mistook him for the shooter.
"SWAT comes in, and I thought they were here to rescue me. But then as I go down the stairs, I find out that I was wrong," he said. "I found out that they thought it was me that killed the 17 people. I go down the stairs, they tell me to put my hands up. I, being the fool that I was, tried putting my phone back in my pocket. They demanded again, and I, not trying to be one of those news stories of someone dying wrongfully because they refused to put their hands up, I just dropped my phone at that moment and kept going.
"When I went out those doors, I had six SWAT members pointing their guns at me. I was tossed to the ground. I was unjustly cuffed and held at gunpoint for the degrading and depreciating action of the disturbed individual Nikolas Cruz. I was then put in a corner with a policewoman guarding me. I knew any move I made would be the end of my life. Throughout the entire event, I only felt two things: I felt fear, as I did not know my future. I did not know if I was going to be let go. I did not know where the terrorist was.… The second thing was guilt."
Lane Murdock, 15
Murdock doesn't attend Marjory Stoneman Douglas High School, but she said the violence there prompted her to call for a national high school walkout on April 20 that has gained hundreds of thousands of followers and supporters on social media and through a Change.org petition. The date marks the 19th anniversary of the Columbine High School shooting in Colorado that left 13 people dead.
A sophomore at Ridgefield High School in Connecticut, a 20-minute drive from Sandy Hook Elementary School, Murdock hopes teenagers around the country will take part in the walkout to honor those who have died in school shootings.
"We're neutral. Some people who are trying to help and support us naturally assume we're politically aligned. We want April 20 to be a day of solidarity for the lives lost. It's about paying our respects," Murdock told the Hartford Courant. "But we also want it to be a day of discourse. Adults fight on the internet, in the press, in politics. A lot of kids don't, and it's because we're open to listening."
A youth movement of the Women's March called EMPOWER is also pushing for a national school walkout at 10 a.m. March 14 among "students, teachers, school administrators, parents and allies." The group is suggesting those who walk out stand in silence for 17 minutes, one for each person who died in the Florida massacre.
Must-read stories from the L.A. Times
Get the day's top news with our Today's Headlines newsletter, sent every weekday morning.
You may occasionally receive promotional content from the Los Angeles Times.