Wife of Brig. Gen. Jeffrey Sinclair says he lives with guilt over affair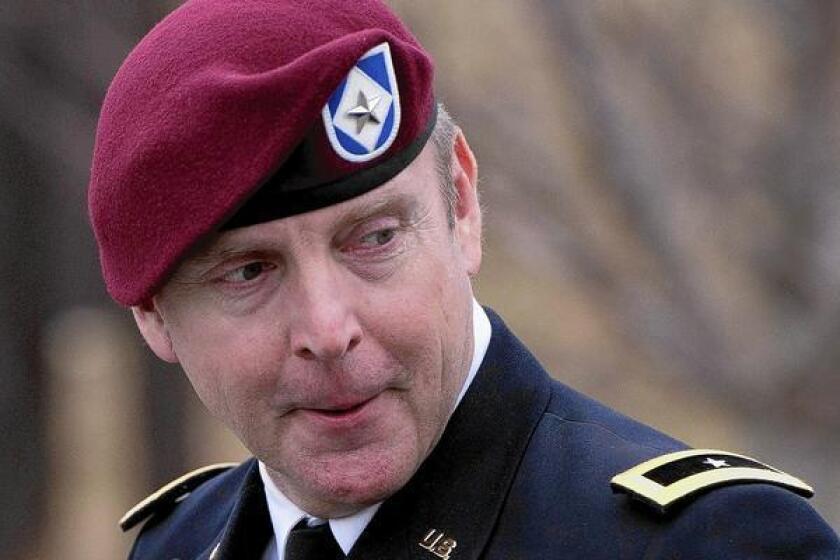 FT. BRAGG, N.C. — The wife of Brig. Gen. Jeffrey A. Sinclair, who has supported him from the time he was charged with sexual assault two years ago, described her husband in a statement Tuesday as consumed by guilt and remorse for an adulterous affair with a junior officer under his command.
The statement came as a prosecution witness testified that suspicions of the three-year affair with an Army captain had become so widespread that a military skit at a roast for Sinclair in 2010 featured soldiers portraying the general and his lover as they prepared to engage in oral sex.
Rebecca Sinclair and her husband watched the skit along with other military wives, who "were clearly shocked, angered and dismayed," Lt. Col. Ben Bigelow, who served with Sinclair, told a military judge on the second day of Sinclair's sentencing hearing.
In her statement, Rebecca Sinclair did not mention the skit but described the lasting damage her husband's infidelity had inflicted on his family and on Sinclair himself.
"The public humiliation and vilification are nothing compared to the private suffering and guilt he lives with every day," she said in a letter to the military judge who will sentence her husband for adultery, mistreating his lover and other offenses.
She said her family had been "dragged through the mud" by the media, Army prosecutors and "that party" — her term for the woman with whom her husband had the affair. She asked why "that party has been protected and permitted to lie under oath with no consequences."
Forensic experts testified that the captain, who testified under a grant of immunity, lied on the stand in January during testimony about an old phone she said she had discovered that contained messages to and from Sinclair.
The general's lawyers attempted to read Rebecca Sinclair's statement in open court late Tuesday. But the judge, Col. James L. Pohl, did not allow it and said he would revisit the issue Wednesday.
Rebecca Sinclair, who said she has stayed away from her husband's high-profile court-martial to be home with the couple's two sons, ages 10 and 12, asked for a sentence that "doesn't punish us any further." She referred to herself and the boys as "the only truly innocent victims to these offenses."
She criticized the Army for failing to punish her husband's former lover for adultery, a serious offense in the military. She said of her husband's infidelity, "I have to be honest — I am on the road to forgiveness, though not fully there."
The deeply personal statement by a wronged wife came on a day when the Army attempted to demonstrate that Sinclair's behavior had compromised good order and discipline.
Suggesting that Sinclair's actions had exposed the Army to public ridicule, it introduced testimony about the 2010 skit, performed in Germany in front of at least 500 people, including officers, soldiers and German citizens. The skit was part of "a roast for the boss" at a change-of-command party. Sinclair and the captain began their affair in 2009.
Bigelow said a soldier in a brown wig depicted the captain, who kneeled at the crotch of another soldier portraying Sinclair. "She was offering to give him oral sex," he testified, adding that the performance drew raucous laughter at a party where alcohol was served. The captain did not attend.
Bigelow said he had heard rumors that Sinclair and the captain were "too close" and possibly having sex but that Sinclair "vehemently denied" any improper relationship.
Two years later, in March 2012, the captain accused Sinclair of twice forcing her to perform oral sex on him. Sexual assault and sodomy charges were dismissed Monday in a plea deal in which Sinclair agreed to plead guilty to lesser charges.
Asked on cross-examination whether Sinclair ordered the officer who had organized the skit to apologize to the captain and also find out how she was doing, Bigelow said he was not aware of that.
Sinclair, 51, one of only a handful of generals to face court-martial in the last 60 years, pleaded guilty Monday to mistreating the captain. He also pleaded guilty to twice misusing his government charge card to pursue the affair, disobeying an order not to contact his mistress, and making derogatory comments about other female officers.
A week earlier, Sinclair pleaded guilty to adultery, impeding an investigation by deleting sexually explicit emails to and from a civilian woman, possessing pornography in a war zone, conducting inappropriate relationships with two other female officers and improperly asking a female lieutenant for a date.
Under the plea agreement hammered out over the weekend, the Army agreed to dismiss charges that Sinclair threatened to kill the captain and her family if she exposed the affair and engaged in "open and notorious" sex in a parked car and on a hotel balcony. Sinclair would have faced life in prison and registration as a sex offender had he been convicted of the most serious charges.
With his guilty pleas, Sinclair would normally face up to 25 1/2 years in prison when sentenced by Pohl at the conclusion of this hearing. However, an agreement between prosecutors and the defense puts a cap on his punishment. Terms of the agreement were not disclosed.
Also Tuesday, Army prosecutors put on the stand the lieutenant who was asked for a date by Sinclair after he told her he was "smitten" by her. She declined because she "just didn't think it was right," she testified.
The lieutenant said publicity about the case had damaged her career and "done me a disservice."
The testimony was intended by prosecutors to demonstrate that Sinclair's behavior has harmed female service members and that the general should be punished accordingly.
The lieutenant, one of just a handful of women serving as a field artillery officer, said senior male officers were now wary of her and refused to meet with her alone in their offices. "I feel this case has worked against me," she testified.
Holding back tears, she paraphrased career advice she said Sinclair offered her in an email: "If you are female and you are successful, it's perceived that you are screwing someone to get to the top."
Sinclair's lawyers followed the Army's witnesses with a parade of 15 active-duty or retired officers and soldiers who praised the general's military service and commitment to his soldiers.
Their testimony depicted him as one of the Army's most dynamic and inspirational commanders, a charismatic leader respected and admired by many former colleagues despite his guilty pleas.
The witnesses told the judge they would proudly serve with Sinclair if given the opportunity. They said he was fully capable of and committed to redeeming himself and repairing the damage he had caused his wife and sons.
A retired chaplain and close friend of Sinclair said he practiced "tough love" on the general and urged him to take responsibility for his actions.
"I believe he took ownership of his actions — and I didn't let him off easily," the chaplain, Curtis Heydt, testified. "Jeff wants to rebuild his relationship with his family and to take actions to change ... and make more of his life."
A retired chief warrant officer, Eric Lee Jr., testified by phone from Chile that Sinclair confessed to him two years ago that he had committed adultery with the captain and had begun to repair his marriage. "He's not afraid of the truth," Lee testified.
Lt. Col. Todd Grissom said Sinclair would "go the extra mile" to give a second chance to soldiers who had broken regulations if they genuinely showed remorse.
Outside the courtroom, Sinclair's lead attorney, Richard L. Scheff, called testimony about the skit a "lowball tactic," saying Sinclair had nothing to do with the skit and could not be held responsible for it.
Scheff also called the judge's decision not to immediately allow Rebecca Sinclair's statement to be read into the court record "appalling." He vowed to get the statement admitted Wednesday. "It will be in," he said. "If there's justice, it will be in."
Asked why Rebecca Sinclair did not appear in court to read the statement herself, Scheff told a reporter: "She is home with her kids — and if it were you, your wife would be home with your kids as well.
"Her entire family has been dragged through the mud, and she's not happy about it," he said.
In the statement, Rebecca Sinclair told the judge that she chose to remain home with her sons: "I am sure you understand that this is where I need to be and … should not be viewed as a lack of support or love for my husband."
She added that Sinclair had been a loving and devoted father to the couple's sons. "Their true and open hearts have forgiven him," she said.
Outside court, Sinclair's lawyers and public relations team sparred with a retired Navy rear admiral and lawyer, Jamie Barnett, who has said that he is an unpaid legal advisor to the captain. In a statement Monday, Barnett said the captain stood by her claim that Sinclair had sexually assaulted her.
The statement said Sinclair "victimized" the captain and "literally sabotaged her career by altering her orders to keep her under his command and refusing her many requests to be transferred." He said Sinclair's behavior was "not only illegal, it was unconscionable."
Scheff called Barnett's statement "utter nonsense." He said the captain's own emails and journal entries showed that she enjoyed working for Sinclair and wanted to continue. She even lobbied to be sent to Ft. Bragg when Sinclair was stationed there, he said.
Rather than scheming to have the captain transferred to Ft. Bragg to be near him, Scheff said, Sinclair listed Ft. Bragg as seventh among the options the captain should consider for her transfer.
Asked to respond to Scheff's comments, Barnett said in a statement Tuesday that Sinclair "not only disgraced his uniform, he used his command authority in a way that was both inappropriate and illegal."
He added, "It is past time to explain or parse either his behavior or judgment."
Barnett said no sexual relationship between a senior commander and junior officer could be consensual because commanders wield considerable authority over those they command.
"It is sexual abuse and victimization of the junior person," he said.
---
Must-read stories from the L.A. Times
Get all the day's most vital news with our Today's Headlines newsletter, sent every weekday morning.
You may occasionally receive promotional content from the Los Angeles Times.