Behave, the Video Vigilante is watching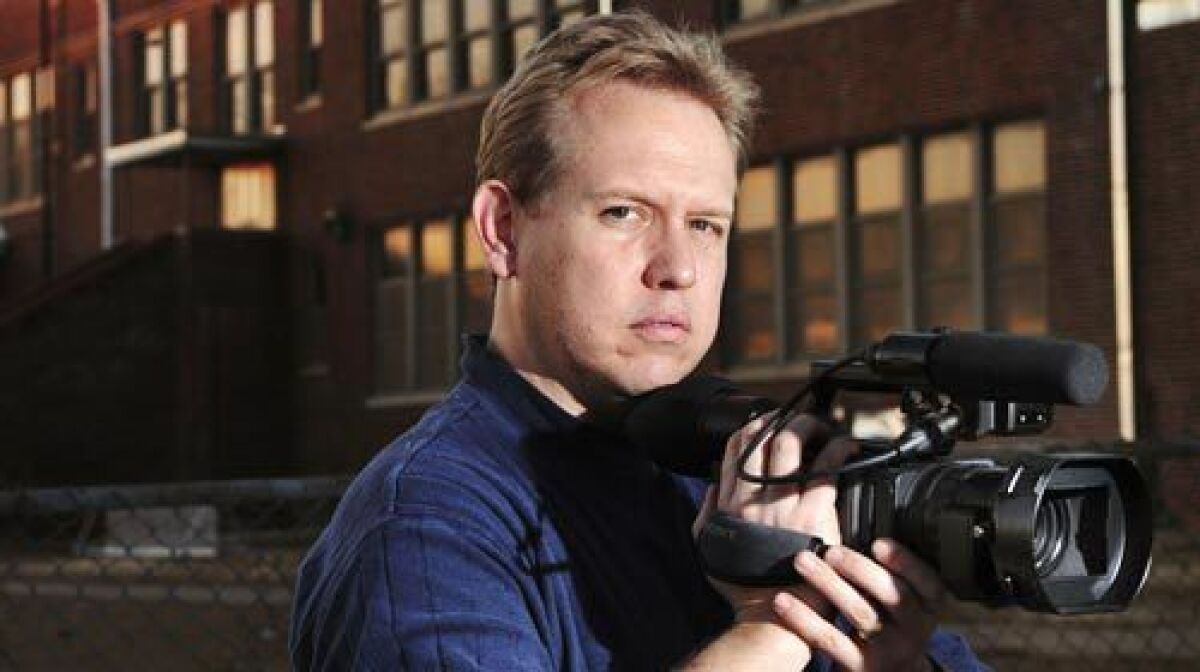 Los Angeles Times Staff Writer
OKLAHOMA CITY —
It was a bright-blue winter morning in this Bible Belt capital, and Brian Bates was happy. The balmy weather conditions, he explained, were conducive to his peculiar line of work: public humiliation.
Steering wheel in one hand, camcorder in the other, Bates slowly drove a white Ford Explorer with tinted windows past a procession of sad-eyed prostitutes. But his camera was not trained on them; it was targeting their customers.
Bates, the self-styled Video Vigilante of Oklahoma City, sneaks up and surprises men consorting with prostitutes and then posts cleaned-up versions of the footage on the Internet -- to disgrace them.
"If you get caught by the cops, you pay a fine. If you get caught by me, you get a life sentence," Bates bragged as he trailed a middle-aged man who had invited a young prostitute into his red Ford pickup. "There's no reprieve, no probation. People will be hitting that video on Google searches as long as you live."
Bates, 38, is among a burgeoning breed of activists who are using inexpensive video technology to capture immoral and socially unacceptable public behavior. Often they focus on criminal acts committed under the nose of law enforcement. Sometimes they point the camera at the authorities themselves.
In New York City, a frustrated motorist who calls himself Jimmy Justice tapes traffic officers as they break the laws they're supposed to enforce. In Oceanside, Calif., a former Marine known as Gangbuster posts videos of purported gang members. In Chicago, an art studio owner dubbed the Lake Street Lookout chronicles street violence outside nightclubs, and was taping last August when a man was shot in the back five times and killed.
Because of Bates' sexual subject matter and penchant for shameless self-promotion, he may be the most notorious of the video activists. Tens of thousands of people watch his clips on the Internet every year, eager to be amused by the sight of a man being shamed -- and when they do, Bates profits.
What started out as the modern equivalent of a tarring and feathering in a town square has become a paycheck for Bates, a former marketing manager for a hospital. Bates still has a regular job cobbling together lists of people jailed the night before that he sells to ambulance-chasing attorneys every morning. But he's hoping to leave that behind for a full-time career as a public humiliation professional.
He licenses his footage to talk shows for $250 a clip, gets paid an undisclosed amount to appear as an exclusive guest on Maury Povich's tabloid TV show and recently agreed to upload his videos to YouTube for a cut of the ad revenue they generate. If he gets as many hits in 2008 as he got in 2007, Bates said, he'll earn $70,000 this year from his Web traffic alone.
"I'm a 10 o'clock news station's dream," he said. "Before me, there were many anti-prostitution activists in Oklahoma City. No one can remember their names. But everyone knows the Video Vigilante."
A pudgy-faced man who bears a slight resemblance to the actor Gary Busey, Bates began his camcorder crusade a decade ago because he felt powerless. Prostitutes along South Robinson Avenue, a dilapidated byway leading into downtown, made no secret of what they were doing. Men in trucks and luxury sedans picked them up and parked on the surrounding streets, in full view of children and families.
Bates lived nearby. One day, he discovered a prostitute and her client in a car in his driveway. His girlfriend was propositioned walking to the store. So were neighborhood children at the bus stop. It infuriated him.
He tried testifying against the men, but most cases fizzled. When a prosecutor told him, somewhat jokingly, that the only way to get a conviction was to catch the men on videotape, Bates thought it was a brilliant idea.
Since becoming the Video Vigilante, a name he adopted after it was used in a news report, Bates has captured hundreds of Oklahomans in compromising positions. They include three pastors, one of whom was recorded in a church van.
Police say Bates' recordings are considered legal because he videotapes acts on public streets, but some civil libertarians have called them unethical, claiming that Bates is serving as judge, jury and executioner. Though some men have hired lawyers, Bates claims they typically give up after he suggests that fighting him will only generate more publicity.
But his videos -- usually a blurred-out snippet of a man caught in the act with a prostitute -- often don't result in criminal charges because police consider them insufficient evidence.
"We don't condone this stuff," said Sgt. Paco Balderrama, an Oklahoma City police spokesman. He had reports showing that Bates had sought protection after threats from pimps and angry men he has videotaped.
"Obviously, having video images of a crime helps law enforcement officers," Balderrama said. "But has Mr. Bates' work resulted in a higher number of convictions? The answer is no."
None of that seems to bother Bates. His website, JohnTV, continuously shows footage of men, whether or not they've been convicted. Its home page features a photo of a startled man pulling up his pants, with the question "Would it be worth it?"
"Quite honestly, I know that 70% of the people who watch my videos probably heard about them from someone at the water cooler who said, 'Have you seen what that nut's doing down in Oklahoma City?' " Bates said. "But hopefully, I can show them that the guy who picks up prostitutes is not the creepy old man at the end of the street. It's often the nice dad who lives next door."
On Internet message boards and in newspaper letters to the editor, Oklahomans have remarked that the only thing sleazier than prostitution is Brian Bates profiting from it.
"I personally like Brian and think he's a positive influence. But a lot of people think he's a pervert or a nut," said Oklahoma County Dist. Atty. David Prater. "He may be a guy who enjoys the attention a little too much, but he plays a role in educating people."
Bates certainly entertains. One of his most popular videos, a recording of a Lowe's deliveryman with a heavy-set prostitute atop someone's washing machine, has been viewed more than 339,000 times on YouTube. After the man sees Bates and puts his uniform back on, he admits he is married. Bates belittles him for failing to wear a wedding band and asks, "What's going through your head, buddy?"
Bates concedes that he says provocative things to make his videos more outrageous. He also admits that he enjoys the thrill.
"There is a big adrenaline rush to doing this -- rushing up to a car and knowing you could get shot," Bates said. "It can be dangerous, but it's what I enjoy -- and it's either this or going back to 9 to 5."
Though he no longer lives there, he says he has a sincere interest in the neighborhood in which he films. Many residents appreciate his work.
"He's doing justice," said Kathy Terry, 40. "He's exposing what we have to live with."
Bates also said he cares about the well-being of the women. Pointing to one prostitute with a leathery face, he said: "She used to be real pretty when she first came down here. It's sad to see what she's become."
On South Robinson Avenue shortly before noon, Bates spotted a prostitute by an abandoned doughnut shop. Then he saw a man with a bandanna wrapped around his head step out of a Lincoln Town Car and move toward her with a knife. Bates started videotaping.
"He wants money," Bates said, as the man backed the woman into an alley and rifled her pockets. Bates called 911.
Within seconds, a motorcycle cop wheeled up, holding a pistol. Within minutes, eight officers searched the Town Car's passengers and arrested convicted drug dealer David "Half Pint" Robinson on suspicion of armed robbery. Robinson had allegedly taken the prostitute's cellphone and money as payment for a debt. Bates provided police with a DVD of his footage.
"Thank you," the victim, Loretta Woods, said to Bates as she went with police to give a formal statement.
As Half Pint's pals drove away, one man wearing a black ski cap gave Bates a chilling glare. Bates shrugged.
"It's like that every day down here," he said. "These are not the pillars of our community."
Bates broke for lunch with his wife at a quiet downtown restaurant. Vickie Bates, a small, sweet-voiced woman who works as a hiring manager, admitted that she worried about her husband's safety. But sadly, she said, she worries more about law enforcement.
It was a reference to a legal fight between the Video Vigilante and another Oklahoma City character, former Dist. Atty. Wes Lane, who called himself the "minister of justice." Lane charged Bates with felony pandering in 2005, accusing him of paying prostitutes to take men to places where he could better film them. Websites posted the Video Vigilante's arrest report.
Bates admitted he'd paid prostitutes "for their time" to share their stories but denied conspiring with them. He claimed that police and prosecutors had a grudge against him because in 2002 he videotaped two officers beating a black man -- a case that got national headlines.
Due in part to his tussle with Bates, who distributed leaflets around town noting that the prosecutor's wife had surrendered her medical license amid substance abuse problems, Lane was voted out of office. The charges against Bates were later reduced to misdemeanors, but the case took a toll on Bates' finances -- and his reputation.
Back on the prowl after lunch, Bates began following a man in a red GMC pickup who was with a prostitute. When the man parked near a church playground, Bates grabbed his video camera.
"You're busted, buddy!" Bates said, opening the truck's door. The man, who said his name was Luis, pretended not to understand. "No hablo ingles," he said. As Bates videotaped his license plate, the man muttered something in English about the prostitute being his friend and sped off, leaving her standing there.
"Don't do me like that, Brian, just blot me out," pleaded Sheri Osbourne. Bates just stared at her. He commented that he had not seen her in years and wondered why she was on the streets again. "Emergency purposes," Osbourne said, pointing to a throbbing molar in her mouth.
Bates knows that video footage alone is not going to stop street prostitution. But if he can scare away a few men and persuade a few women to abandon that life, he says, he'll feel he has done his part.
By late afternoon, Bates was struggling to surprise anyone. Perhaps it was his JohnTV license plate or word of mouth from Half Pint's friends, who were still hanging around, but every time Bates trailed a prostitute, she was on to his game.
"I've rustled the natives enough," Bates said.
As the sun fell and Bates headed home with a camcorder full of new material, many prostitutes were just arriving for work.
Must-read stories from the L.A. Times
Get the day's top news with our Today's Headlines newsletter, sent every weekday morning.
You may occasionally receive promotional content from the Los Angeles Times.