Witnesses recount Flint airport attack: 'He just started stabbing'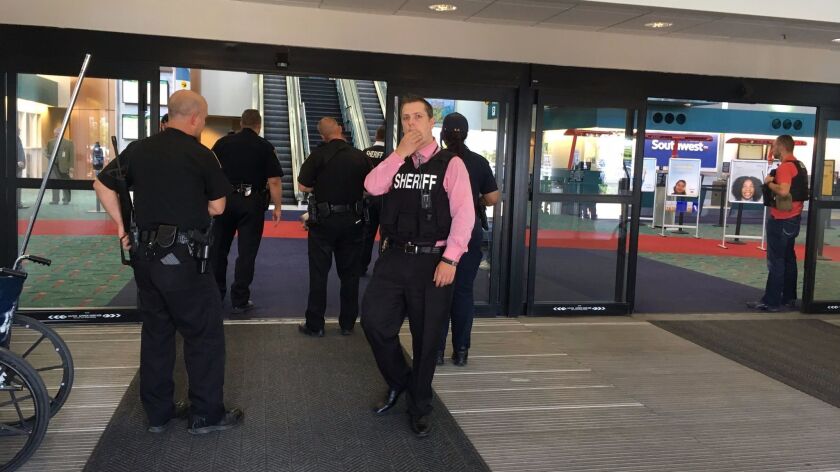 As they look back on the bloody scene that unfolded Wednesday at the airport in Flint, Mich., witnesses say there was no warning of what was to come.
The man the FBI would later identify as Amor Ftouhi had wandered around the public parts of Bishop International Airport, just outside the Transportation Security Administration screening area. He was carrying bags, and went inside a restroom. He came out without the bags and went up to police Lt. Jeff Neville of the airport's Public Safety Department.
The chief of the department, Chris Miller, who was nearby, said Ftouhi did not engage with Neville.
"He just started stabbing," he said.
The only warning, such as it was, came, authorities said, when Ftouhi yelled, "Allahu akbar" — "God is great" in Arabic. David Gelios, the FBI special agent in charge, said witnesses reported that the attacker also shouted words to the effect of, ​​​​​​"You killed people in Syria, Iraq, Afghanistan, and we are all going to die."
The struggle that ensued over the next minute, which is being investigated as a possible act of terrorism, left Neville bloodied, Ftouhi under arrest and the city's Muslim community on edge and fearful of retaliatory attacks against their community.
Authorities said Ftouhi, 50, of Canada, was armed with a 12-inch knife – 4 inches of handle, 8 of blade. He stabbed Neville in the neck.
"I was 10, 15 feet away when I witnessed the attack," Neville's friend Lt. Dan Owen of the airport Fire Department said. "It was very terrifying to see something that quick, and luckily we were at a very close distance to respond."
Neville fought back against his attacker. Owen rushed in to help. So did Miller.
"Lt. Neville never stopped fighting," Miller said.
"Neville fought him right till the end, right until I was able to handcuff this person," he said.
Neville underwent surgery and was reported to be in satisfactory condition. He is a 16-year veteran of the department, according to his LinkedIn profile.
So far, it appears that Ftouhi acted alone and did not have specialized training, but the investigation is continuing, Gelios said. Gelios, in a televised news conference, added that Ftouhi entered the United States legally on June 16 at Lake Champlain, N.Y.
The airport was shut down for several hours as investigators combed the crime scene.
Justin Marshall, 36, was flying on Delta Air Lines from Atlanta to Bishop International Airport when the flight attendant told passengers that an incident had occurred and they wouldn't be allowed to land right away. "We circled the airport for 20 minutes," he said in a phone interview.
"They didn't tell us right away what happened," said Marshall, who lives about an hour north of Flint. He said the attendant then said the plane would still have to circle for an additional 15 minutes.
The attendant later said "that an individual had forced their way to a secure area of the airport," he said. "We didn't know a police officer had been stabbed until other passengers managed to go online."
Marshall, who is vice president of advancement and alumni relations at Northwood University in Midland, Mich., said that after the flight landed, he and his fellow passengers had to wait about 45 minutes until they deplaned and were escorted by police officers and TSA agents.
He said about 20 police officers and TSA agents had lined the gate where the passengers waited to get their checked baggage.
"Everyone was calm and orderly and understanding of the situation," he said. "We were mostly concerned about the officer."
Expressions of support for Neville came from all over.
"My thoughts and prayers are with all of our law enforcement officers who work to service and protect us each and every day," Flint Mayor Karen Weaver said. "I want the public to know that several agencies are involved and working to ensure the situation is under control."
Michigan Gov. Rick Snyder said on Twitter: "As we wait to learn more about the incident at Bishop Airport, please keep the attacked officer in your thoughts & prayers."
There is a relatively large Muslim population in Flint, and many residents describe their relationship with the greater community and law enforcement as generally positive. But with anti-Muslim incidents on the rise in the U.S. — and recent terrorist attacks overseas — some local residents worry about possible backlash against Muslims.
Muna Jondy, a spokeswoman for the Flint Islamic Center, estimated that there are as many as 3,000 Muslims in Flint. She said some are concerned that the attack on Neville will prompt retaliatory violence, especially as Muslims gather for late-night activities at mosques as the holy month of Ramadan winds down this weekend.
"Police chiefs here called Islamic centers in Flint asking how we are doing" and offered to provide extra security for evening prayers, Jondy said.
Dawud Walid, executive director of the Michigan chapter of the Council on American-Islamic Relations, a leading Muslim civil rights organization, said acts of violence are often perceived differently depending on the perpetrator's background or religion. Such a double standard exists, he said, particularly when the suspect is a Muslim or a person of color.
"If the attacker is white, it's presumed as a lone man who has mental problems, but that doubt is not given to an alleged attacker who is Muslim," he said. "There is a collective guilt assigned, as if the Muslim community must apologize for the action that we had nothing to do with."
ALSO
Two charged with attempted murder in stabbing of bodyguard of well-known alt-right figure
Bodyguard for well-known alt-right figure stabbed several times
Suspect held in London attack was overheard to say: 'I want to kill Muslims'
---
UPDATES:
6:55 p.m.: This article has been updated with additional details and for clarity.
3:20 p.m.: This article was updated with details about the attack and the arrest of Amor Ftouhi.
1 p.m.: This article was updated to report the attacker shouted "God is great" in Arabic, according to a law enforcement source.
11:20 a.m.: This article was updated with a comment from the FBI.
10:35 a.m.: This article was updated to identify of the injured officer as Jeff Neville.
10 a.m.: This article was updated to report the officer's condition and to include a tweet from Gov. Rick Snyder.
8:55 a.m.: This article has been updated with a tweet from Michigan State Police and accounts from witnesses
This article was originally published at 7:55 a.m.
---
Must-read stories from the L.A. Times
Get all the day's most vital news with our Today's Headlines newsletter, sent every weekday morning.
You may occasionally receive promotional content from the Los Angeles Times.