Missouri Gov. Eric Greitens charged with felony over charity donor list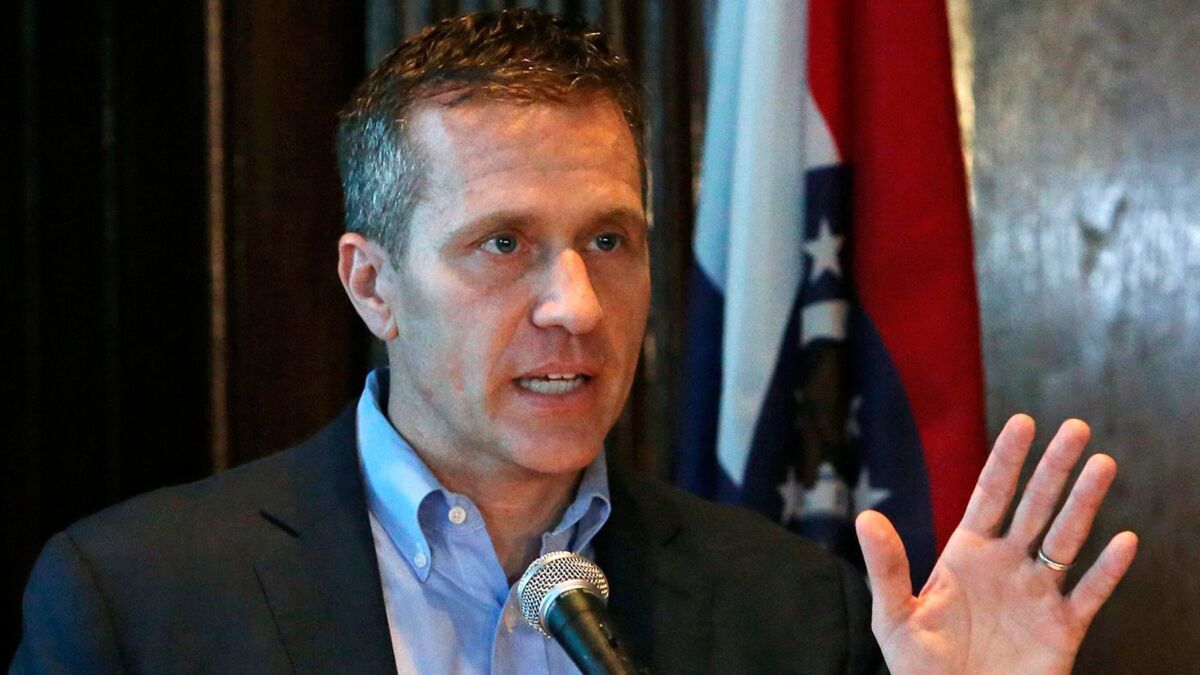 Reporting from St. Louis —
St. Louis prosecutors on Friday charged Missouri Gov. Eric Greitens with a felony for using a charity donor list for his 2016 political campaign, adding to the woes of the first-term Republican governor, who responded by calling it another effort to smear him.
The charge of tampering with computer data is in addition to an earlier charge alleging that Greitens took and transmitted a nonconsensual photo of a partially nude woman with whom he had an extramarital affair in 2015.
The new charge accuses Greitens of disclosing the donor list from the Mission Continues in 2015 without permission from the St. Louis-based charity, which he founded.
The Associated Press first reported in October 2016 that Greitens' campaign had obtained a list of top donors to the Mission Continues and raised nearly $2 million from donors on the list.
Greitens has been facing increasing pressure to resign — including from fellow Republicans — since a special House investigative committee's report was released April 11, detailing allegations from the woman with whom he had the affair. She testified that Greitens restrained, slapped, grabbed, shoved and threatened her during a series of sexual encounters that at times left her crying and afraid.
Greitens has denied committing any crimes and vowed to remain in office, calling the investigations into his conduct a "political witch hunt." On Friday, he accused Circuit Atty. Kim Gardner, a Democrat, of wasting "thousands and thousands of taxpayer dollars."
"Her original case is falling apart — so today, she's brought a new one," Greitens said in a statement. "By now, everyone knows what this is: this prosecutor will use any charge she can to smear me."
Missouri Atty. Gen. Josh Hawley, a Republican whose office has been investigating the Mission Continues, announced Tuesday that he had found evidence to support a felony charge against Greitens, but said it was up to the St. Louis circuit attorney's office to file charges. That office had to move quickly because the statute of limitations was approaching.
A probable cause statement says that Greitens directed a person identified as K.T. to disclose the charity's donor list to a political fundraiser on April 22, 2015. It doesn't identify the fundraiser. The initials match those of Krystal Taylor, an employee of the Greitens Group who had previously worked at the Mission Continues.
The court filing says that Greitens and K.T. knew the charity donor list had been taken without the permission of the charity and used without its consent. Federal law generally prohibits charities such as the Mission Continues from becoming involved in political campaigns, and the charity has repeatedly denied granting permission for Greitens — its former chief executive officer — to use the list for political purposes.
Missouri House Minority Leader Gail McCann Beatty, a Democrat, cited the new charge as additional grounds for lawmakers to try to quickly remove Greitens from office.
"One way or another, Eric Greitens' short tenure as Missouri governor is about to end. The only person who doesn't understand that is Eric Greitens," Beatty said. "Since he will not resign, the House of Representatives must immediately begin impeachment proceedings."
Missouri's House speaker, Republican Todd Richardson, has also called on Greitens to resign, and said Thursday that a special House investigatory committee was moving expeditiously toward a recommendation on whether to impeach Greitens. Richardson said a "substantial" number of House Republicans had already signed a petition calling for a special session to consider impeachment.
Hawley's office has said that its investigation into the Mission Continues began after the St. Louis Post-Dispatch reported in February that it had it had obtained a copy of an email indicating that Taylor had shared the charity donor list in January 2015 with Michael Hafner, who had been working for Greitens' gubernatorial exploratory committee, and with Danny Laub, Greitens' first campaign manager. But that incident wasn't cited in the criminal charge because it was past the three-year statute of limitations.
When the Associated Press first reported on the campaign's access to the charity donor list in 2015, Greitens denied that he had used the list for his campaign. But in April 2017, he agreed to pay a $100 fine for failing to report that his gubernatorial campaign had, in fact, received the list. His campaign filed amended finance reports referring to the list as an in-kind contribution valued at $600 and received March 1, 2015, from Laub.
Greitens' attorney, Edward L. Dowd Jr., said the new charge "makes no sense at all," noting that it was Greitens who built the charity and raised millions of dollars for it through "an extraordinary act of public service."
"Now he's being accused of stealing an email list from an organization he built? Give me a break," Dowd said in a statement. "Not only did he create this list donor by donor, friend by friend, but the Mission Continues still has the list."
The charge intensifies the feud between Greitens and Gardner. He has called her a "reckless liberal prosecutor" for leading the investigation that resulted in the invasion of privacy charge. His attorneys, in court hearings and filings, have painted a picture of an incompetent prosecutor who — rather than working with police to investigate Greitens — hired a private investigator who bungled the investigation, hid evidence and lied to the court.
Gardner's office began investigating after KMOV-TV in St. Louis first reported on the affair on Jan. 10, the day Greitens was giving his annual State of the State speech. The governor acknowledged the affair but denied allegations that he had threatened to release a compromising photo of the woman if she disclosed the relationship. His trial in that case is scheduled to begin May 14.
Greitens, a former Navy SEAL officer and Rhodes Scholar, and Atty. Gen. Hawley both won election in 2016 as maverick political outsiders. Hawley is now running to unseat Democratic Sen. Claire McCaskill, and Democrats have been running television ads linking Hawley to Greitens. Democrats have criticized Hawley's earlier investigation that found no wrongdoing in Greitens' use of a text message-destroying app, and claimed he stepped up his investigation of the charity only after it became politically beneficial.
In the Legislature, meanwhile, Senate leaders are considering holding off on sending bills to Greitens amid the multiple investigations. Republican Senate President Pro Tem Ron Richard and Democratic Minority Floor Leader Gina Walsh have not made a final decision, but Walsh has said she doesn't believe any bills signed by Greitens should become law.
---
Must-read stories from the L.A. Times
Get the day's top news with our Today's Headlines newsletter, sent every weekday morning.
You may occasionally receive promotional content from the Los Angeles Times.