Secret Service under pressure after fence jumper incident
A member of the Secret Service walks on Pennsylvania Avenue outside the north fence of the White House.
(Michael Reynolds / EPA)
Secret Service officers walk along the lawn on the north side of the White House, where an intruder scaled the fence Friday night.
(Susan Walsh / Associated Press)
An explosive technician in a bomb suit searches a vehicle near the entrance to White House.
(Pablo Martinez Monsivais / Associated Press)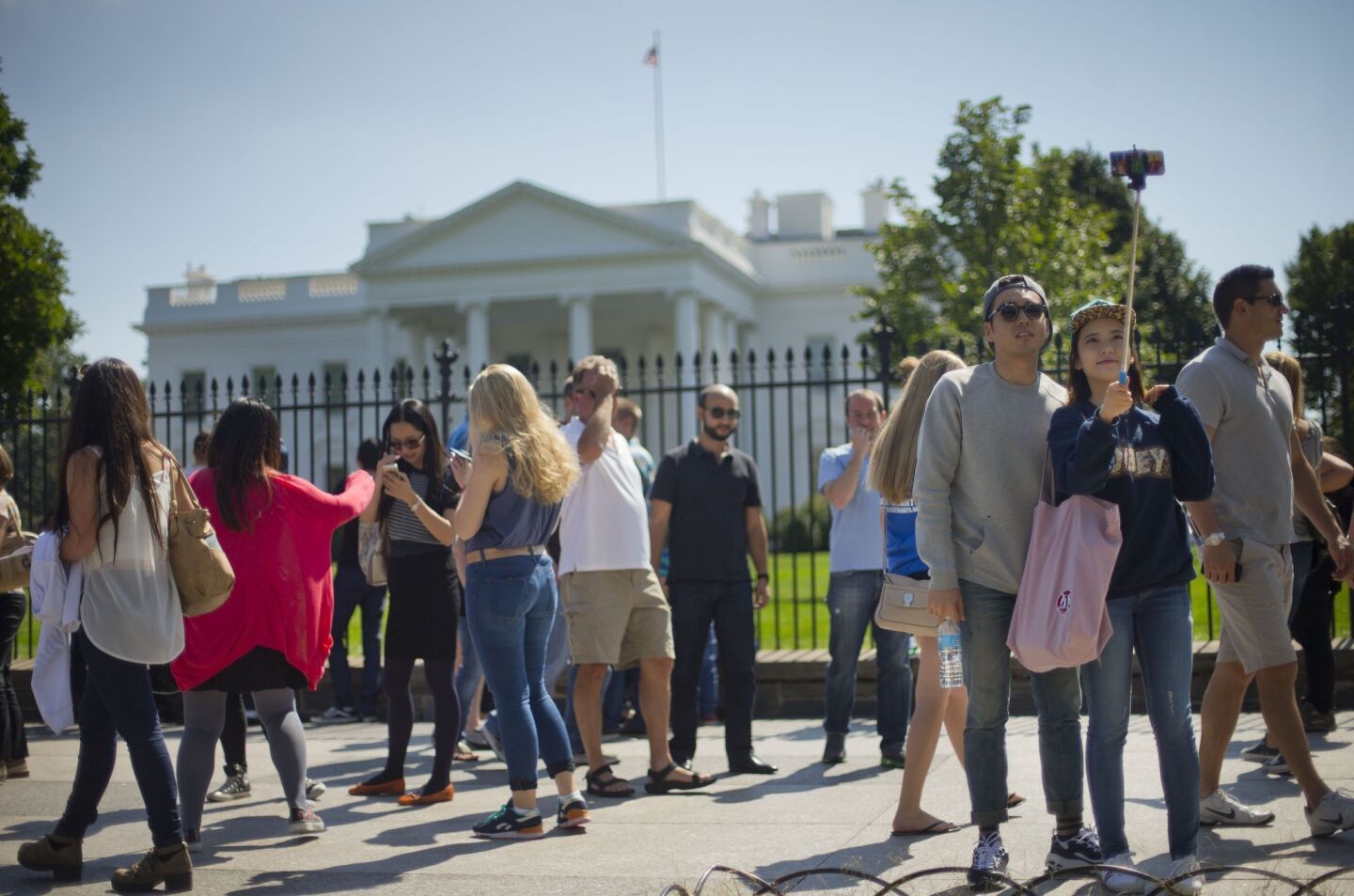 Tourist stop to take photographs in front of the White House.
(Pablo Martinez Monsivais / Associated Press)
A Secret Service agent gives directions during a White House evacuation prompted by an unarmed man who was able to enter after jumping the fence.
(Evan Vucci / Associated Press )
Reporting from Washington —
Members of Congress insisted Sunday that the Secret Service improve its procedures after an Army veteran, apparently suffering from mental problems, jumped a fence and managed to make it into the White House residence.
Rep. Mike Rogers (R-Mich.), chairman of the House Intelligence Committee, said the incident suggested the protective service might be plagued by an "atrophy of concern."
"I think what you have seen is that they're not doing their audits, their checks, test runs to make sure that people are up to the right standard," Rogers said, speaking on CBS' "Face the Nation." "We see this a lot. It happens frequently in other places where there are static security forces."
"And it's just a matter of the Secret Service upping their game to make sure that they can maintain that every detail matters."
Others were harsher in their assessment. "I have great respect for the Secret Service, but this is absolutely inexcusable," Rep. Peter King (R-N.Y.) said on Fox News Sunday. The incident "demands a full investigation."
The intruder, identified by authorities as Omar J. Gonzalez, was found to be carrying a knife. He is in custody undergoing a mental evaluation and is scheduled to be arraigned Tuesday afternoon before Magistrate Judge John M. Facciola.
Gonzales ran across the north lawn of the White House after scaling a fence and made it through the front door before being stopped by a security guard. He was an Army veteran diagnosed with combat trauma, but authorities said Saturday the case was still under investigation.
A family member in California said Gonzalez, 42, of Copperas Cove, Texas, near Ft. Hood, has been homeless and living alone in the wild and in campgrounds with his two pet dogs for the last two years.
"We talked to him on 9/11 and he said he planned to go to a Veterans Administration hospital to seek treatments," said the family member, who asked that he not be identified pending completion of the Secret Service investigation.
"He's been depressed for quite some time," the relative said. "He'd been taking antidepressants and anti-anxiety medication. I suspect he stopped taking it, otherwise this wouldn't have happened."
Secret Service officials said that Gonzalez climbed a fence on the north side of the White House about 7:20 p.m. Friday and sprinted roughly 100 yards and into the building before he was captured by officers.
"Gonzalez failed to comply with responding Secret Service Uniformed Division Officers' verbal commands, and was physically apprehended after entering the White House North Portico doors," agency officials said in a statement Saturday.
President Obama was not on the grounds at the time of the breach.
Officials initially said Gonzalez was unarmed, but a criminal complaint filed Saturday said he had a 3 1/2-inch folding knife in his right front pants pocket. Gonzalez has been charged with unlawful entry to the White House complex.
Gonzalez's service record shows two tours of duty with the Army. He enlisted in July 1997 and was discharged in September 2003. He enlisted a second time in July 2005 and retired with a disability in December 2012.
Gonzalez was diagnosed with post-traumatic stress disorder after his first tour in Iraq, his family member said. "But they sent him back for a second tour," he said.
A video captured from behind the White House fence shows an intruder running across the lawn. The White House was partially evacuated Friday night after the man made it into the building.
During a second tour, about three years ago, Gonzalez was reportedly injured by a homemade explosive device. "His job was running patrols in Baghdad when his Humvee was hit," the family member said.
"A portion of his foot was amputated," he said, "and the evidence is the limp you see in the video of him running across the White House lawn."
Initially, he was renting a house in Copperas Cove, the family member said. After that, he traveled around the country in a truck, staying in campgrounds.
The incident on Friday, he said, "was a complete surprise. Omar usually stays in Texas. We have no idea how he got to Washington, D.C."
---
Must-read stories from the L.A. Times
Get the day's top news with our Today's Headlines newsletter, sent every weekday morning.
You may occasionally receive promotional content from the Los Angeles Times.