Most with Obamacare were previously uninsured, new survey finds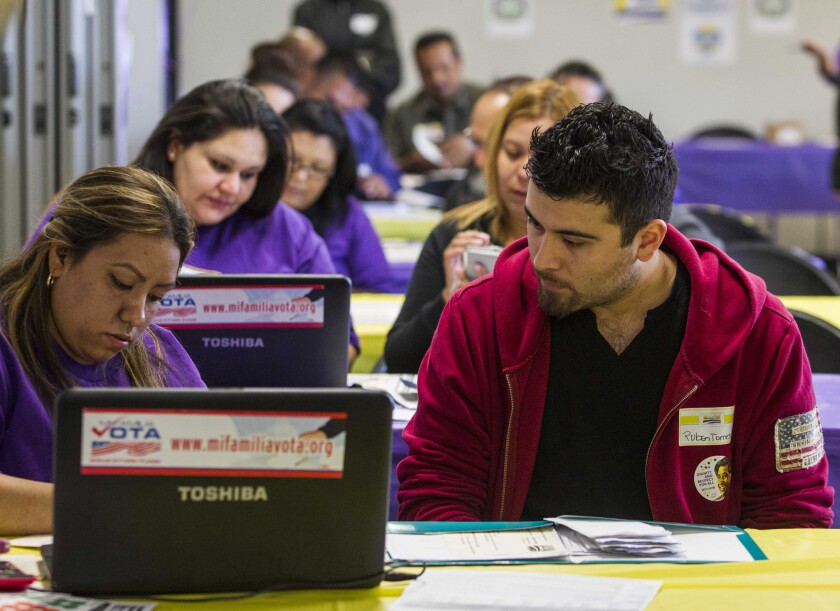 Reporting from Washington —
About 4.5 million of the 8 million Americans who signed up for health insurance on marketplaces created by the new federal healthcare law did not previously have insurance, according to a national survey that provides the most detailed look to date at who enrolled for coverage under the Affordable Care Act this year.
The tally provides important new evidence that the healthcare law's marketplaces, or exchanges, have substantially expanded access to insurance nationally, one of the legislation's central goals.
Some of the law's leading opponents have claimed that most of the people who enrolled for coverage already had insurance. But the new survey data from the nonprofit Kaiser Family Foundation indicates that just 39% of enrollees were previously covered.
Among those who did not have insurance already, most had lacked coverage for two years or more.
"The exchanges played a key role in helping people get coverage," said Liz Hamel, who directs survey research at Kaiser. The foundation is unconnected to the Kaiser Permanente health plan.
The nationwide poll surveyed 742 adults ages 18 to 64 who bought their own healthcare plans. It was conducted between April 3 and May 11 and has a margin of error of plus or minus 4 percentage points.
The survey also found that those who did previously have coverage and subsequently bought a plan on the new marketplace more often than not saved money.
Forty-six percent of people who switched from an old plan reported that they were paying less for their coverage this year. By comparison, 39% of people who switched plans said they were paying more.
Many of these people had been in plans that were canceled last fall because the plans did not meet the law's new insurance standards.
The wave of cancellations, which contradicted President Obama's promise that people who liked their existing insurance could keep it, posed an early crisis for the new marketplaces.
The insurance marketplaces -- a centerpiece of the law -- allow Americans who do not get coverage through an employer to choose among plans in their area, all of which must meet new basic standards and cannot turn away sick customers.
Consumers making less than four times the federal poverty level -- about $94,000 a year for a family of four -- qualify for government subsidies in most parts of the country.
Strong enrollment this year helped mute some criticism of the marketplaces, which were launched last fall amid technology problems and cancellations. However, questions have lingered about who signed up for insurance, what happened to those who lost their previous healthcare plans and how consumers view their new coverage.
The Kaiser report adds to a growing body of survey data indicating that the healthcare law has dramatically cut the ranks of the nation's uninsured.
A succession of Gallup polls this spring has shown a precipitous drop in the uninsured rate. Other research has picked up gains in employer-based coverage, in government Medicaid programs and in healthcare plans sold on the new marketplaces as well as directly from insurers.
The Kaiser survey suggests that many consumers found plans on the new marketplaces that they could afford.
Significant majorities of all customers on the new marketplaces also said they were satisfied with the choice of hospitals and primary-care doctors.
Overall, seven in 10 people who got marketplace plans rated their coverage as excellent or good, according to the survey. A majority, 55%, said the plan was an excellent or good value for what they paid.
Those figures come close to the levels of satisfaction that Americans with employer-provided coverage report, though people who get coverage through an employer remain the most satisfied with their insurance.
The vast majority of consumers who bought marketplace plans are receiving government subsidies to help offset the cost of their premiums, according to data from the U.S. Department of Health and Human Services.
If the new survey suggests that some critiques of the marketplaces may have been overblown, there are also a number of warning signs in the data for supporters of the healthcare law.
About a quarter of Americans who switched from old plans into marketplace plans reported that they had fewer choices of hospitals and specialists, and nearly a third said they had a more limited choice of primary-care physicians.
Many insurers selling plans on the new marketplaces narrowed their networks to provide lower prices. Other polling has indicated that many consumers are willing to make that trade-off, but there are also some signs that it may provoke a consumer backlash.
More worrisome for the marketplaces, the Kaiser report picked up substantial consumer anxiety about the costs of healthcare coverage, despite the high subsidies.
More than four in 10 said they anticipated difficulty paying their monthly premiums. And more than a third of people in the new plans said they still feel vulnerable to high medical bills.
Many healthcare plans being sold on the marketplaces feature hefty deductibles, another trade-off insurers made to keep premiums in check.
Hamel cautioned that these anxieties may increase in coming months as people begin using their coverage and discover how much they may have to pay out of pocket for medical care.
"We know that affordability is Americans' biggest concern with healthcare," she said. "So this is definitely something we are going to keep an eye on."
Kaiser plans two additional major surveys of marketplace customers, one early in 2015 to measure the effects of the second open enrollment period and another at the end of that year.
For more news on healthcare, follow me on Twitter: @NoamLevey
---
Must-read stories from the L.A. Times
Get all the day's most vital news with our Today's Headlines newsletter, sent every weekday morning.
You may occasionally receive promotional content from the Los Angeles Times.