Barbara Boxer says Anita Hill saga helped propel election to Senate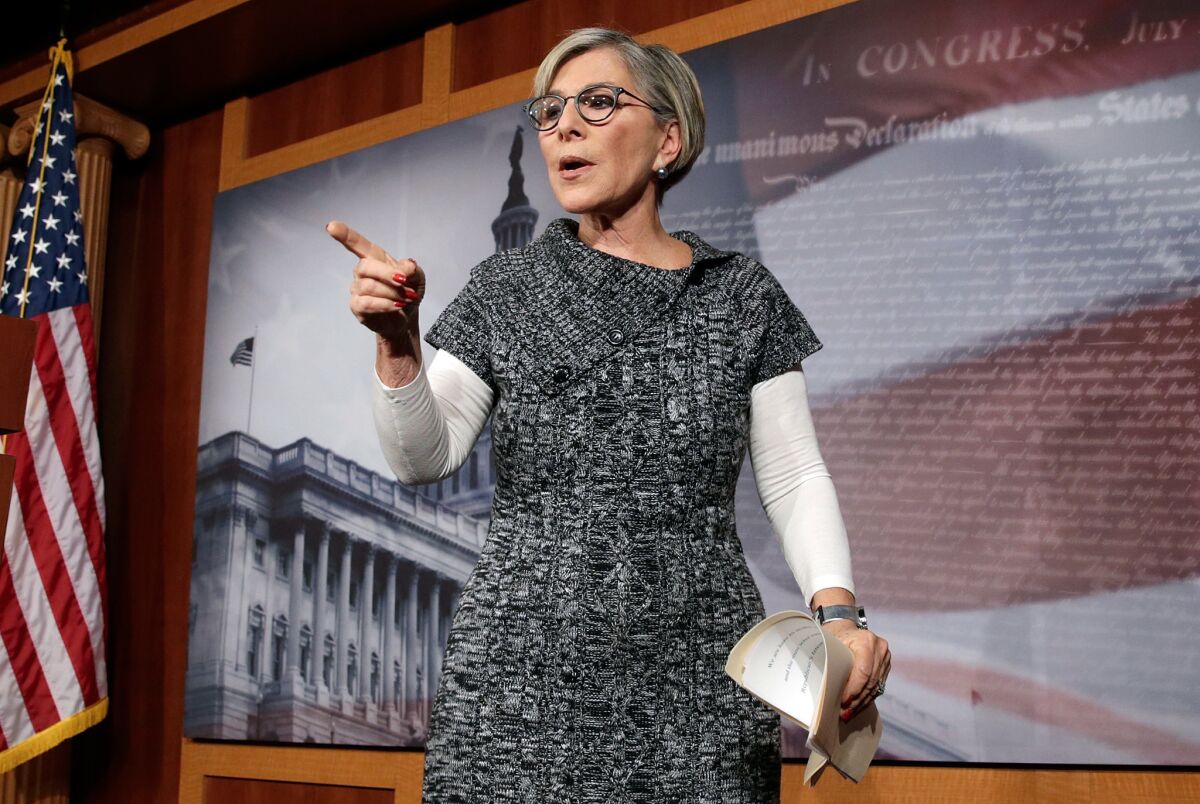 Reporting from Washington —
Sen. Barbara Boxer, who announced Thursday she would not run for reelection in 2016, told reporters that she probably never would have won her seat in the first place were it not for Anita Hill, the law professor who accused Supreme Court Justice Clarence Thomas of sexual harassment.
"Without Anita Hill, that story, I don't think I would have made it," Boxer said during an afternoon conference call.
Boxer was among the congresswomen who marched up the steps of the male-dominated Senate in 1991 and demanded a vote on the Thomas confirmation be postponed so Hill's charges could be investigated. The televised hearings that followed nearly doomed Thomas. And they triggered the voter backlash that forged Boxer's path to election.
Before the controversy erupted, Boxer said she considered herself an also-ran. "I left [the House] and did this long shot for the Senate, never believing I would win … and then Anita Hill happened."
Boxer landed in the center of what became the "Year of the Woman" in American politics. She has been one of the Senate's most unyielding progressives since. Her announcement that she will leave the Senate comes during the week that control of it was turned over to the Republican Party. Boxer said the change of power did not factor into her decision.
"Since I have been in the Senate, you may be surprised to know, we have changed leaders seven times," she said. "I know I can serve in the minority. I don't love it … but I have gotten things done whether I am in the minority or majority."
The 74-year-old lawmaker also said she saw no obligation to step aside to make room for the many younger California politicians eagerly awaiting a shot at the coveted seat.
"Am I stepping aside to hand the torch to a new generation? No, I am not," Boxer said. "I don't believe in ageism."
The senator said she would leave office with a few big regrets. The Senate's inability to pass a climate change bill is among them. Democrats had an opportunity to move forward with game-changing global warming legislation soon after President Obama took office and the party controlled both houses of Congress. The House passed a bill, but the effort stalled when the measure reached the Senate, where Boxer was taking a lead in pushing for it.
"The climate bill we got a majority for, but we couldn't get a super-majority. And that just broke my heart," she said. "There was a filibuster."
The senator's inability to persuade more colleagues to vote against the war in Iraq also continues to weigh on her, she said.
"Looking back, I wish I had done more to stop it," she said. "I used to come down [to the Senate chambers] and read the names of the dead.... I couldn't change things."
Boxer said she was determined to see a progressive like herself take her seat in the Senate, and that she intended to help the right candidate or candidates raise money and campaign. But at the moment, she is not prepared to mention any names, or even if she intends to get involved with any candidates before a primary is held.
"I don't know who is looking at the seat," Boxer said. "We can talk when more people come forward."
---
Life is stressful. Our weekly mental wellness newsletter can help.
You may occasionally receive promotional content from the Los Angeles Times.