Obama veto of Keystone pipeline would stick, top Democrat says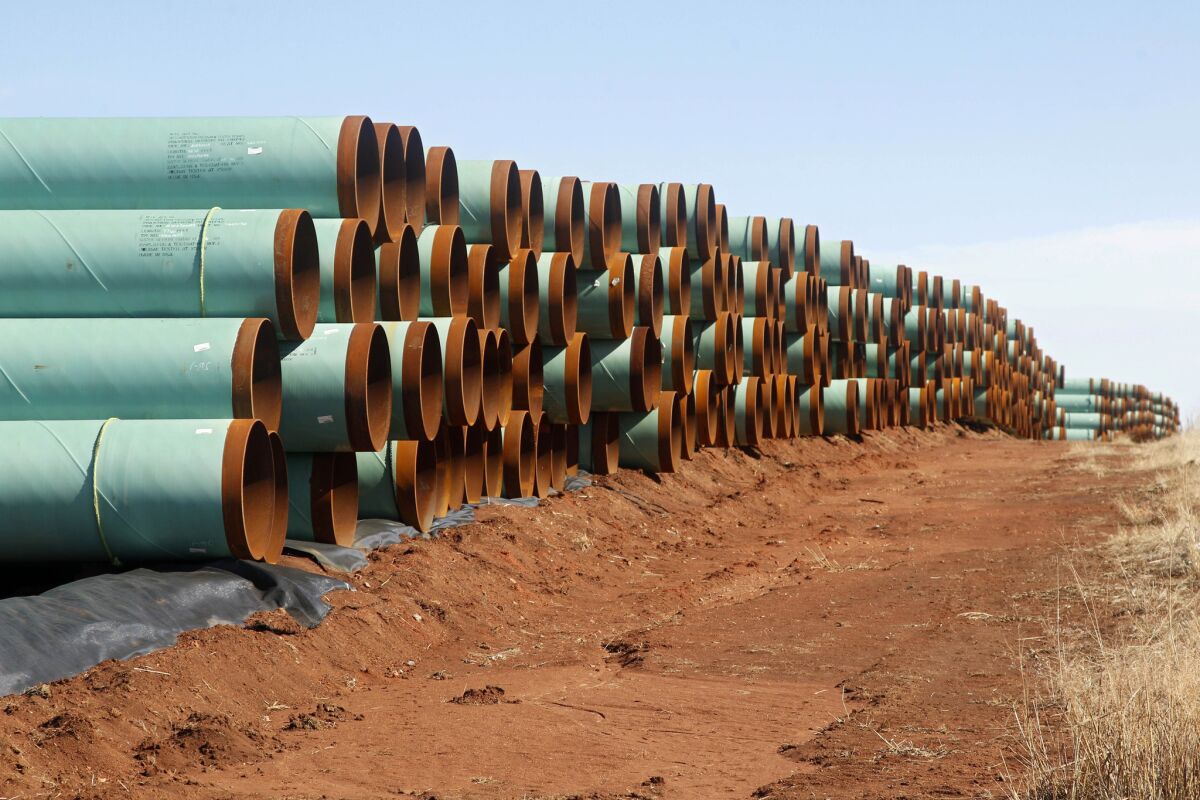 Reporting from Washington —
If Republicans push through Congress a measure approving the long-stalled Keystone XL pipeline, Democrats would have the votes to uphold a presidential veto, a top Senate Democrat said Sunday.
Republican leaders say that when lawmakers return to Congress this week, a bill approving Keystone, which has support of most Republicans and some Democrats, will be an early priority.
But Sen. Chuck Schumer of New York, third-ranking Democrat in the Senate, said that President Obama should reject a bill approving the pipeline. If he does, Schumer said, the pipeline's supporters in Congress won't be able to get enough votes to override a veto.
Obama should reject the pipeline even if Congress approves amendments making it more palatable to opponents, such as a requirement that all the oil transported by the pipeline stay in the U.S., Schumer said.
"You know our Republican colleagues are doing what they always do: They're appeasing a few special interests, in this case oil companies and pipeline companies, and not really doing what's good for the average middle class family in terms of creating jobs," he said on CBS' "Face the Nation."
The 1,179-mile pipeline, intended to transport tar sands oil from Alberta, Canada, to refineries in the Gulf of Mexico, has become a symbolic issue for both sides: Environmentalists say it will worsen global warming, while backers say the project will provide jobs.
Obama has not said whether he would veto Keystone legislation. But his public statements about the proposed pipeline have become increasingly skeptical over the last year. He has noted that the project would have little positive economic impact – the pipeline won't require many workers to operate once it's built – and has stressed the potential environmental problems.
Overriding a presidential veto requires a two-thirds vote in both houses of Congress. Republicans have majorities in both the House and Senate, but their numbers fall considerably short of that mark.
Polls show that overall the public supports building the pipeline by nearly 2-1, but support has declined over the last year. The decline has been particularly sharp among Democrats, who are now evenly divided on the issue, according to a recent Pew Research Center survey.
Several Republican leaders, including new Senate majority leader Mitch McConnell of Kentucky, said on Sunday that passing the Keystone project will be a top priority, in part because the pipeline has some bipartisan support.
"We're going to find out whether or not there are moderate Democrats in the Senate," said Sen. John Thune (R-S.D.) speaking on "Fox News Sunday." "The question is, can we get to 67 if the president decides to veto it? And I think that's a good question."
One Democratic senator, Amy Klobuchar of Minnesota, said she believes President Obama, not Congress, should make the decision on whether to approve the pipeline. But she said it's time that Obama made up his mind.
"I think the president needs to make a decision," she said. "A lot of us are frustrated it has taken this long."
For more news from Washington, follow @JTanfani on Twitter.
---
Life is stressful. Our weekly mental wellness newsletter can help.
You may occasionally receive promotional content from the Los Angeles Times.