Op-Ed: Relishing jury duty in the age of Trump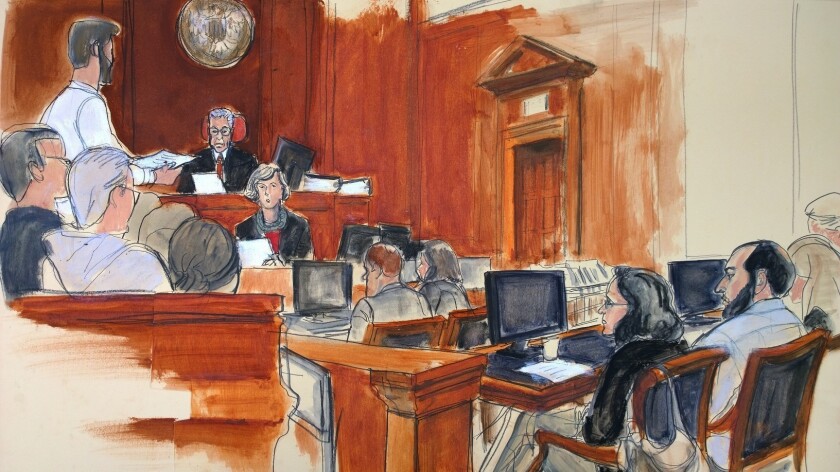 Nobody relishes serving on a jury. It's inconvenient, time-consuming and — to anyone self-employed in this gig economy — a financial drain to boot.
Yet when I was empaneled and essentially caged in a 14th-floor courtroom of the Central Civil West Courthouse in Los Angeles for 11 days last month, I was surprised to experience it less as a constriction than as a release.
In an age increasingly defined by "alternative facts," false equivalences, conspiracy theories and competing political narratives bearing only an incidental relationship to the truth, jury service was a welcome retreat into a purer realm — the realm of fact, evidence and due process under the law.
Don't get me wrong: This was a courtroom, not a monastery. The lawyers were silver-tongued and would have spun us halfway to the moon given the chance. The paid expert witnesses offered dueling certainties, not unlike partisan talking heads on cable news.
We, the jurors, were in charge. We were observers of a fight in which we had no personal stake and were free to call B.S. as we saw fit.
But we, the jurors, were in charge. We were observers of a fight in which we had no personal stake and were free to call B.S. as we saw fit. We could scowl when we thought the parties were grandstanding, roll our eyes at witnesses we felt were disingenuous or dishonest and, on one occasion, laugh out loud when an expert professed ignorance of the basic workings of the government agency about which he was called to testify.
We knew that, outside the courtroom, the country was lurching from one crisis to another, in part because of a presidential administration that had denigrated judges and offered unprecedented, sweeping judgments on pending cases and investigations. President Trump was making noise about the Justice Department investigating Hillary Clinton. And the court-martial of Sgt. Bowe Bergdahl, the U.S. soldier who walked off his Army base in Afghanistan, was held up because Trump previously had called him a "dirty rotten traitor."
Our case may not have drawn the attention of the White House, but serving as a juror still felt like an important stand for justice untainted by outside interference. We even had an opportunity to push back against distinctly Trumpish rhetoric from the plaintiff's lawyers, who tried — and failed — to get us angry at the defendants in lieu of presenting concrete evidence against them.
The case centered around an 89-year-old woman from Arizona who died of hepatitis A in 2013. Her death coincided with a wider hepatitis outbreak across the Southwest, the source of which later was determined to be a batch of Turkish pomegranate seeds sold in a frozen berry blend by Costco. The plaintiffs claimed that the woman, Virginia Jolson, had been an avid drinker of smoothies made from the blend and asked us to award her children $18 million in damages.
But the plaintiffs had no documentary evidence that the berries were ever in Jolson's house and no proof of purchase. The best they had was the testimony of Jolson's two daughters, who claimed to have seen bags of the blend in their mother's house. More than a dozen other relatives, however, had no memory of them. We did not find either daughter remotely credible.
The plaintiffs chose to focus on a string of email exchanges between the Turkish fruit supplier and its American trading partners. We learned that bugs, chewing gum and other extraneous material had turned up in a few boxes of pomegranate seeds. The plaintiffs' lead lawyer, a charismatic Texan named Ron Simon who runs a successful litigation mill for victims of food-borne illnesses, did his best to convince us that the players in the email chain had been negligent and that the bugs and dirt should have been a warning of pathogens in the fruit.
"If there are things you can see in the product," he asked one witness, "shouldn't you worry that there are … things you can't see?" Nobody, not even his best expert witness, followed him down that line of argument.
Undaunted, Simon insisted his evidence was "better than a receipt." He tried to dismiss the former head of food safety for the Food and Drug Administration as "the defense's $40,000 witness," though his own experts had been paid handsomely too. He played a Trump-like xenophobia card by characterizing the U.S. food brokers as "gatekeepers" responsible for keeping foreign filth and disease away from the American consumer.
The case unfolded as a colossal exercise in misdirection, but it wasn't until jury deliberations that it became clear we all felt the same way. Many of us expressed shock that a case could come to court based on so little. We dismissed the plaintiffs' claims by unanimous vote in less than two hours.
Back in the outside world, we had a president who'd won an election thanks to a succession of demonstrably false assertions — that Barack Obama was not born in the United States, that Mexican immigrants were rapists and murderers, that climate change was a Chinese hoax.
We couldn't do anything about that. But we could see through the smoke and mirrors presented to us in court and deliver justice on a smaller scale. That didn't just feel good. It felt necessary.
Andrew Gumbel is a reporter and author, most recently of "Down for the Count: Dirty Elections and the Rotten History of Democracy in America."
Follow the Opinion section on Twitter @latimesopinion or Facebook
---
A cure for the common opinion
Get thought-provoking perspectives with our weekly newsletter.
You may occasionally receive promotional content from the Los Angeles Times.