Op-Ed: Germans need to recognize that the future of the free world depends on their election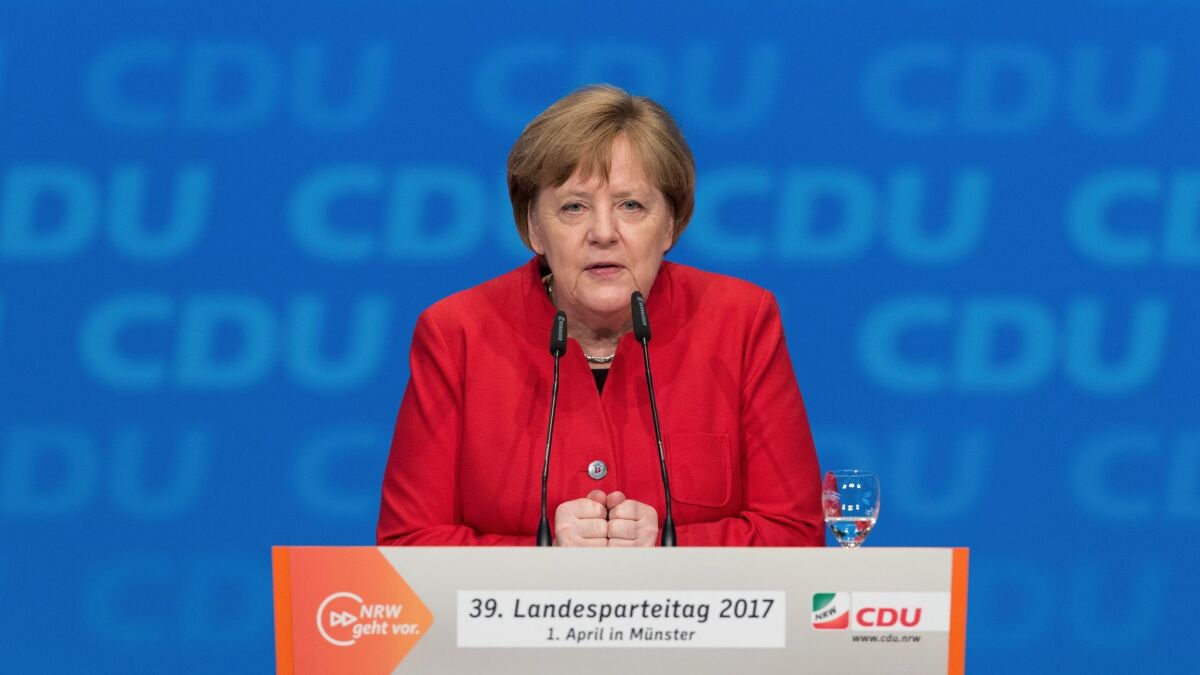 Reporting from Berlin —
If this were any other year, the upcoming federal election in Germany would be like every other German election: humdrum and focused almost exclusively on domestic issues. Despite their country's size and economic power, Germans resist seeing their nation — or their chancellor — as a potential world leader. More than seven decades after the Second World War, Germany is still uncomfortable with anything implying leadership, which makes some sense when you consider the German word for it: Führung. Over 80% of Germans want their country to participate in fewer military missions; 60% say Germany should be more reserved in international affairs more broadly.
But this is not any other year. By electing Donald Trump, America has abdicated its traditional role as leader of the free world. Trump's "America First" foreign policy, blatant disregard for international law, attacks on the European Union and NATO, coziness toward Russia, and fundamental indifference for the liberal world order constructed and sustained by the United States mean that Washington will no longer be able to steer the community of democratic nations.
The United Kingdom, which previously held the position of the world's leading liberal power, should naturally be the next in line. But with its decision to leave the European Union, formalized in March, Great Britain has begun an inward-looking phase that may eventually end with its becoming Little England. France, meanwhile, has long reserved for itself an "independent" (read: unilateralist) role in foreign affairs, and its likely next president, Emmanuel Macron, is a 39-year-old political novice.
In these unpredictable and turbulent times, German Chancellor Angela Merkel has emerged as a steady and reliable hand: something less than leader of the free world (as some media outlets have simplistically lauded her, and a claim which Merkel herself calls "absurd"), but something greater than the leader of just another random country. Serving her third term as the top elected official in Europe's biggest economy, Merkel is the only person left on the international stage equipped to confront the greatest set of challenges facing the West since the Cold War.
Merkel is the only person left on the international stage equipped to confront the greatest set of challenges facing the West since the Cold War.
As the campaign for the September election gets underway, then, Germans will have to accept that events beyond their control have created an unwelcome international dimension to their national rite—and that Merkel's continued leadership is crucial not just to Germany, but to the West.
Merkel has a record of defending the ideals that define the free world, as she did in the terse congratulatory statement offered to Trump upon his victory in November. "Germany and America are connected by values of democracy, freedom and respect for the law and the dignity of man, independent of origin, skin color, religion, gender, sexual orientation or political views," she said, adding: "I offer the next president of the United States close cooperation on the basis of these values."
Unlike many Western politicians, Merkel – who grew up in communist East Germany – has no illusions about the Russian regime of Vladimir Putin, a man she has dealt with for a dozen years and whose dangerous actions in Ukraine resemble, she memorably said, the "law of the jungle." When it comes to any number of global issues, including the migration crisis and Russia's attempt to upend the European security order, Merkel can be trusted to base her decisions on liberal precepts.
Merkel's chief rival, an amiable Social Democrat named Martin Schultz, was previously leader of the European Parliament, a forum that hardly prepares one to enter the rough-and-tumble world of great power statecraft. He is campaigning on a platform centered around social justice and other domestic issues, precisely the sort of campaign Germans want to have—but not the campaign they need to have.
Merkel, for her part, must acknowledge that the German federal elections carry global import, without scaring off voters. Anything that stresses a more assertive role in foreign affairs will likely lead to charges that Merkel wants to throw Germany's weight around, and we all know what happened the last time Berlin did that.
Germans need to get over their aversion to global leadership; their country is not and cannot be a giant Switzerland. A recent BBC poll found that Germany is the most admired nation in the world. Neighbors that once feared German militarism, like those in Central and Eastern Europe, now clamor for a greater German military presence on their soil to deter an aggressive Russia.
While Germans may not appreciate the crucial role their country and chancellor play in the maintenance of the liberal world order, the Kremlin certainly does, at least judging by the efforts it has expended over the last several years trying to discredit Merkel. Since fugitive National Security Agency contractor Edward Snowden landed in Moscow nearly four years ago, Russia has waged a relentless propaganda campaign against Merkel, portraying her alternately as a puppet and enabler of the American surveillance state as well as a reckless harridan determined to destroy Europe through ceaseless importation of Muslim refugees.
The German people have done an admirable job confronting the horrors of their past, but they cannot let that past inhibit them from defending the hard-won achievements they helped postwar Europe to build. The fate of the free world could depend upon it.
James Kirchick is author of "The End of Europe: Dictators, Demagogues and the Coming Dark Age."
Follow the Opinion section on Twitter @latimesopinion or Facebook
MORE FROM OPINION
How did we miss the clues to Trump's Russia connection?
Has the United States abandoned its commitment to human rights?
Trump is right, America isn't 'so innocent.' Here's how we can right that wrong in Syria
---
Life is stressful. Our weekly mental wellness newsletter can help.
You may occasionally receive promotional content from the Los Angeles Times.