Opinion: If Trump were in the armed forces, military rules wouldn't let him near nuclear weapons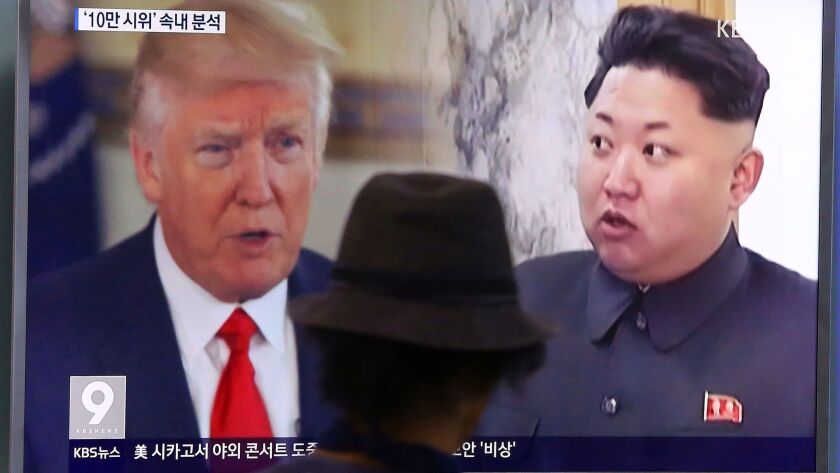 To the editor: As an ex-U.S. Air Force pilot on airborne nuclear alert during the Cold War, I was baffled by retired Air Force Gen. C. Robert Kehler's response to a question on limiting the president's authority to launch a nuclear strike. He said legislative changes are unnecessary, and that the military can do a better job training its personnel on safeguards.
What could that possibly mean to the personnel at the launch stations at the instant they receive a launch command? ("Is there anything stopping Trump from launching a nuclear strike? Nope," Opinion, Nov. 15)
In an interview with MSNBC's Brian Williams, retired Army. Gen. Barry McCaffrey noted that all military personnel involved with nuclear weapons are required to comply with the stringent Personnel Reliability Program, or PRP. He said, "There's a good question that should be asked: To what extent would President Trump be eligible to be an Air Force captain launch officer in the PRP?"
Larry Hazard, Huntington Beach
..
To the editor: Suppose Trump orders a surprise nuclear attack on North Korea and within 30 minutes wipes out its leadership. His followers will cheer.
But in a few days the nuclear fallout will arrive over the United States, and America will be responsible for the deaths of millions of North Koreans and the losses suffered by millions more in South Korea, Japan, China and Russia. Having seen the United States break the nuclear taboo on the whim of its leader, how long would the other nuclear-armed nations keep their fingers off their buttons?
No thinking president would contemplate such an attack. Therein lies the problem. Congress must act.
Peter Langenberg, South Pasadena
Follow the Opinion section on Twitter @latimesopinion and Facebook.
---
A cure for the common opinion
Get thought-provoking perspectives with our weekly newsletter.
You may occasionally receive promotional content from the Los Angeles Times.