Mimi Walters' lead shrinks to 1,000, Young Kim's to fewer than 2,000 in latest vote tally in Orange County House races
Democrats in two undecided Orange County congressional races further narrowed the gap Monday against their GOP rivals, as ongoing ballot-counting continued to favor Democratic candidates throughout the state.
Two-term Republican Rep. Mimi Walters saw her election night lead of more than 6,000 votes dwindle to barely 1,000, leaving her just ahead of Democrat Katie Porter, 50.2% to 49.8%, in the contest in inland Orange County's 45th Congressional District.
In the 39th District, which takes in parts of Orange, San Bernardino and Los Angeles counties, Republican Young Kim's lead over Democrat Gil Cisneros shrank to fewer than 2,000 votes after she finished election night ahead by nearly 4,000. Kim was leading narrowly, 50.6% to 49.4%.
Democrats up and down California's ballot have seen their vote totals rise in counting that continues nearly a week after election day.
That's not due to fraud or nefarious activity, as some partisans allege, but the fact that older, more conservative voters tend to vote early and younger, more left-leaning voters cast their ballots closer to election day, meaning they are tabulated later. Mail ballots received by Friday's close of business will be counted, so long as they were postmarked by midnight on election day, Nov. 6.
In coastal Orange County's 48th Congressional District, where Democrat Harley Rouda ousted 15-term incumbent Republican Rep. Dana Rohrabacher, the challenger expanded his lead Monday to nearly 9,500 votes and a 52%-48% margin.
Meantime, in the Central Valley, three-term incumbent Republican Rep. David Valadao saw his election night lead of nearly 5,000 votes over Democrat TJ Cox cut in half over the weekend. Cox, an engineer and businessman, narrowed the gap with a huge showing in Kern County, home to just about four in 10 of the district's voters.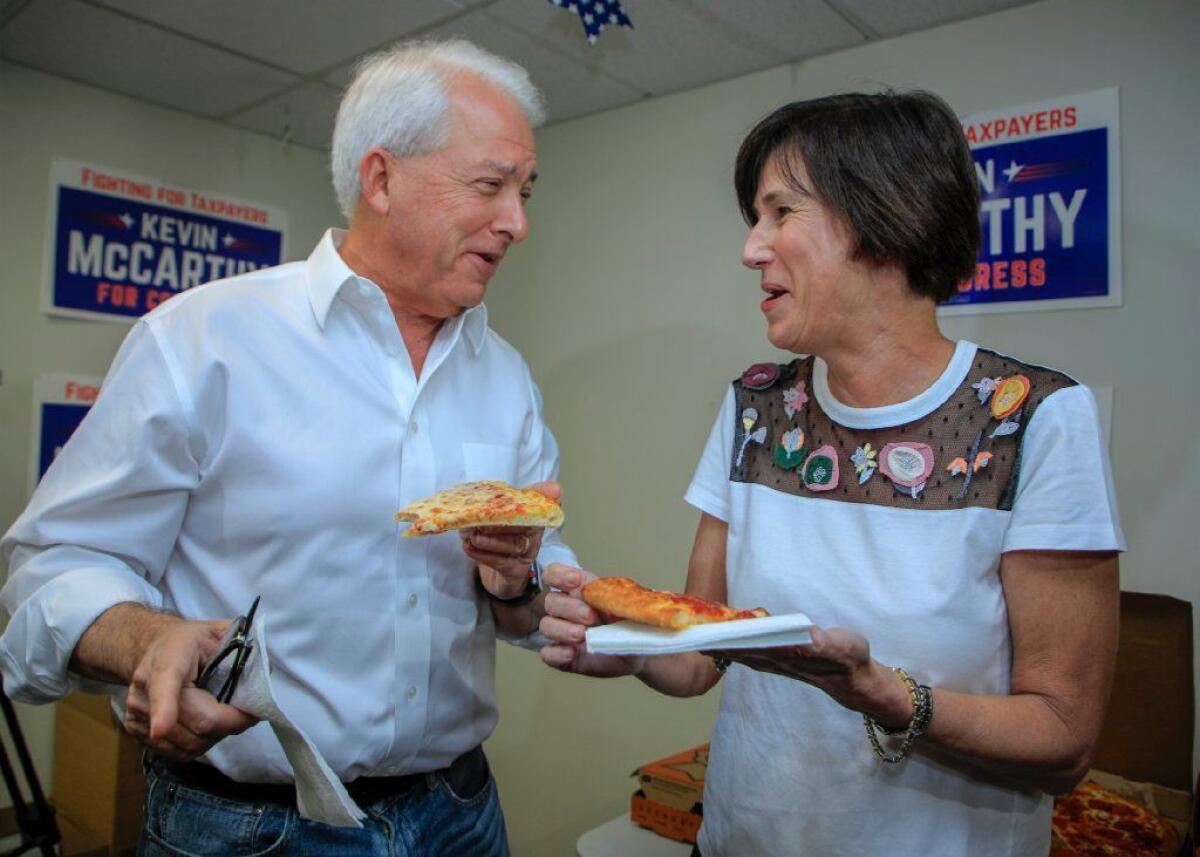 However, there are three other counties in the 21st District, and they lean more Republican than Kern, suggesting it may be difficult for Cox to overcome Valadao, a prime Democratic target in his previous two reelection bids.
So far, Democrats have captured three of six of the state's most heavily contested congressional races, adding to a national total that could amount to a 40-seat gain — the best Democratic showing since the Watergate era in the 1970s.
Orange County was the only jurisdiction to release new vote totals Monday; others were closed for the Veterans Day holiday.
Tens of thousands of votes remain to be counted in the 39th and 45th districts.
Representatives of the candidates and the two major political parties have dispatched observers to Orange County to oversee the tabulation. California law allows observers to challenge ballots if they believe signatures or addresses don't match, or if a damaged ballot that requires duplication is being copied inaccurately. Observers are not allowed to touch or handle the ballots.
Neal Kelley, the county registrar of voters, said letters have been sent to about 500 voters whose ballots have been called into question in a review conducted by his office. An additional 400 or so ballots have been challenged by observers, Kelley said, and 150 of those advanced to his desk.
He sustained two of the challenges and overruled the remainder based on additional evidence that Kelley personally studied.
Times staff writer Mark Z. Barabak contributed to this report.
Twitter: @mayasweedler
Get our Essential Politics newsletter
The latest news, analysis and insights from our politics team.
You may occasionally receive promotional content from the Los Angeles Times.