Analysis: Democrats avoid nightmare scenario in California, boosting their hopes to seize the House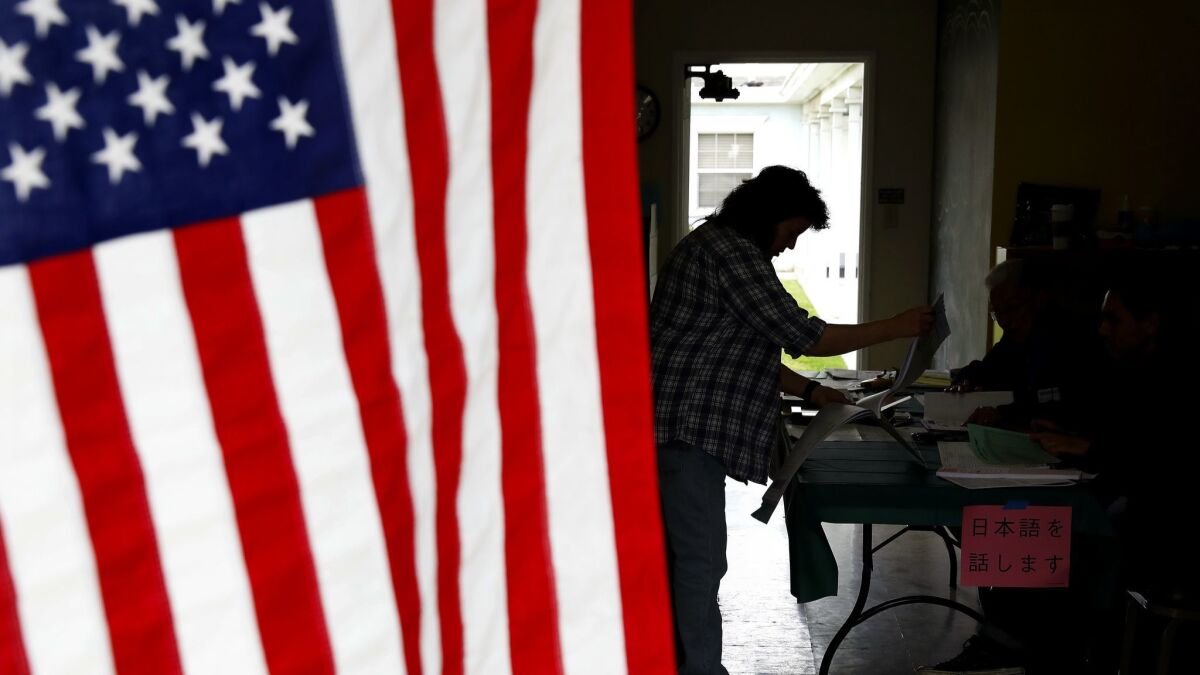 The worst never came to pass.
By avoiding a shutout in a handful of House races in California, Democrats didn't have their dreams of a big blue wave dashed along the rim of the Pacific.
There was good news as well out of primaries in New Mexico and New Jersey, where the party's preferred candidates won. Taken together, Democrats probably took a step closer Tuesday to their goal of regaining control of at least one chamber of Congress in November.
But winning a House majority remains by no means certain; Republicans also averted their nightmare scenario.
The GOP shoehorned a candidate into the runoff for California governor, giving their partisans a reason to pay attention and — party strategists hope — turn out in November, buoying embattled House members even if John Cox seems virtually certain to lose to Democrat Gavin Newsom.
Democrats must flip 23 seats to take over the House and California remains central to that nationwide effort. Strategists have their eyes, in particular, on seven districts in the state that Hillary Clinton carried in 2016, making them prime for the picking.
Several of their targets seem a reach. Democrats have tried and failed to dislodge Jeff Denham, Devin Nunes and David Valadao from their Central Valley seats over the past several election cycles. While Denham appears more vulnerable than ever after Tuesday night's weak finish, it would probably take a massive wave election to sweep the other two away in November.
The Democrats appear to stand a better shot at flipping a cluster of Southern California seats in and around Orange and San Diego counties, and that's where their worries set in.
Facing an abundance of candidates — an outgrowth of the party's frothing anti-Trump fervor — the question for Democrats was whether they would carve up the vote, allowing Republicans to advance to November under the state's top-two balloting system and cost Democrats their chance at a takeover.
The party's biggest concern was in northern Orange County, where Ed Royce's retirement attracted more than 13 candidates, seven Republicans and six Democrats, to replace the 12-term GOP incumbent. Assemblywoman Young Kim, a former Royce staffer, appeared a shoo-in for first place, leaving the rest of the field scrambling for second.
Kim did finish first and will face Navy veteran Gil Cisneros, the choice of the Democratic establishment, in November.
Democrats also feared being shut out along the Orange County coast, where 15-term GOP Rep. Dana Rohrabacher was challenged by a former county Republican chairman — and his ex-friend — Scott Baugh along with a platoon of eight Democrats.
Contrary to concerns, it appears Baugh will finish fourth, with Rohrabacher running against either Democrat Harley Rouda or Has Keirstead, who were separated Wednesday by fewer than 100 votes.
The third race on the Democratic fret list was in the coastal San Diego County district of the retiring GOP Rep. Darrell Issa, who barely eked out election in 2016. The contest drew eight Republicans and four Democrats. All the fears aside, the contest in November will be a conventional partisan matchup between Republican Diane Harkey and one of two Democrats, Mike Levin or Sara Jacobs
To a great extent, the Democratic peril was overblown. There are scores of competitive races across the country — including seven in New York and New Jersey and another five in Pennsylvania — meaning control of the House was never going to hinge exclusively on the results in Fullerton, Costa Mesa or Vista.
The danger of a shutout was real, however, and national Democrats intervened aggressively, endorsing some candidates, coaxing others to step aside and spending copiously to thwart all-Republican general election contests that would have taken those coveted seats off the table.
"It's easy to look back and say there was too much hype about Democrats getting locked out," said Nathan Gonzales, who analyzes congressional races nationwide for his nonpartisan tip sheet, Inside Elections. "But Democrats had to spent several million dollars preventing that catastrophe from happening."
It's a good bet they woke up Wednesday pleased with their investment.
Get our Essential Politics newsletter
The latest news, analysis and insights from our politics team.
You may occasionally receive promotional content from the Los Angeles Times.