Nancy Pelosi hints at short-term lease on House speakership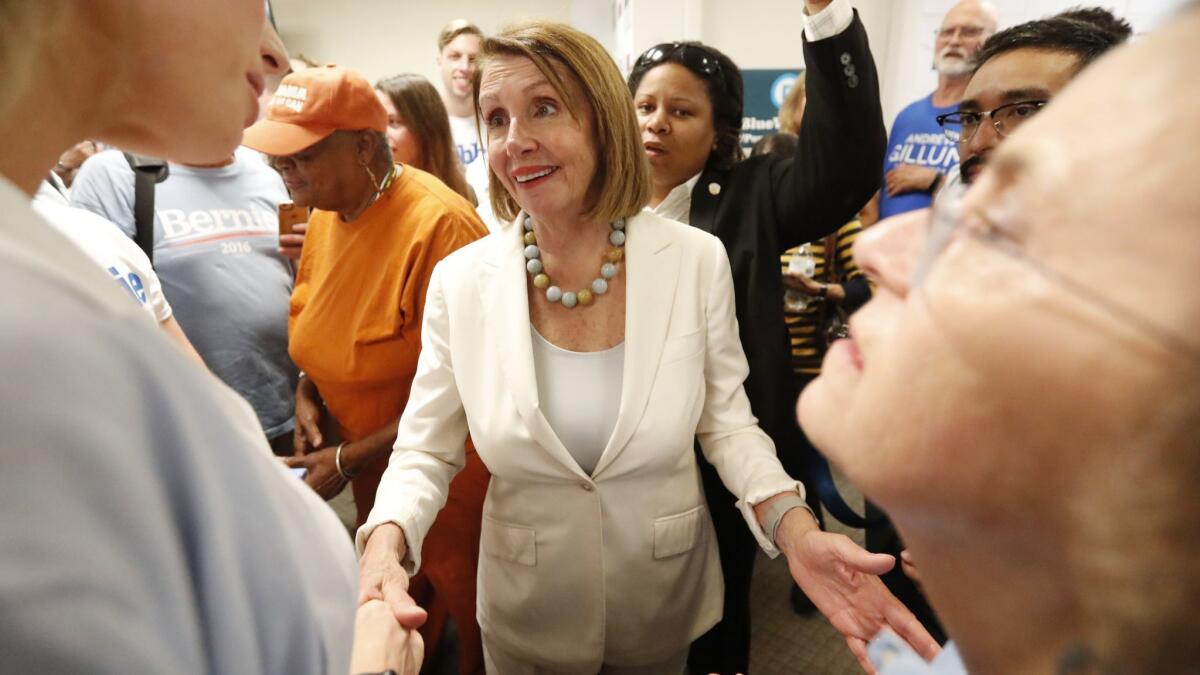 Reporting from Miami —
Democrats have yet to win a House majority and Nancy Pelosi's return as speaker is by no means certain, but already she has one eye on the exits.
"I see myself as a transitional figure," Pelosi said in an interview in which she professed utmost confidence that, should Democrats take control of the chamber on Nov. 6, she will again assume the top leadership position. "I have things to do. Books to write; places to go; grandchildren, first and foremost, to love."
She hastened to add she was not imposing a limit on her tenure. "Do you think I would make myself a lame duck right here over this double-espresso?" the San Francisco Democrat said Thursday in a downtown Miami cafe, with a raised eyebrow and a laugh.
Listen to Pelosi discuss her future:
Even without explicitly limiting her time as speaker, the 78-year-old Pelosi could ease the pressure to stand aside by signaling her willingness for a new and younger generation of leaders to take over sooner rather than later.
Pelosi has quietly been grooming potential successors, among them Rep. Adam Schiff of Burbank, and though she said she would be delighted to hand the speaker's gavel to another woman — "Oh, yeah!" she exclaimed — she has no plans to try to force a choice.
"Whoever is next is not up to me," she said. "If I were saying, 'I want so-and-so to be my successor,' that's not right."
Pelosi made history in January 2007 when she became the first female speaker in history, a post she relinquished four years later after Republicans seized control of the House in a 2010 midterm landslide.
She has held the job of House minority leader ever since, raising hundreds of millions of dollars for Democrats but also serving as a favorite GOP foil. This election cycle alone Pelosi has appeared in tens of thousands of ads, the overwhelming majority of them negative.
Some Democrats — especially in competitive races — have sought to distance themselves from their congressional leader, whose liberal philosophy and San Francisco pedigree have made her Republican shorthand for out-of-touch, left-wing elitism. Dozens of House candidates have called for a change in the Democratic leadership or vowed not to support Pelosi's return as speaker.
A recent series of polls conducted in half a dozen hotly contested California House districts illustrated the political dynamic at work. In each of the six districts, more than 60% of voters said they opposed the idea of Pelosi becoming speaker, according to the survey conducted for the Los Angeles Times by UC Berkeley's Institute for Government Studies.
Even among registered Democrats, anywhere from a quarter to a third of those sampled in those districts said they opposed her regaining the gavel, and at least some Democratic candidates are responding.
"I will see who is holding their hand up to be speaker of the House," Harley Rouda, who is running against Rep. Dana Rohrabacher along the Orange County coast, recently said on MSNBC. "I will do appropriate due diligence and make a decision then."
Still, Pelosi remains a prodigious fundraiser and, in certain blue-shaded parts of the country, a welcome guest. Just this week she hit more than half a dozen cities in Massachusetts and Florida.
In the most recent campaign-finance reporting period, Pelosi raised $34 million for Democrats, boosting her total to more than $700 million since becoming the party's House leader in 2002 .
She maintains a deeply loyal following among fellow lawmakers, many of whom credit her with keeping their party within hailing distance of the majority. (The party needs a gain of 23 seats in next month's midterms to win back control of the House.)
"If you win the World Series, you open the Champagne and the manager doesn't get fired," said Rep. Brad Sherman (D-Northridge). "And it's the same thing here."
I have things to do. Books to write, places to go, grandchildren, first and foremost, to love.
— Rep. Nancy Pelosi, on life after Congress.
The vote for Democratic leadership will take place after Thanksgiving, allowing time to pass after the Nov. 6 election. As yet, no serious rivals have emerged.
Democrats will vote for speaker twice. The first election is a secret ballot tabulated behind closed doors. The winner of that election will go to the full House floor as the Democratic nominee for speaker.
Pelosi expressed no doubt she had the votes to win. "I haven't asked anyone for their support," she said, later adding that doesn't mean they haven't told her she has their support.
Although Pelosi grew up in politics — as a girl she worked on her father's campaigns for Congress and Baltimore mayor — she did not win election until she was 47 and had ushered her five children out of the household.
Pelosi said she never expected to serve more than 10 years. She recalled seeing an elderly House member hobbling on a cane early in her term, and telling a colleague, "It's never going to be me. I'm not staying around that long."
It's now been more than 30 years since Pelosi's election in 1987, though physical infirmity has never been an issue; she routinely works 12- to 18-hour days.
Pelosi would have stepped aside as leader, she said, had Hillary Clinton won the 2016 election.
But with no other woman at the table, Pelosi said, "it was the most urgent of all moments" to keep her seat alongside President Trump, GOP leaders and the top Democrat in the Senate, New York's Charles E. Schumer.
"I feel a very strong responsibility to stay in this office for at least the next two years while he's president," Pelosi said over that double-espresso. "And let's hope it doesn't go any longer than that for him."
Times staff writers Jennifer Haberkorn and David Lauter in Washington contributed to this report.
Twitter: @markzbarabak
---
UPDATES:
1:55 p.m.: This article was updated with a comment from Democratic House candidate Harley Rouda.
12:55 p.m.: This article was updated with comment from Rep. Brad Sherman and additional analysis.
This article was originally published at 11:40 a.m.
Get our Essential Politics newsletter
The latest news, analysis and insights from our politics team.
You may occasionally receive promotional content from the Los Angeles Times.