Trump, claiming progress, is planning a second summit with North Korean leader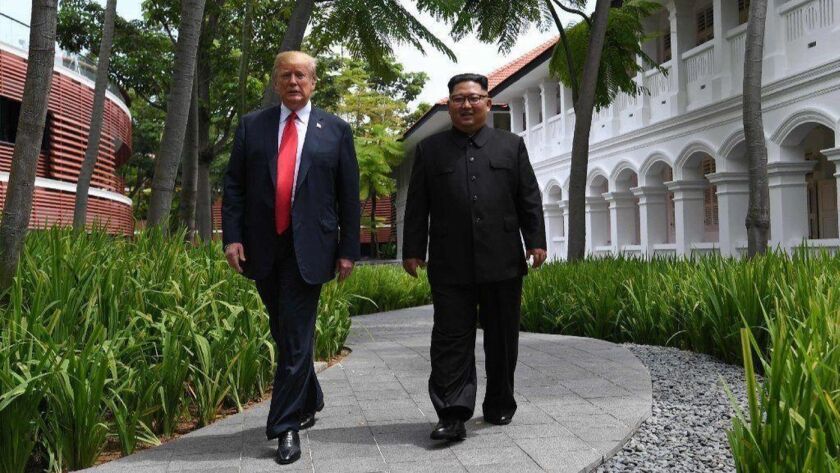 Reporting from Washington —
Preparations are underway for a second face-to-face meeting between President Trump and North Korean leader Kim Jong Un, the White House said Monday, despite the lack of any clear movement toward denuclearization three months after their summit in Singapore.
Press Secretary Sarah Huckabee Sanders told reporters that the White House had received a letter from Kim requesting a meeting. She described the letter as "very warm, very positive."
The announcement marks an about-face by Trump since Aug. 24, when he complained of a lack of "sufficient progress" and abruptly canceled a scheduled visit to Pyongyang by Secretary of State Michael R. Pompeo and a new U.S. envoy to the stalled disarmament talks.
Trump also has complained that China appeared to ease back on enforcement of international sanctions against Pyongyang since the June summit, a backsliding that has complicated efforts to persuade Kim to give up his nuclear arsenal and stop producing fissile material as fuel for nuclear weapons.
Despite the lack of any demonstrable progress since then, Trump is moving ahead with preparations for a second summit based on what Sanders described as good faith efforts by Kim.
She cited the release of three American detainees in May, the return in July of possible American remains from the 1950-53 Korean War and a major military parade Sunday in Pyongyang that did not include any ballistic missiles for the first time in more than a year.
The parade, she said, marked "one of the first times they have had a parade where they weren't highlighting their nuclear arsenal. We consider that an act of good faith."
Sanders would not say how quickly or where a second summit might take place, or if it is likely before the Nov. 6 midterm election.
One potential possibility is on the sidelines of the annual United Nations General Assembly meeting in New York. Trump is scheduled to address the gathering on Sept. 25. At this point Kim is not scheduled to attend.
Trump has sought to portray his detente with Kim as a foreign policy triumph, although signs of progress on denuclearization are scant.
A day after Trump met with Kim in Singapore on June 12, he declared that North Korea was "no longer a nuclear threat" even though the two leaders produced only a brief joint statement, with no timetable or specifics, about denuclearization. The two sides later differed about what the vaguely worded agreement meant.
The International Atomic Energy Agency, the U.N.'s nuclear watchdog agency, reported last month that North Korea was continuing to develop its nuclear weapons, and expressed "grave concern."
Skeptics also weighed in Monday. "It is premature to hold another summit meeting without any evidence of North Korean commitment to abandon its nuclear arsenal," said Bruce Klingner, a former CIA analyst on the Koreas who is a fellow at the conservative Heritage Foundation.
The on-again, off-again nature of the proposed talks is nothing new.
After tweeting in May that he was canceling the summit in Singapore, Trump reversed course several days later when North Korean emissaries made a trip to the White House to deliver a letter to the president. Trump did not impose any preconditions for the change.
During the summit, Trump focused on the theatrics of the historic meeting and the opportunity to play peacemaker on the world stage. He appeared with the North Korean dictator for a number of photo ops and a climactic ceremony.
Trump later told reporters that he had ordered a halt to annual U.S. military exercises with South Korean forces as a confidence-building measure. He called the long-planned exercises "provocative" and "war games," echoing Pyongyang's complaints.
After ordering Pompeo to scrub his planned visit to Pyongyang last month, Trump toggled back last week after a new book by journalist Bob Woodward portrayed the White House in perpetual chaos. Trump instead pointed to validation from a distant admirer.
"Kim Jong Un of North Korea proclaims 'unwavering faith in President Trump,' " Trump tweeted Thursday. "Thank you to Chairman Kim. We will get it done together!"
Twitter: @EliStokols
---
Get our Essential Politics newsletter
The latest news, analysis and insights from our politics teams from Sacramento to D.C.
You may occasionally receive promotional content from the Los Angeles Times.