Trump slams Russia probe and blames U.S. for bad relations with Putin as the two leaders meet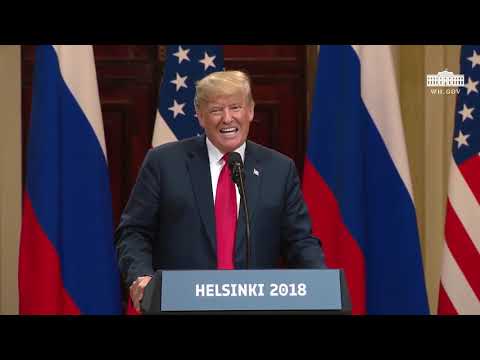 During his stunning post-summit news conference with Russian President Vladimir Putin, President Trump was asked whether he believes Putin, who again denied Russian interference in the 2016 election, or his own intelligence officials, who unanimousl
Reporting from Helsinki, Finland —
President Trump slammed the special counsel's investigation into his campaign's possible election collusion with Russia and, with Russian President Vladimir Putin alongside him at a stunning news conference Monday, seemed to accept Putin's denials of wrongdoing over the unanimous conclusions of U.S. intelligence officials.
The president also blamed the United States for relations with Moscow that he said have "never been worse." He added, "However, that changed as of about four hours ago" — when he and Putin began meeting here at Finland's presidential palace.
When Trump was asked by a U.S. reporter whether he believes Putin or his own intelligence officials, who unanimously say Russia did intervene for Trump, he replied by criticizing the FBI for not doing enough to investigate Democrats.
"My people came to me," Trump said, speaking of intelligence officials including his director of national intelligence, Dan Coats, and "they said they think it's Russia. I have President Putin. He just said it's not Russia. I will say this, I don't see any reason why it would be."
Coats, a former Republican senator who only on Friday had warned that the United States "is literally under attack" by Russian cyberthreats, felt compelled to issue a statement standing by U.S. intelligence agencies in the face of the president's skepticism:
"We have been clear in our assessments of Russian meddling in the 2016 election and their ongoing, pervasive efforts to undermine our democracy, and we will continue to provide unvarnished and objective intelligence in support of our national security."
The president repeatedly condemned the FBI and the probe of special counsel Robert S. Mueller III, which on Friday brought indictments of 12 Russian intelligence officials. Trump called it "a disaster for our country."
President Trump, left, and Russia's President Vladimir Putin attend a joint press conference after a meeting at the Presidential Palace in Helsinki, Finland, on July 16.
(YURI KADOBNOV / AFP/Getty Images)
President Trump, left, and Russian President Vladimir Putin arrive for a press conference after their meeting at the Presidential Palace in Helsinki, Finland.
(Pablo Martinez Monsivais / Associated Press)
A protester wears a mask featuring a portrait of Russian President Vladimir Putin during a demonstration in Helsinki, Finland.
(JONATHAN NACKSTRAND / AFP)
President Trump, center left, and Russia President Vladimir Putin, right, and others wait for a working lunch meeting at Finland's Presidential Palace on July 16 in Helsinki, Finland.
(BRENDAN SMIALOWSKI / AFP)
President Trump shakes hands with Russia President Vladimir Putin next to First Lady Melania Trump ahead of a meeting in Helsinki, Finland.
(ALEKSEY NIKOLSKYI / AFP)
Security staff detain a man prior to a press conference by President Trump and Russian President Vladimir Putin at the Presidential Palace in Helsinki, Finland.
(Pablo Martinez Monsivais / Associated Press)
President Trump and First Lady Melania Trump on their way to the Presidential Palace in Helsinki, Finland.
(PEKKA SIPOLA/EPA)
Russian President Vladimir Putin arrives at the Presidential Palace in Helsinki, Finland.
(KIMMO BRANDT/EPA-EFE/REX/Shutter)
President Trump and First Lady Melania Trump arrive at Helsinki-Vantaa Airport in Helsinki, Finland.
(HEIKKI SAUKKOMAA / AFP/Getty Images)
Putin claimed to be unfamiliar with what he called the "alleged intelligence officers" but offered, as his counter to calls in Washington to extradite them to the United States, to allow Russian authorities to interrogate them for Mueller, along with U.S. investigators. In turn, Putin said, Russia would get American assistance with cases of interest to Moscow.
Trump called Putin's idea "an incredible offer."
Trump, in his remarks, spoke yet again about his clear electoral college win over Hillary Clinton and lamented the "cloud" the investigation has cast over his victory. When Putin was asked why Americans should believe his denials, Trump first answered for him, falsely saying that the Russia probe only came about because Democrats were looking for an excuse for their loss.
Putin, in turn, offered his own, somewhat surreal response to the question that had been intended for him.
"As for who to believe, who you can't believe, can you believe at all — you can't believe anyone," Putin said, dismissing the U.S. intelligence findings and the Mueller probe as based on "rumors." He added, "There's no evidence when it comes to the actual facts."
Putin did not shy away from the question of whether he wanted Trump to win the 2016 election.
"Yes, I did," he said, as Trump smiled beside him. "Yes, I did. Because he talked about bringing the U.S.-Russia relationship back to normal."
Putin, again in answer to a U.S. reporter's question, didn't directly deny that Russia had compromising material on Trump, but instead deflected. He said he'd heard "these rumors" that Moscow had gathered embarrassing material while Trump was there in 2013, and added that people should "disregard" them.
Trump interjected, "If they had it, it would have been out long ago."
Even as Trump expressed no concern about Russia, the Justice Department announced new charges against a Russian woman, Mariia Butina, for conspiracy to act as an unregistered foreign agent. The indictment was not brought by Mueller.
An affidavit described Russia as "one of the leading state intelligence threats to U.S. interests," and said Butina cultivated ties with an unnamed gun rights organization and a political party, which appeared to be the National Rifle Assn. and the Republican Party. At one point she mentioned opening "a back channel of communication" between the two countries, the affidavit said.
A lawyer for Butina, Robert Driscoll, said the charge is "overblown" and she "has been cooperating with various government entities for months."
Earlier, Trump declared a "very good start" to his meetings with Putin after they were alone together for about two hours, longer than the 90 minutes allotted. Just ahead of that one-on-one session, the president blamed the United States for bad relations between the two countries, a claim he reiterated at the news conference.
"I think it's a good start. Very, very good start for everybody," Trump told reporters as the two leaders left their private meeting and joined aides for a working lunch.
"Everybody" will have to accept the president's word for that because only the translators sat in with them, to the consternation of even some administration officials. Typically at such summits, the leaders have at least one senior advisor and an official note-taker; Putin came to the session with a notepad and pen while Trump seemed empty-handed.
Before their private session, Trump said to Putin, offering his hand, "We have a lot of questions, and hopefully we'll come up with answers. It's great to be with you."
He said they would discuss trade, nuclear weapons and China, making no mention of Russia's interference in the U.S. election, the poisoning of people in Britain by a Russian nerve agent or the conflicts in Ukraine and Syria, where Russia has allegedly committed war crimes.
"We have not been getting along," Trump said, "but I think we will end up having an extraordinary relationship."
Putin said little, offering a more casual, almost indifferent demeanor as Trump spoke. He said he looked forward to "continuing the dialogue we have started."
But the Russian president later was broadly smiling, and Trump was stone-faced, as they entered a grand hall in the presidential palace for the news conference after their meetings and lunch with advisors.
Asked if he would — "with the whole world watching" — publicly denounce what the Russians did in the 2016 U.S. campaign and tell Putin "never to do it again," Trump instead denounced the investigation of Russia's political attack.
With Putin looking on, the president complained that the FBI hasn't fully investigated issues related to a Democratic Party computer server, Clinton's emails or a Pakistani American technology expert who worked for Democrats. That man was exonerated this month by Justice Department prosecutors, who took the unusual step of publicly refuting the conspiracy theories about him that have been pushed by conservative media and Trump.
"Putin," Trump said, "was extremely strong and powerful in his denial today."
As many analysts and allies predicted, the Helsinki summit was an extraordinarily contrasting coda to Trump's three-stop European tour: His warm diplomacy for Putin, the leader of a nation under U.S. and international sanctions, followed his harsh criticism of allied leaders, notably Germany's Angela Merkel and Britain's Theresa May, during the NATO summit in Brussels and his visit to Britain.
In their opening remarks at the news conference, Trump and Putin both expressed optimism that the summit offered a fresh start to improve their countries' relationship and allow them to cooperatively resolve problems including Syria's civil war, nuclear proliferation and issues of international oil and gas commerce.
Putin credited Trump for engaging with North Korean leader Kim Jong Un, but criticized him for withdrawing the United States from the 2015 Iran nuclear agreement. Russia, along with several U.S. allies, remains a party to that agreement, which, Putin noted, has made Iran "the most controlled country in the world" to prevent its nuclear proliferation.
Trump, appearing to read his opening remarks from prepared notes, did not mention a dispute with Russia that the U.S. and European allies share: opposition to its occupation of Crimea since Russia seized the Ukrainian territory in 2014. At the NATO summit in recent days in Brussels, allied leaders urged Trump to raise the issue forcefully with Putin, fearing that Trump instead might acquiesce in the occupation as he'd said he might.
Putin acknowledged that Trump raised the subject. "He continued to maintain that it was illegal to annex it," Putin said of Trump, adding, "Our viewpoint is different."
Both leaders expressed hope they could work together to resolve the 7-year-old Syrian conflict, but neither could say whether any concrete action will come out of their discussions. American and European officials feared ahead of the Helsinki summit that Trump would agree to withdraw 2,000 U.S. troops and effectively cede Syria to Russia and to Syria's leader, Bashar Assad, despite U.S. policy opposing Assad remaining in power.
Back in the United States, national security officials, foreign policy analysts, Democrats and some leading Republicans were aghast over Trump's performance.
Even a prominent conservative on Trump-friendly Fox News, Neil Cavuto, called Trump's statements at the news conference "disgusting." And former House Speaker Newt Gingrich, typically one of the president's most combative defenders, said Trump's comments siding with Putin over U.S. intelligence "is the most serious mistake of his presidency and must be corrected — immediately."
Longtime intelligence officer John Brennan, who was CIA director under President Obama, said on Twitter that Trump's behavior rose to and "exceeds the threshold of 'high crimes and misdemeanors'" — the grounds for impeachment. "It was nothing short of treasonous," Brennan added, saying Trump "is wholly in the pocket of Putin."
Sen. John McCain (R-Ariz.), chairman of the Senate Armed Services Committee, in a statement condemned "one of the most disgraceful performances by an American president in memory."
Sen. Lindsey Graham (R-S.C.) said Trump's "missed opportunity" to hold Russia accountable for its election attacks "will be seen by Russia as a sign of weakness and create far more problems than it solves."
"This meeting was Putin's dream come true," said Rachel Rizzo, a NATO and Russia analyst at the Center for New American Security, a think tank in Washington. She added, "This meeting does nothing to reassure our longstanding European allies that they can count on the United States. Frankly, this is humiliating."
Putin, as he often has in meetings with other foreign leaders, arrived 45 minutes late — a trait some officials consider a ploy to keep his counterparts off-balance.
Trump, before he arrived at the presidential palace for the summit, had fired off a tweet that set the theme he'd repeat more than once: "Our relationship with Russia has NEVER been worse thanks to many years of U.S. foolishness and stupidity and now, the Rigged Witch Hunt!"
Russia's Ministry of Foreign Affairs "liked" the tweet from its official account, and later retweeted Trump's statement with the comment: "We agree."
Staff writer Chris Megerian contributed to this report.
Twitter: @EliStokols
---
UPDATES:
3:45 p.m.: This article was updated with Gingrich criticism.
2:10 p.m.: This article was updated with news of the Butina indictment, and Coats' Friday warning of cyberattacks.
1:05 p.m.: This article was updated extensively with more quotes from the news conference, reactions from GOP senators and analysts, and Coats' statement.
9:20 a.m.: This article was updated with Trump and Putin quotes from their news conference.
7 a.m.: This article was updated with Trump's comments after his private session with Putin.
This article was originally published at 4:35 a.m.
Get our Essential Politics newsletter
The latest news, analysis and insights from our politics team.
You may occasionally receive promotional content from the Los Angeles Times.