Four Democratic candidates are turning against their own party over California's gas tax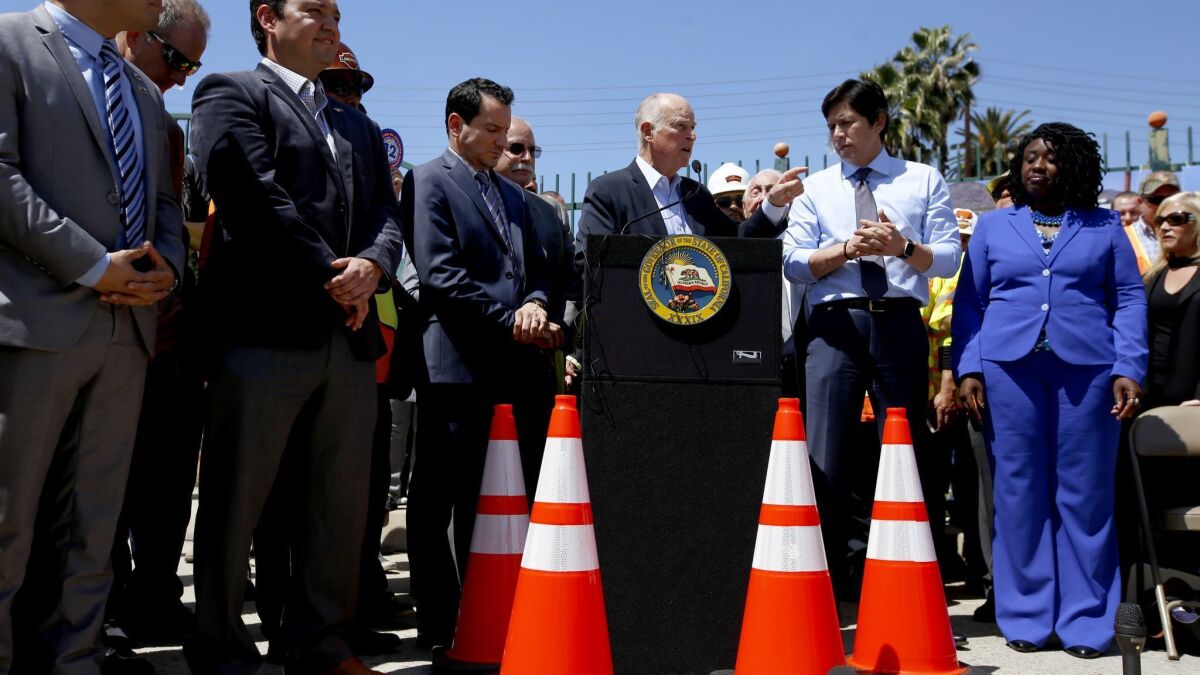 Reporting from Sacramento —
Democratic leaders are facing a mutiny by four of the party's congressional candidates who are opposing a recent increase in the California gas tax that has proved unpopular with many voters.
The defections could bolster Proposition 6, a Republican-led initiative on the November ballot that would repeal a 2017 law that increased the state's gas tax and vehicle fees to fix roads and improve mass transit. Six Republican congressional candidates helped fund the ballot measure in hopes of boosting conservative voter turnout and changing the outcome in some close races.
Now, the gas tax increase is also opposed by Democratic congressional candidates Katie Porter of Irvine, Josh Harder of Turlock, Jessica Morse of Pollock Pines and Ammar Campa-Najjar of east San Diego County, according to a survey of contenders by The Times.
"I support Proposition 6, which repeals the gas tax," said Harder, a venture capitalist who is challenging Central Valley GOP Rep. Jeff Denham of Turlock in a district that Hillary Clinton won two years ago.
"We all agree that we need to fix our roads and bridges, especially here in the valley, but it should be through a thoughtful, cost-effective national plan, not through another tax we can't afford like a gas tax that hurts working families," Harder said.
Porter, a UC Irvine law professor who is challenging Rep. Mimi Walters (R-Laguna Beach), took her stand last week in disputing an attack ad that claimed Porter had refused to take a position against the "Sacramento" gas tax.
"I oppose higher gas taxes, and I won't be afraid to take on leaders of both political parties and do what's right for Orange County taxpayers," she said in a campaign ad of her own.
The initiative would repeal Senate Bill 1, which was approved by the Legislature and governor in April 2017. It raised the gas tax by 12 cents per gallon, boosted the diesel fuel tax by 20 cents per gallon and increased vehicle fees. The new charges are expected to raise $5.4 billion annually for road and transit projects.
The bill was pushed by Democratic leaders including Gov. Jerry Brown, Assembly Speaker Anthony Rendon and Senate President Pro Tem Toni Atkins.
Representatives for Brown declined to comment on the defections, referring calls to the campaign against Proposition 6.
"Shame on any politician who wants to play politics with public safety," said Robbie Hunter, a campaign spokesman and president of the State Building and Construction Trades Council of California. He warned "voters will hold those politicians accountable who gamble with our safety."
Atkins declined to comment Friday on the Democrats opposing the gas-tax increase, but said she will work with a coalition that includes the California Chamber of Commerce to educate the public on the need for the revenue.
"Our infrastructure is crumbling. Our economy needs this investment," she said.
The gas tax was shown to be a volatile topic when Republican leaders successfully recalled Democratic state Sen. Josh Newman from office in June for voting in favor of the gas-tax increase.
It could be seen by some candidates as a decisive issue, said Darry Sragow, a longtime Democratic strategist and publisher of California Target Book, which tracks political contests in the state.
"Pragmatically, candidates may be seeing opinion research that indicates the race is close, and opposition to the gas-tax repeal might cost them critically needed votes," he said.
Coverage of California politics »
There may be another explanation, Sragow added. "Ideologically, they may have a heartfelt objection to the impact of the increase in the gas tax on people who survive from paycheck to paycheck and need to drive a car to make a living."
Republican political consultant David Gilliard, a leader of the Proposition 6 campaign, predicted more Democrats would come out in favor of repealing the gas tax.
"If they are reading their polls, they will all be 'yes' on 6 before long," Gilliard said.
Repealing the higher tax and fees was supported by 51% of the state's registered voters surveyed in May, according to a statewide USC Dornsife/Los Angeles Times poll. The Times survey also found the repeal measure supported by 56% of voters in the Central Valley and 64% in Orange and San Diego counties and the Inland Empire.
A survey released this month by private firm Probolsky Research found a different level of support for repeal, showing that 35.8% of voters are in favor of Proposition 6, while 48% of voters oppose the measure when presented with the title they will read on their ballots. That title reads: "Eliminates Certain Road Repair and Transportation Funding. Requires Certain Fuel Taxes and Vehicle Fees be Approved by The Electorate."
Campa-Najjar has also taken a position against the gas tax as he competes against beleaguered GOP Rep. Duncan Hunter of Alpine in a district that has voted Republican in previous elections.
Hunter is facing a federal indictment that alleges he and his wife used campaign funds for their personal benefit.
"Ammar opposes the gas tax in its current form," said Nick Singer, a campaign consultant for the Democrat.
Morse is taking on Rep. Tom McClintock (R-Elk Grove) in a Northern California district that includes a large swath of the Sierra Nevada Mountains including Lake Tahoe and areas south.
She blamed the incumbent for what she said is a failure to pass significant federal legislation to fix California roads and bridges, and reduce traffic.
Morse opposes the gas tax and supports Proposition 6.
"I'm running for Congress because California's families work hard and should not shoulder a heavier tax burden, and this measure is just another form of double-taxation for residents of the 4th District," she said in a statement released by her campaign.
The gas-tax increase is supported by Democratic congressional candidates including Mike Levin, an attorney from San Juan Capistrano, and Gil Cisneros, a retired Navy veteran and philanthropist from Yorba Linda.
Other Democratic candidates did not respond to requests for comment.
"Our roads and bridges are simply not safe," said Levin, who is facing Republican state tax board member Diane Harkey in the November runoff. Harkey has contributed to the Proposition 6 campaign.
Levin noted voters approved a ballot measure in June to prevent gas-tax money from being used on nontransportation projects.
"With that guarantee in place, I will vote against repealing SB 1," Levin said.
Cisneros is battling Republican Young Kim for the congressional seat being vacated by incumbent Rep. Ed Royce in a district that includes northern Orange County, southeastern Los Angeles County and southwestern San Bernardino County.
He indicated the tax issue was a tough call.
"I do not support repeal of the gas tax because our local businesses and workers need certainty and work is already underway on local projects like 46 lane miles of State Route 57," Cisneros said in a statement. "While I didn't support raising the gas tax because California families shouldn't have to pay for the Trump administration's misplaced priorities and tax giveaways to big corporations, jobs are on the line and we must finish what we started."
Twitter: @mcgreevy99
Get our Essential Politics newsletter
The latest news, analysis and insights from our politics team.
You may occasionally receive promotional content from the Los Angeles Times.