A California special election could put someone in office for just three weeks
When state Sen. Tony Mendoza resigned from office in February after sexual harassment allegations surfaced against him, voters in the Artesia Democrat's district were tasked with electing his replacement.
What has unfolded in the six months since his departure has left his constituents with a confusing course on California's political process, and a handful of potential outcomes to fill the Senate seat — including a possibility that the winner of a Tuesday special election runoff could represent the district for just three weeks.
Following Mendoza's resignation, a June 5 special election during California's primary was called to fill his seat through the end of the term. That same day, voters in the district — which is southeast of Los Angeles and includes Montebello, Whittier and Downey — also picked two candidates to advance to the November general election, a contest to fill the seat for a new term starting next year.
Though the slate of 11 candidates — nine Democrats and two Republicans — was the same for both June contests, voters chose two different match-ups for the August special election runoff and November general election.
Montebello Mayor Vanessa Delgado, a Democrat, and Republican attorney Rita Topalian advanced to Tuesday's special election to decide who will fill Mendoza's seat — and be paid — for the rest of his term. Come November, voters will choose between Pico Rivera Mayor Bob Archuleta, a Democrat, and Topalian, who placed first in both contests. (Mendoza decided to run again for his seat and lost, coming in third for the special election and fourth in the primary deciding who would move on to November.)
The different June outcomes could be due to the randomized order of candidates on the ballot — Archuleta, for example, was listed at the top of the ballot for the full-term election, but was seventh in the list of candidates for the special election. Voters also might not have realized they were voting to fill the same seat.
The winner of Tuesday's special election will serve through the end of November, but might only have three weeks to make her voice heard until the Legislature adjourns on Aug. 31, the deadline to pass bills.
Los Angeles voters picked different candidates for the same job »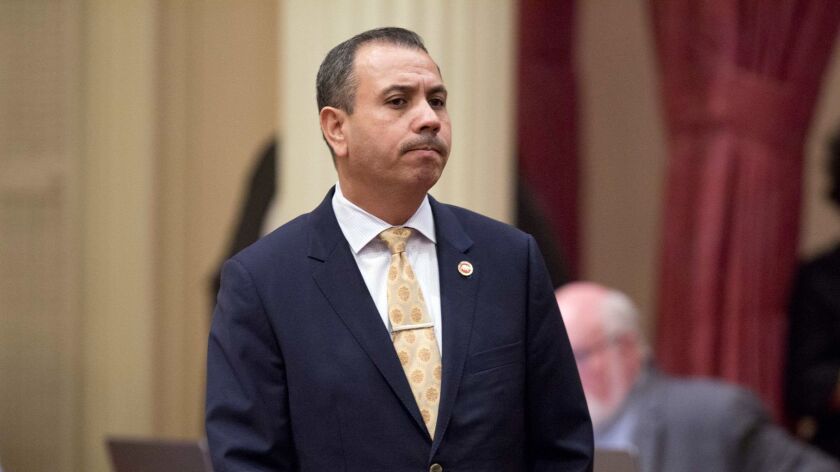 With Topalian in both the special and the general elections, the blue district has two chances to go red — if only temporarily.
It's unclear whether Delgado would have to step down from her current post as mayor if she wins the special election, and if she'd be able to resume the role afterward. According to her spokesperson, she would take the Senate seat if she wins, "no matter the consequences."
Delgado is also facing a recall threat from residents opposed to her vote in favor of allowing some commercial marijuana businesses to operate in Montebello.
Archuleta and Delgado share a mutual goal: ensuring their party maintains control of the district. Archuleta has asked supporters to back Delgado in the special election, and Delgado is encouraging voters to keep the seat in the Democrats' hands.
There have been four special elections called in California this year to replace Democratic legislators who resigned. Three of those resignations — Mendoza, Assemblymen Matt Dababneh of Woodland Hills and Raul Bocanegra of Pacoima — followed sexual misconduct or harassment allegations against the lawmaker. Assemblyman Sebastian Ridley-Thomas of Los Angeles stepped down in December, citing health reasons.
Twitter: @cshalby
ALSO:
Results from the California primary
Skelton: California's special elections are a waste of time and taxpayer money
---
Life is stressful. Our weekly mental wellness newsletter can help.
You may occasionally receive promotional content from the Los Angeles Times.