In rebuke of Dianne Feinstein, Kevin de León wins endorsement of California Democrats in Senate race
Reporting from Oakland —
California Democratic Party leaders took a step to the left Saturday night, endorsing liberal state lawmaker Kevin de León for Senate in a stinging rebuke of Democratic Sen. Dianne Feinstein.
De León's victory reflected the increasing strength of the state party's liberal activist core, which was energized by the election of Republican Donald Trump as president.
The endorsement was an embarrassment for Feinstein, who is running for a fifth full term, and indicates that Democratic activists in California have soured on her reputation for pragmatism and deference to bipartisanship as Trump and a Republican-led Congress are attacking Democratic priorities on immigration, healthcare and environmental protections.
De León, a former state Senate leader from Los Angeles, received 65% of the vote of about 330 members of the state party's executive board — more than the 60% needed to secure the endorsement. Feinstein, who pleaded with party leaders meeting in Oakland this weekend not to endorse any candidate, received 7%, and 28% voted for "no endorsement."
"We have presented Californians with the first real alternative to the worn-out Washington playbook in a quarter-century," De León said in a statement shortly after the endorsement was announced.
It's not clear that the endorsement will have a significant effect on the general election. Feinstein crushed De León in the June primary, winning every county and finishing in first place with 44% of the overall vote. De León finished far behind with 12%, which was enough for a second-place finish and a ticket to the November election under the state's top-two primary system.
Kevin de León's plan to take on Dianne Feinstein starts with finishing second »
The endorsement can come with hundreds of thousands of dollars in campaign money, which the De León campaign will have to help raise, as well as party volunteers and political organizing assistance. De León needs that support to increase his odds of victory in November. Feinstein had $7 million in campaign cash socked away as of May, 10 times what De León had.
The Feinstein campaign touted her primary win in a statement Saturday night.
Lynne Standard-Nightengale, a member of the Amador County Democratic Central Committee, said she supported De León even though she realizes he has almost no chance of beating Feinstein. She said she wanted to send a message.
"I just think we need a younger, progressive person there," she said. "The Democratic Party in California has moved to the left, and he personifies those values."
De León had some inherent advantages with the California Democratic leaders who decided the endorsement. He's been a fixture at state party conventions and has spearheaded legislation in a Democratic-dominated state Legislature. Feinstein, who spends much of her time in Washington, has had a distant relationship with party activists for years.
"Kevin, by nature of his job, is visible and active here at home," said state Party Chairman Eric Bauman.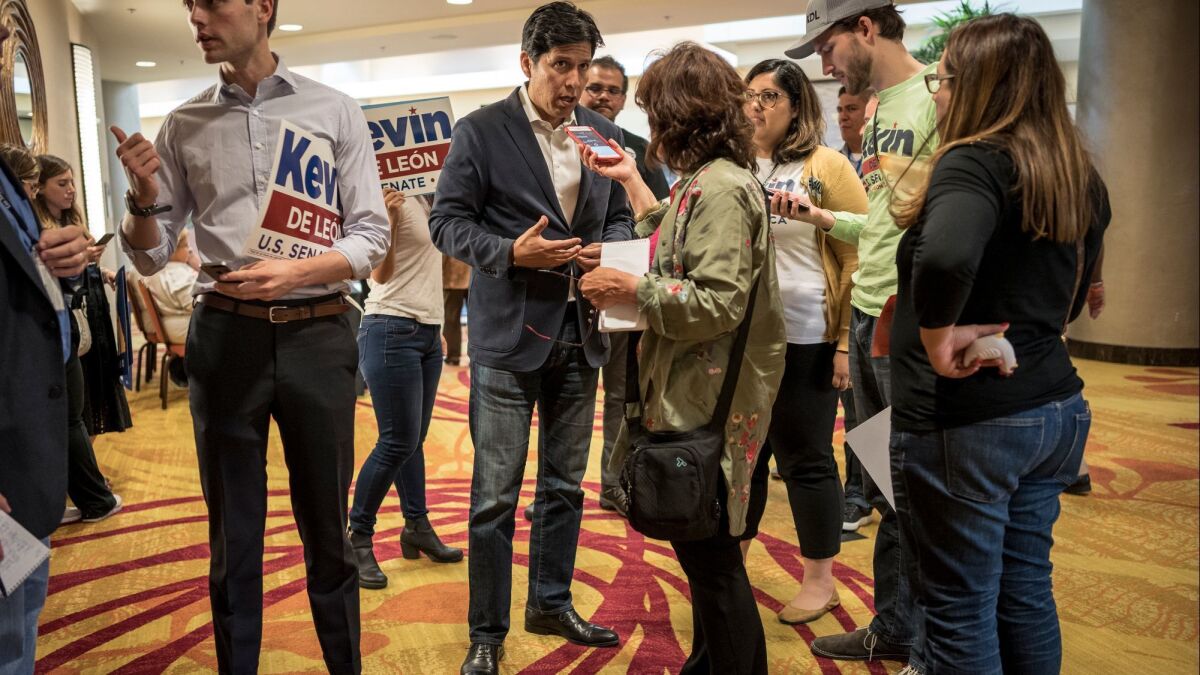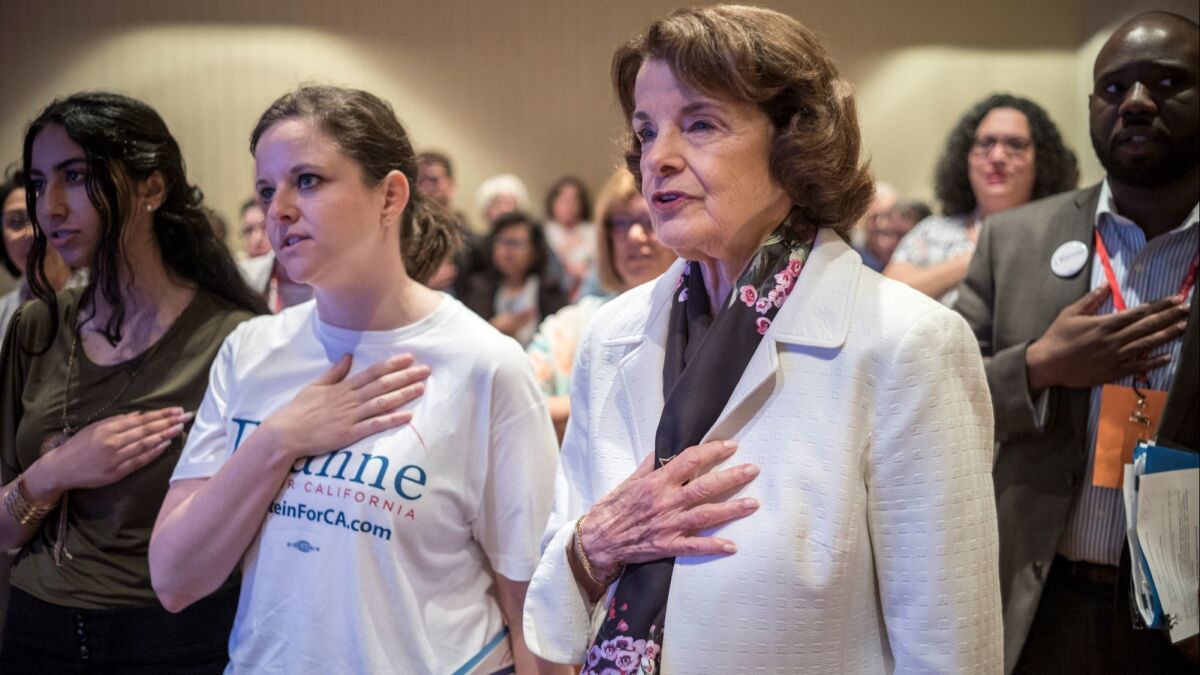 As the vote approached, Feinstein appeared to have little expectation of winning her party's seal of approval. Instead she urged party leaders not to endorse a candidate for the November election, calling for party unity as Democrats try to regain control of Congress in the November election.
Supporters of De León, 51, dismissed Feinstein's plea as a thinly veiled attempt to avoid a home state defeat for the 85-year-old senator.
This was the second go-around for an endorsement fight in the Senate race. Ahead of the primary at the party's February convention in San Diego, where a larger contingent of 2,700 delegates voted, De León won 54% — short of the 60% required to secure an endorsement. Feinstein received just 37%.
De León's strong showing in February had his allies hopeful that he'd win. His supporters, sporting De León T-shirts, stickers and other campaign paraphernalia swarmed the hotel hallways, crowding caucus meetings and lobbying party leaders.
The Feinstein campaign weeks ago launched an aggressive effort to persuade Democrats in Oakland to vote "no endorsement" in the Senate race, flooding delegates with calls and text messages and drafting the help of political surrogates. Six Democratic congressional candidates who are trying to flip Republican-held districts in California joined Feinstein, urging party delegates in a letter to opt not to endorse a candidate.
Party insiders and politically attentive bystanders see the Democrat vs. Democrat Senate fight as evidence of a deepening chasm between the party's moderates and progressives — a California version of the Democratic battle between Hillary Clinton and Vermont Sen. Bernie Sanders in the 2016 presidential election.
In every other Democrat vs. Democrat race on the November ballot, the party is not making an endorsement. Candidates for lieutenant governor all the way down to Assembly have issued statements calling for unity.
While meeting with delegates on Saturday, Feinstein emphasized her position as the highest-ranking Democrat on the Senate Judiciary Committee. She told them she will play a pivotal role in confirmation hearings for President Trump's nominee for the U.S. Supreme Court, Judge Brett M. Kavanaugh. Feinstein warned that the appointment could lead to the end of Roe vs. Wade, the landmark 1973 ruling that guaranteed women nationwide the right to an abortion.
"Given the White House situation, at this time and place a senator with her experience is the right choice for California," said Carolyn Fowler of Inglewood, a vice chair of the state party's Women's Caucus and Feinstein backer.
Donations from candidate's father fueled high-spending race for California's No. 2 position »
De León's campaign has focused on the party's energized liberal faction. He supports single-payer healthcare, aggressive goals for renewable energy and helped lead the successful effort to raise the state's minimum wage to $15 an hour. He has criticized Feinstein, known for having moderate tendencies, for being too conciliatory toward Trump, such as when she urged people to have "patience" with the president last year.
On Friday night, De León hosted an "ABOLISH ICE CREAM SOCIAL" for delegates, a nod toward the Democratic-led effort to abolish the Immigration and Customs Enforcement agency after its agents separated thousands of children from their parents after they crossed the border.
One of De León's supporters, Contra Costa Democratic Party secretary Diddo Clark, said California needs new, younger blood in the Senate. Clark argued that some of Feinstein's most impressive accomplishments happened during her first years in the Senate when she wrote the now-expired assault weapon ban in 1994 and legislation that same year that created the Death Valley and Joshua Tree national parks.
Clark also thinks that Feinstein, a former San Francisco mayor, has become so embedded in Washington that she's lost touch with Californians.
"Feinstein lives in an adjacent county, and I have not seen her in my county in this millennia," Clark said. "Kevin lives 500 miles away and he's come to Contra Costa three times in the last year. He's hustling."
Times staff writer Seema Mehta contributed to this report.
Coverage of California politics »
Twitter: @philwillon
Updates on California politics
---
UPDATES:
11:44 p.m.: This article was updated with additional details and quotes.
9:48 p.m.: This article was updated with additional details about the vote.
8:31 p.m.: This article was updated with the result of the vote.
This article was originally published at 2:18 p.m.
---
Life is stressful. Our weekly mental wellness newsletter can help.
You may occasionally receive promotional content from the Los Angeles Times.