He has $360,000 in the bank. She has $10 million. How Kevin de León's fundraising might suggest he'll have a difficult Senate campaign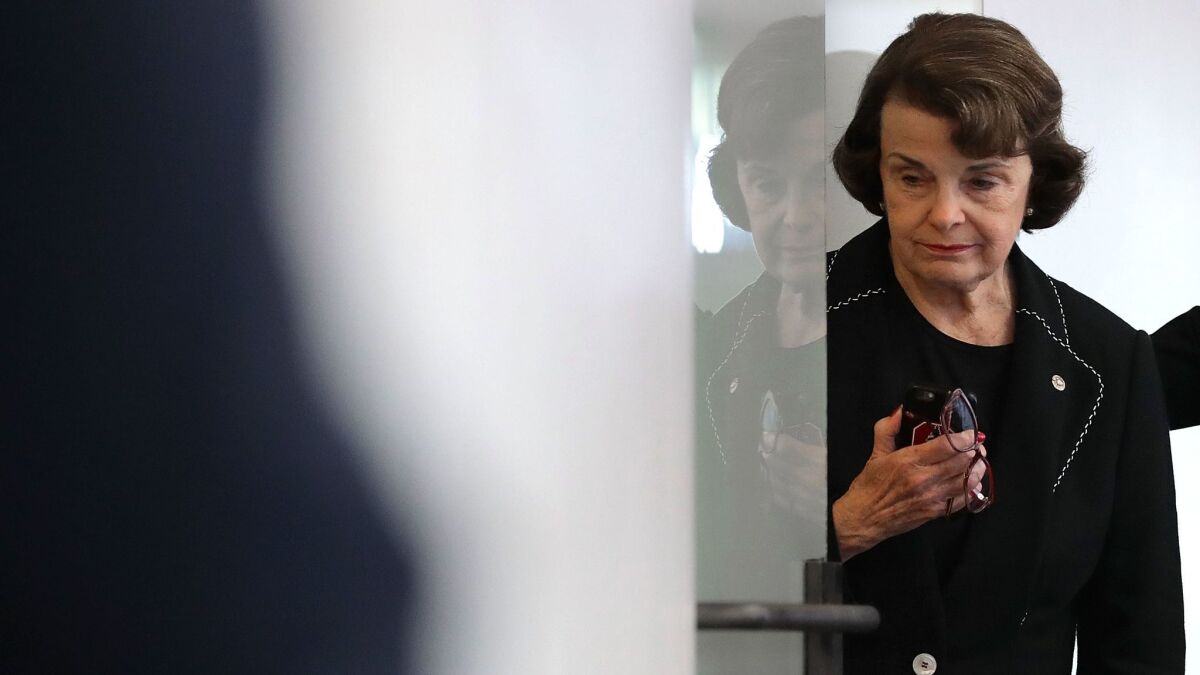 Sen. Dianne Feinstein has a considerable fundraising advantage in her reelection bid, starting 2018 with nearly $10 million in the bank, while her most prominent rival has less than 4% of that amount, according to financial disclosures filed Wednesday with the Federal Election Commission.
State Senate leader Kevin de León of Los Angeles, a fellow Democrat who is challenging Feinstein, reported raising nearly $434,000 and spending $74,590 between entering the race Oct. 15 and the end of 2017. He entered the new year with about $360,000 cash on hand and more than $41,000 in debts.
In contrast, Feinstein raised $1 million in the final months of 2017 and lent her campaign $5 million. The cash infusions allowed the veteran senator to kick off the year with $9.8 million in the bank.
The fundraising gap shows the uphill battle De León faces in taking on Feinstein. He is also little known among the state's voters, despite being a high-ranking elected official. About 80% of registered voters did not know enough about De León to form an opinion of him in a recent USC Dornsife/Los Angeles Times poll.
It's a tightening race for governor and Sen. Dianne Feinstein holds strong lead for reelection »
But De León does not need to match Feinstein's money or name recognition to place in the top two spots in the June primary and advance to the general election. However, political strategists said De León would need to raise several million dollars to properly introduce himself to voters.
"Him sitting on $300,000 cash on hand isn't going to get him over the finish line. He needs to really ramp up his fundraising to be able to penetrate in the minds of the electorate who he is, and then he also has to articulate to them why he should replace an icon like Dianne Feinstein," said Beth Miller, a Sacramento Republican strategist who advised Carly Fiorina's unsuccessful campaign in 2010 against then-Sen. Barbara Boxer.
She added that Feinstein is well known among voters because of her decades in elected office, while De León has little name recognition outside his legislative district.
"He has quite a high hurdle to overcome because the voters of California right now really don't know who he is, what he stands for and why they should elect him to the Senate," Miller said.
Courtni Pugh, De León's campaign manager, dismissed the financial disparity and noted that half of Feinstein's bank account came from her $5-million loan.
Follow California politics by signing up for our email newsletter »
"We knew from the outset we were not going to be able to compete with Sen. Dianne Feinstein dollar for dollar. Kevin de León, like most Californians, does not have the personal riches to match someone with her vast wealth," Pugh said. "We will need the continued support of grass-roots progressives across this great state who want a representative in Washington, D.C., who will fight for them."
Some political observers pointed to Feinstein's loan as evidence she is anticipating a tough campaign. But California's senior senator, among the wealthiest members of Congress, also lent her campaign $5 million during her 2012 campaign, which was not a competitive race. She later refunded herself the full amount.
Challenging an incumbent is a tall order, let alone defeating a senator of Feinstein's stature. She has served in the Senate for a quarter of a century, previously ran for governor and was mayor of San Francisco.
But as California has grown more liberal, Feinstein has angered part of the Democratic Party's base by her perceived moderation, including her call for "patience" with President Trump.
In the race to become California's next governor, fundraising favors one candidate »
De León's campaign is founded on winning support from progressives who believe Feinstein is not liberal enough to represent California, as well as Latino voters. It's unclear how much support he has from either group.
But Maria Elena Durazo, a vice chair of the Democratic National Committee and prominent former labor leader who is running for state Senate in California, offered some hope for the insurgent candidate.
Durazo, who is running to take over De León's state Senate seat, said she was considering supporting him during a news conference Tuesday.
"I'm thinking about it, because I believe that everything that he has stood for is what we should have in a U.S. senator," she said. "And I am also highly disappointed in Dianne Feinstein, because she has not for many years responded to the issues that I've talked about, to the issues that I have fought for. So I haven't made an official final decision."
Staff writer David Zahniser contributed to this report.
For the latest on national and California politics, follow @LATSeema on Twitter.
ALSO
Yes, Sen. Dianne Feinstein said Trump can be a 'good president.' There's a lot more to the story
Sen. Dianne Feinstein once thought she might 'just walk away' from another race, she tells donors
Get our Essential Politics newsletter
The latest news, analysis and insights from our politics team.
You may occasionally receive promotional content from the Los Angeles Times.