WASHINGTON —
President Trump said Tuesday that American Jews who voted for Democrats showed "either a total lack of knowledge or great disloyalty," engaging again in the unabashedly inflammatory identity politics that have defined his presidency and campaigns.
Hours later, he tweeted that he was canceling his planned visit to Copenhagen because Denmark's prime minister had flatly rejected Trump's sudden interest in acquiring Greenland, an autonomous Danish territory.
It was a surreal sequence of events on a steamy August afternoon, even in a capital city that's grown accustomed to the president's tempestuous tendencies and Twitter fiats.
With the Romanian President Klaus Iohannis seated beside him in the Oval Office, Trump engaged with reporters brought into the room and again attacked two Democratic lawmakers, Reps. Rashida Tlaib of Michigan and Ilhan Omar of Minnesota, who are critical of Israel's government and its treatment of Palestinians.
"Where has the Democratic Party gone?" Trump said. "Where have they gone, where they're defending these two people over the state of Israel? And I think any Jewish people that vote for a Democrat, I think it shows either a total lack of knowledge or great disloyalty."
American Jews, more than 70% of whom voted for a Democrat in 2016, have long bristled at the idea of "dual loyalty," which implicitly questions their allegiance to the United States.
Trump made a similar claim earlier this year when he spoke to a conference of American Jews and referred to Israeli Prime Minister Benjamin Netanyahu as "your" leader. It recalled his use of other stereotypes about Jews in 2015, when he told an audience of Jewish Republicans that they were great "deal makers" and that they wouldn't support him because he didn't need their money.
Ironically, Trump's suggestion Tuesday that American Jews would vote based solely on a politician's position on Israel was not much different than the statement by Omar that Trump was ostensibly criticizing. At a town hall this year, the first-term lawmaker said she wanted to discuss "the political influence in this country that says it is OK for people to push for allegiance to a foreign country."
At the urging of Trump, who last month said that Tlaib and Omar should "go back" to their ancestral countries, Israel last week denied a visa to the two lawmakers, blocking them from visiting the country.
Israel later agreed to a humanitarian visit for Tlaib to visit her grandmother, who lives in the West Bank. Tlaib declined, saying her grandmother had urged her not to come under what they considered humiliating circumstances.
Trump called Omar a "disaster" for Jews and said he didn't "buy" the tears that Tlaib shed Monday as she discussed the situation at a news conference. Both congresswomen support the Boycott, Divestment and Sanctions movement, a global protest of Israel.
Trump's comments were denounced swiftly by Jewish American organizations.
"This is yet another example of Donald Trump continuing to weaponize and politicize anti-Semitism," said Halie Soifer, executive director of the Jewish Democratic Council of America. "At a time when anti-Semitic incidents have increased — due to the president's emboldening of white nationalism — Trump is repeating an anti-Semitic trope."
"If this is about Israel, then Trump is repeating a dual loyalty claim, which is a form of anti-Semitism," Soifer continued. "If this is about Jews being 'loyal' to him, then Trump needs a reality check. We live in a democracy, and Jewish support for the Republican Party has been halved in the past four years."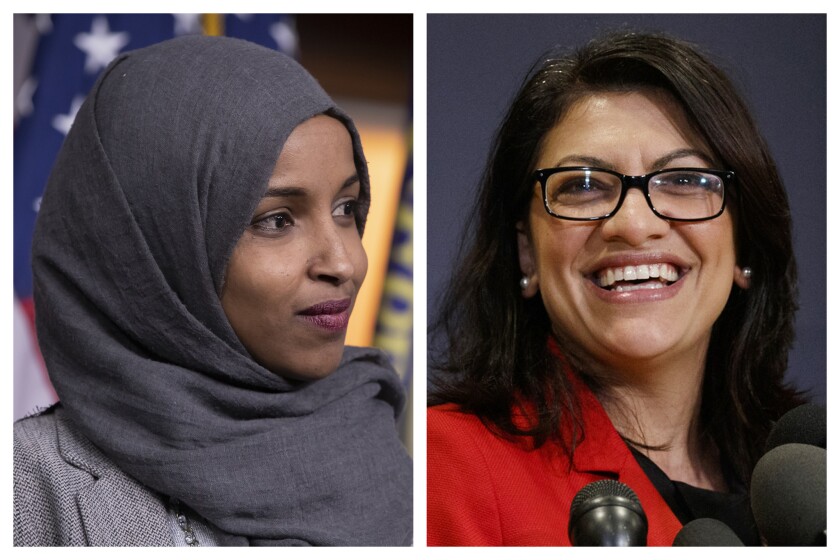 Trump's demand that Israel ban two Democratic lawmakers set up a dramatic choice for Benjamin Netanyahu: Please the U.S. president or alienate the Congress that provides billions of dollars in aid.
Jonathan Greenblatt, chief executive of the Anti-Defamation League, said that while it was unclear to whom Trump was claiming Jews would be disloyal, "charges of disloyalty have long been used to attack Jews."
"As we've said before, it's possible to engage in the democratic process without these claims," Greenblatt said in a tweet. "It's long overdue to stop using Jews as a political football."
Former congressman and Democratic presidential candidate Beto O'Rourke reacted to a video of Trump's comment and said, "The Jewish people don't need to prove their loyalty to you, @realDonaldTrump — or to anyone else."
The Republican Jewish Coalition, the group Trump had addressed in 2015, defended the president, arguing that he was speaking about people being disloyal to themselves rather than to Israel.
"President Trump is right, it shows a great deal of disloyalty to oneself to defend a party that protects/emboldens people that hate you for your religion," the group said in a tweet. "The @GOP, when rarely confronted w/anti-Semitism of elected members always acts swiftly and decisively to punish and remove."
Increasingly preoccupied with his reelection prospects, Trump has been suggesting that various voting blocs and the electorate as a whole have no choice but to vote for him next year. Last week at a rally in Manchester, N.H., he said that even people who "hated" him "have no choice but to vote for [him]" because of the state of the country's economy.
"Whether you love me or hate me, you have got to vote for me," he said.
While neither he nor Netanyahu have been shy about politicizing the long-standing alliance between their two nations, American Jews are not a monolithic bloc of voters and many don't support the Israeli government on every issue.
Recent polling shows that a majority of Jewish Americans identify as Democrats.
According to AP VoteCast, a survey of the 2018 electorate, 72% of Jewish voters supported Democratic House candidates in 2018. Similarly, 74% said they disapproved of how Trump is handling his job.
A Pew Research Center poll conducted in April found that among Jewish Americans, 42% said Trump is favoring the Israelis too much, 6% said he's favoring the Palestinians too much and 47% said he's striking the right balance. Jews were more likely than Christians to say Trump favors the Israelis too much, 42% to 26%.
As cable news focused on Trump's controversial comment, he tweeted out another head-spinning nugget of news — that he was canceling his upcoming visit to Denmark because it has indicated that Greenland is not for sale.
"Denmark is a very special country with incredible people, but based on Prime Minister Mette Frederiksen's comments, that she would have no interest in discussing the purchase of Greenland, I will be postponing our meeting scheduled in two weeks for another time," Trump tweeted.
In a second tweet, he continued: "The Prime Minister was able to save a great deal of expense and effort for both the United States and Denmark by being so direct. I thank her for that and look forward to rescheduling sometime in the future!"
After a new report revealed last week that Trump had mused privately about the United States obtaining Greenland from the Danes, Frederiksen made clear that the massive territory, which sits between the North Atlantic and Arctic oceans, was not for sale.
U.S. Rep. Alexandria Ocasio-Cortez ignited a national debate when she compared the government-run facilities packed with migrant detainees near the U.S.-Mexico border to concentration camps. But this debate started decades before — in California.
"Greenland is not Danish," she told a Danish newspaper. "Greenland belongs to Greenland. I strongly hope that this is not meant seriously."
Trump had suggested that he wanted to have a serious conversation about the idea given Greenland's rich mineral resources and strategic location.
"Well, a lot of things can be done," he told reporters Sunday. "Essentially, it's a large real estate deal."
At the same time, he seemed to signal that his interest was not all that serious, tweeting a photo-shopped image of a gold-windowed Trump hotel situated among tiny cottages on Monday and writing "I promise not to do this to Greenland!"
As it turns out, the president was serious.
Trump, who is set to attend the G-7 summit of world economic powers this weekend in France, had been planning to travel to Warsaw and Copenhagen the following weekend. For now, it appears the Poland leg of that trip is still on schedule.
---