Hansen: Artist gets physical to explore metaphysical concepts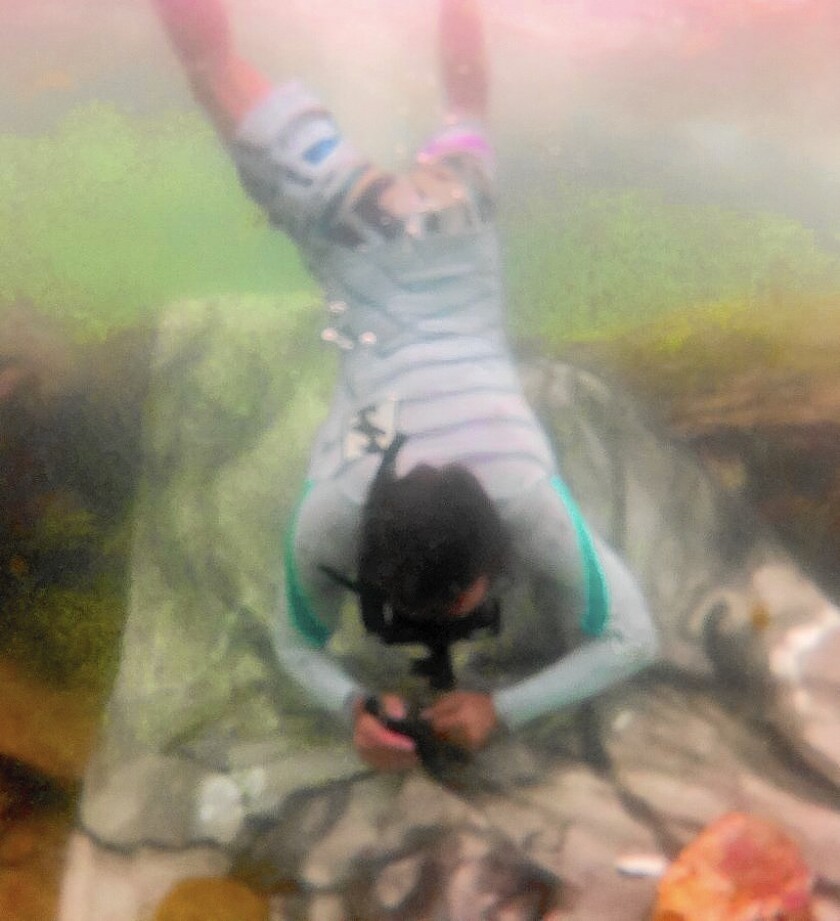 Most artists are content to paint the ocean. Peter Matthews paints on the ocean floor.
While free diving.
Because he likes the immersion.
Matthews, 37, is like a mystical waterman whose exhibitions combine mind-boggling oceanography with Native American mythology, plus a splash of quirky inventiveness. His work, at petermatthews.org, has been featured all over the world, but recently he was at the Laguna Art Museum and UC San Diego.
He lives in England but just finished as the artist in residence at the Scripps Institution of Oceanography in San Diego, which he called a "life-changing experience."
Throughout his career, he has been known to push boundaries and follow his instincts for the sake of connectedness, reflection and new insights.
Like the time he filled up a large "water extinguisher" can with Pacific Ocean water and then traveled to the Atlantic Ocean and sprayed it into the abyss.
"I remember the moment of spraying the Pacific Ocean water into the Atlantic. It was a moment that took me somewhere," he said. "I got this huge butterfly-effect kind of feeling in my body like I had made an action in the universe that couldn't be undone afterwards."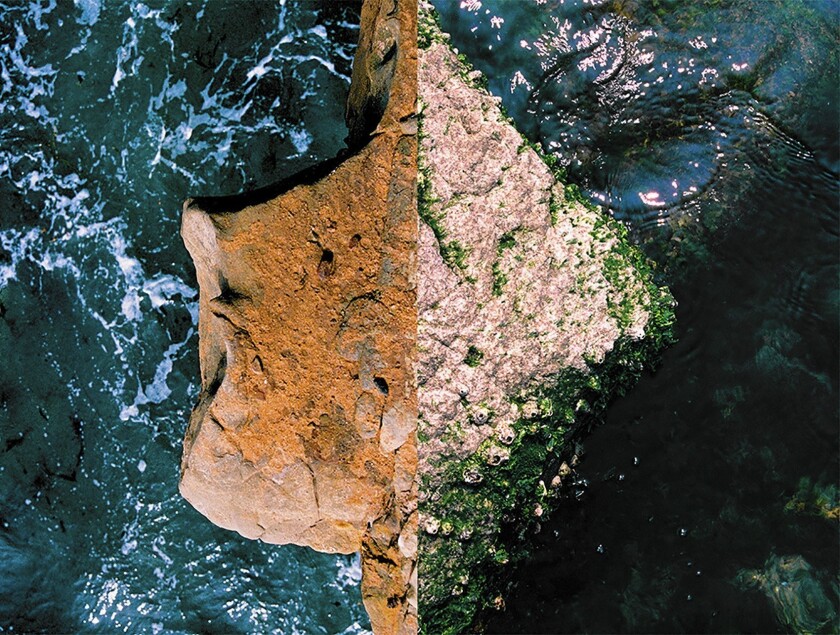 Matthews equated it to the notion of time, where our experiences are always preoccupied with the processes at work and not necessarily with the true experience. In other words, we may not really see what's in front of us.
"The experience of time is such a profound and mysterious one," he said. "We live in the present, but we are a collection of events and experiences which has traveled from the past. The future is always in motion, yet to be seen but always there, coming to us. I like to make these interventions in the universe which tap into the mystical and magical elements."
To capture these kinds of insights, Matthews spends a lot of time wandering, walking and sitting in various environments.
"I think one of the important things an artist needs to do, what compels him or her the most sometimes, is to step out into the world we currently live in and have a good look around, to turn over the rocks, to peer into the places unknown," he said. "I think the mission of artists is to work through this ever-changing, ever-shrinking yet expanding world of ours and try and make sense of it, to work it out and present new ways to see it or experience it, to essentially reveal those mysteries and enigmas and unknowns."
When Matthews was working at Scripps and exploring Southern California, he was encouraged by the generosity and mindfulness of people living along the coast in particular.
"I have traveled to many beaches around the world, and one thing that I must say is that I found the beaches in California much healthier than other beaches I've explored," he said. "I was really in a state of animated dreamlike suspension the time I was there trekking along the coast, from Laguna Beach to the tide pools around Point Loma, because only a few weeks before, I was doing the same movement and actions on the Pacific Coast of Taiwan.
"So the sense of scale and distance, geological formations, qualities of light, weather patterns, flora and fauna discoveries and so on transported me into a really heightened dynamic sense of knowing a place deeper and clearer though knowing its opposite."
The pace at which Matthews talks is slow, deliberate and clear. There's a soft, string-like quality that keeps concepts together. Nothing is excessive for the sake of melodrama or pedantry. In November, he was interviewed for nearly an hour on BBC Radio. The replay is available on his website. If you did not hear the introduction by the host, you could almost imagine you were listening to a philosopher-artist TED talk, filled with literary and mystical references.
For Matthews, art is simply the conduit for personal betterment and societal change.
"We are so small within the grand scale of the universe, but we do, individually and as a world, have such a profound impact upon this planet," he said. "I think that's where artists and art can have a profound place in how we see and relate and respond to this changing time, as sometimes we need art to once again see and take stock of who we are and where we are and where we are going."
Matthews admits that his approach is not for the faint of heart, calling it his "call of the wild." It's often physically grueling work. He is not afraid to sleep in sea caves or on the side of cliffs. Last summer, he slept in the desert of California where he experimented with one of the blackest paints on Earth in harsh conditions.
"There is always that beautiful departure point where I walk, sometimes for a long time, along the beach and then I turn toward to the open ocean and walk out, paper nailed on the board, pens stuffed in my shorts or wrapped around my wrists or legs. I walk out like a surfer would, walking into the ocean.
"It's like a passage, a leaving and an arriving occurring magically at the same time, a crossing over, a transcendental moment when one leaves one world and enters into another, marked and flowing with a different sense and behavior of time and place."
It is in these moments when he often finds his own spark and hopes it's transferred to the art, but he is also realistic enough to know he might have to explain a few things — and that's OK too. When he paints on the ocean floor, for example, he has to use special inks and weigh down the raw canvas with rocks.
"I'm interested in capturing something of the sublime, from that experience of being out there in the ocean," Matthews said. "Those immeasurables, those profound experiences, those moments when we encounter those astral voyages where our body lets go of our earthly, gritty bond, where we become weightless, when we drift and are at one with ourselves in a spiritual sense, a creative sense, a human sense once again."
*
DAVID HANSEN is a writer and Laguna Beach resident. He can be reached at hansen.dave@gmail.com.
---