Column: Clippers owner Steve Ballmer is much more than a cheerleader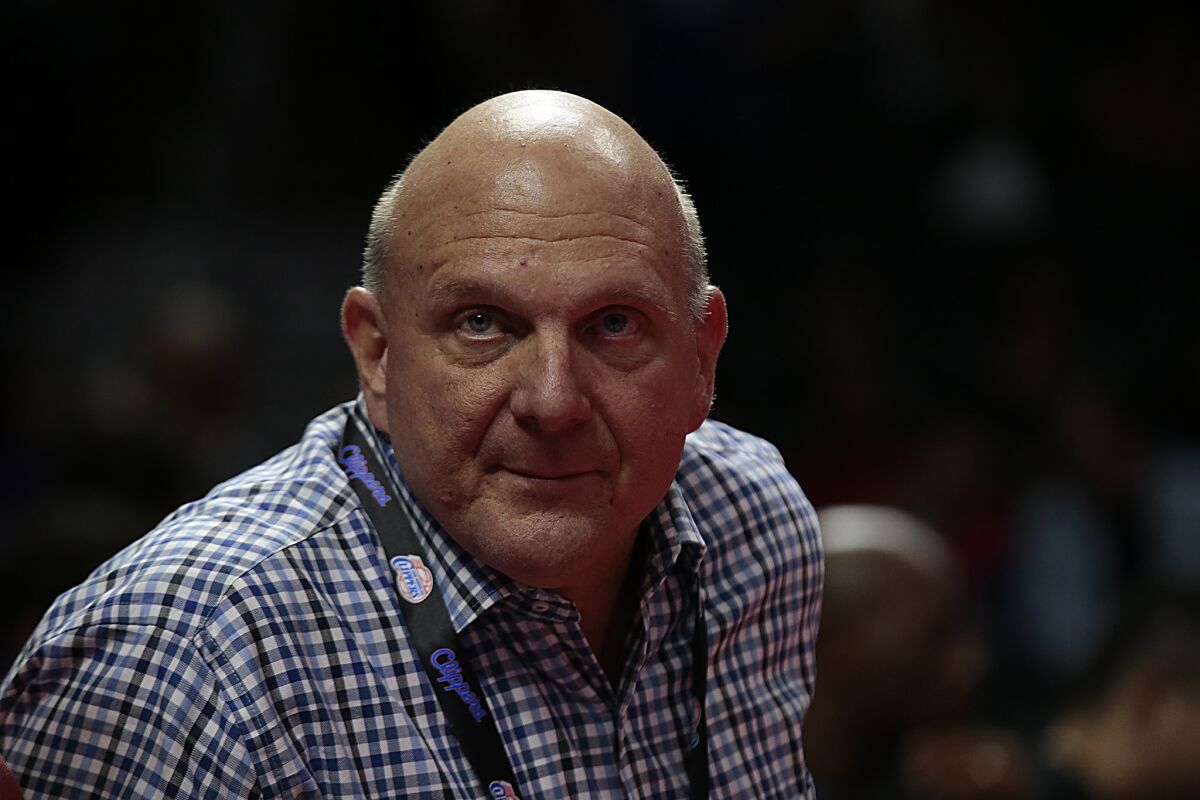 He was initially viewed as little more than the NBA's richest mascot, a lovable, lumbering, fist-pumping fan who led cheers from the baseline and signed the checks from afar.
But this season, his inherited team dissolving, his comfortable world changing, something has stirred in Steve Ballmer.
The owner of the Clippers has become the force of the Clippers.
With his team requiring remodeling, he has torn down the walls. Challenged to take risks, he has swung for the fences. Given an opportunity to make a statement that was not a wild-eyed scream, he has spoken with sensitivity and smarts.
Four years after he swooped in out of nowhere to buy the laughable franchise for an incredible $2 billion, Ballmer has erased all traces of Donald Sterling while finally beginning to write a legacy of his own.
"I don't want to suck, I want to be great!'' he exhorted in an interview this week.
OK, so at his red-faced core, he is still the same baller Ballmer, the same excitable guy who recently celebrated the unveiling of the Clippers' hot dog gun by engaging in an on-court, hot dog eating contest with the legendary feaster Joey Chestnut.
Watch the video closely and you can see that while Chestnut is stuffing his face, Ballmer is only nibbling while pretending to chow, a literal head fake that he openly acknowledges.
"Dude, I'm a little heavy, I wasn't going to pack eight of those down even if I could,'' he said with a laugh.
It was maybe the only time in the last year that he has conceded anything, as he has overseen the creation of an unlikely basketball team that has found its way into playoff contention despite starting 30 lineups in 63 games.
"Who wants to tank, I don't want to tank,'' he said. "Our fans deserve to have a team that competes all the time.''
They could have started to tank last summer when Chris Paul told the team he wasn't going to re-sign. Ballmer had not been faced with any major personnel decisions since becoming an owner. This was a doozy.
"I was born on third base as an owner in terms of our roster,'' he said, noting his inheritance of Paul, Blake Griffin and DeAndre Jordan. "But you've got to learn, and you've got to move forward.''
First, Ballmer approved a trade with the Houston Rockets that netted the Clippers their best player, Lou Williams, and their toughest player, the injured Patrick Beverley.
"Look, we wanted Chris back, he chose not to,'' Ballmer said. "But I think we've done fantastically in the context of that move.''
Second, Ballmer officially began rearranging the pieces from that move by relieving coach Doc Rivers of his responsibilities as vice president of basketball operations, handing them to street-savvy Lawrence Frank.
"Being a coach is really an intense full-time job, and it's not like the basketball ops decisions are limited to the offseason,'' Ballmer said. ''How much can you do if you were Doc in his former role? You just can't put the time in. I think it's freed up Doc.''
Third, Ballmer added Jerry West to the front-office mix as a consultant. Enough said.
Clippers center DeAndre Jordan grabs a rebound from Pelicans Anthony Davis during the first half of a game Tuesday at Staples Center.
(Wally Skalij / Los Angeles Times)
Clippers guard Sindarius Thornwell loses control of the ball while driving to the basket during a game Tuesday at Staples Center.
(Wally Skalij / Los Angeles Times)
Clippers forward Montrezl Harrell is fouled by Pelicans center Nikola Mirotic during the fourth quarter of a game Tuesday at Staples Center.
(Wally Skalij / Los Angeles Times)
Pelicans big man Anthony Davis drives between Clippers guard Milos Teodosic, left, and center DeAndre Jordan.
(Wally Skalij / Los Angeles Times)
Anthony Davis has a shot blocked by Clippers center DeAndre Jordan during the first half of a game Tuesday at Staples Center.
(Wally Skalij / Los Angeles Times)
Clippers forward Montrezi Harrell reacts after missing a shot during a game against the Pelicans on Tuesday at Staples Center.
(Wally Skalij / Los Angeles Times)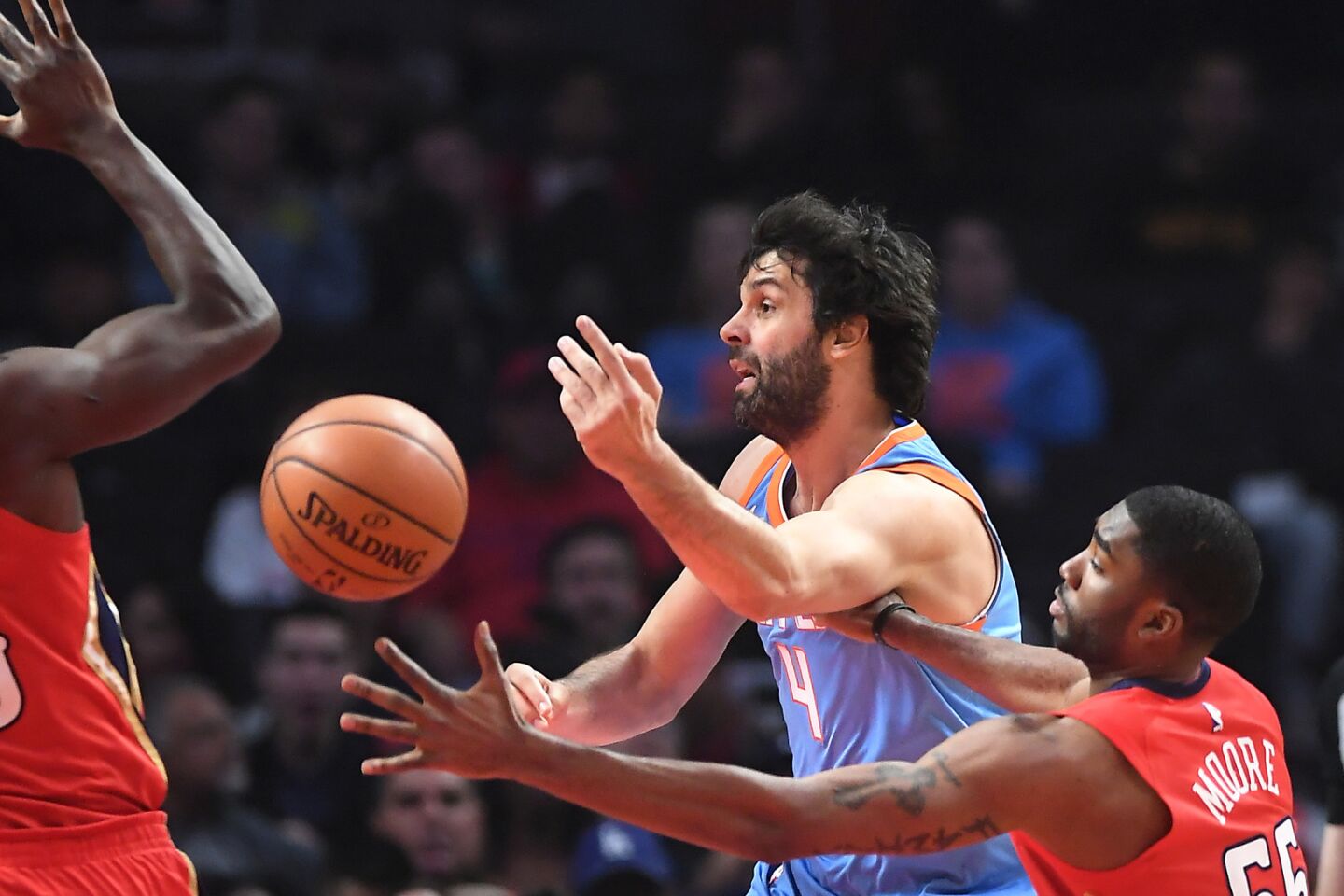 Clippers guard Milos Teodosic has the ball knocked away by Pelicans guard E'Twaun Moore during a game Tuesday at Staples Center.
(Wally Skalij / Los Angeles Times)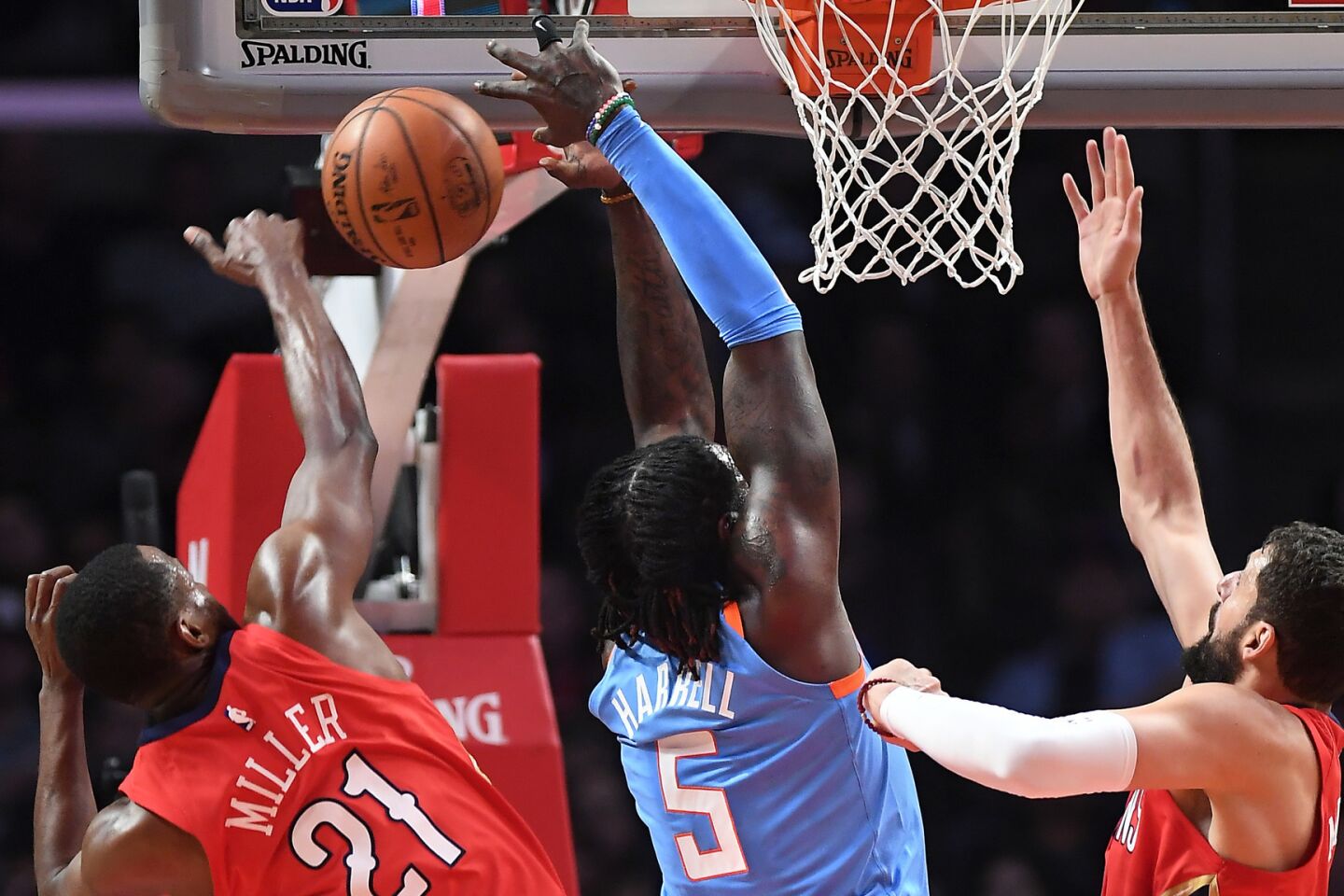 Clippers guard Montrezl Harrell has his shot blocked by Pelicans forward Darius Miller (21) during a game Tuesday at Staples Center.
(Wally Skalij / Los Angeles Times)
Clippers guard Tobias Harris has a shot blocked by Pelicans big man Emeka Okafor during the second quarter of a game Tuesday at Staples Center.
(Wally Skalij / Los Angeles Times)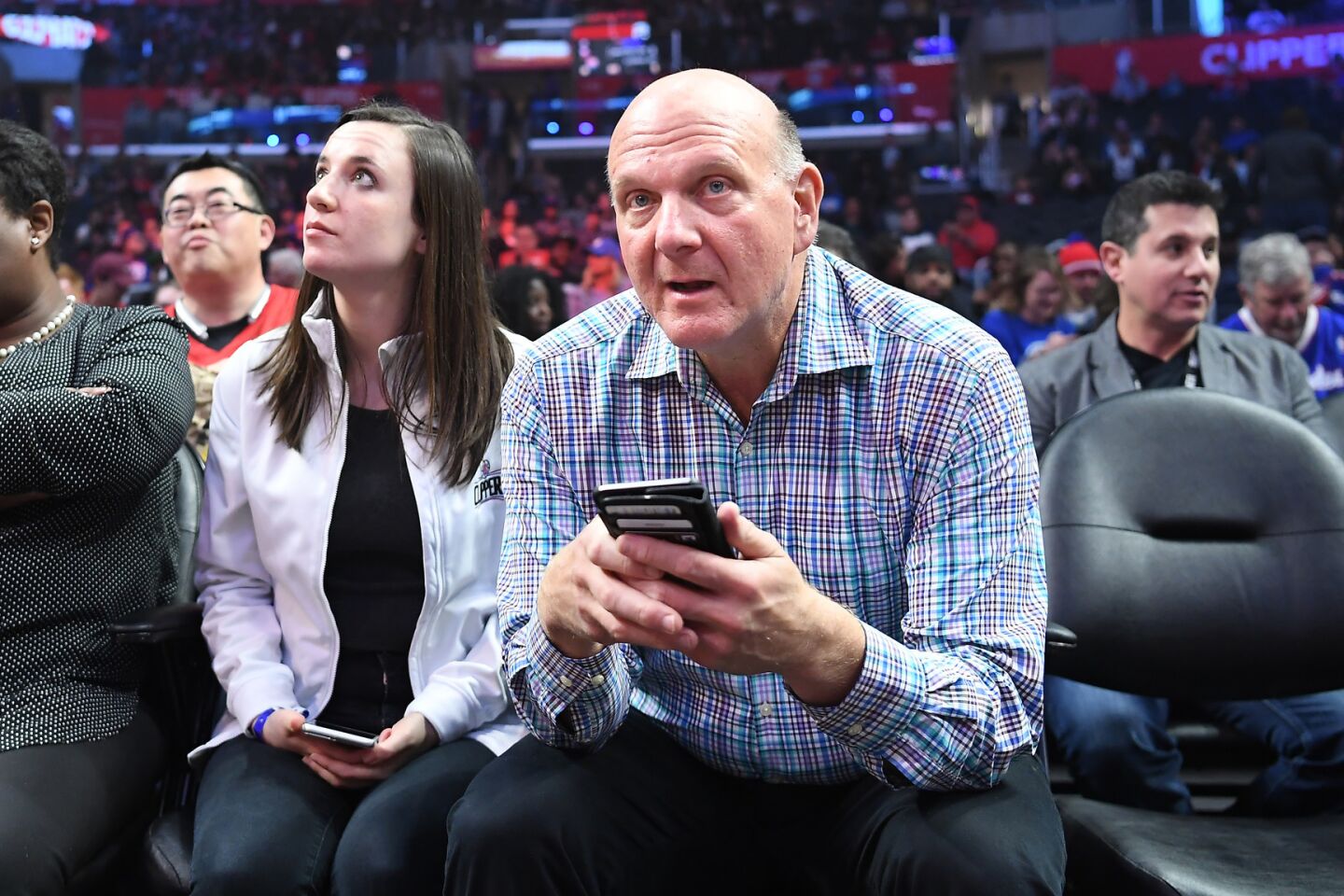 Steve Ballmer sits courtside at Staples Center before his Clippers play the Pelicans.
(Wally Skalij / Los Angeles Times )
Fourth, in January, with the team stalled and Griffin leading them only into mediocrity, Ballmer approved Frank's trade of Griffin to the Detroit Pistons. It was a heavily scrutinized deal considering Griffin had just signed a five-year, $171-million contract to be a Clipper for life. But it was a smart rebuilding deal that netted them not only scorer Tobias Harris but also a second first-round draft pick this year, with both picks currently in the lottery.
"I said, 'Look, things aren't going to progress this way … we need to make other changes if we really are going to put ourselves in a position to win a championship,'' Ballmer said. "It was not an easy decision, but we're in it to win championships, and it turns out, you have to take more risks.''
It worked. With Paul and Griffin gone, the Clippers suddenly became a team again, the drama gone, the tension lifted, everyone getting fed.
"Players are playing more freely, I'm thinking about things different, Lawrence has a chance to think more freely about the roster, and Doc has more freedom in the way he thinks about coaching,'' Ballmer said.
It is with this same inclusive and empowering spirit that Ballmer made his latest transaction, and it's perhaps the coolest thing he has done all season.
Have you checked out the new patches on the Clippers jerseys? They read ''Bumble,'' a dating app in which women make the first move. It's known by some as a ''feminist Tinder,'' and it's part of a broader Bumble mission to create networking for women.
It is no coincidence that the Clippers have the NBA's largest female front-office leadership team, with a dozen women holding positions as directors or higher, led by President of Business Operations Gillian Zucker.
"It's a social statement in addition to just being a good brand,'' Ballmer said of the Bumble affiliation. "It gives both of us an ability to reach out and try and impact this community of women and focus in what we can do, to promote diversity in a gender sense.''
When the season ends, there is more remodeling to be done, with Jordan perhaps leaving as a free agent while the team prepares to clear decks for the Klay Thompson-Kawhi Leonard free-agent class of 2019. Then there is the issue of Rivers, who is entering the final year of his contract and should be given an extension if the Clippers still want him. It seems like Ballmer wants him.
"Amazing,'' he said of Rivers' season. "Each lineup, Doc quickly manages to figure out how to mix playing time and players and get guys' heads in the right place … he's shown himself to be a guy who can coach a lot of different kinds of folks and a lot of different kinds of lineups.''
There's also the hassles and lawsuits involved in the arena he's attempting to build in Inglewood, although Ballmer said, "I trust in 2024, we'll have a brand spanking new arena.''
In four years, even with more wisdom and perspective, his optimism and impatience remain.
"If this was the tech business, I say 'Look, you have a version one, now you know what you do? A version two,' '' said the former Microsoft executive. "You learn, adjust, and move forward, and by version three, you better damn well get it right.''
Get more of Bill Plaschke's work and follow him on Twitter @BillPlaschke
Get our high school sports newsletter
Prep Rally is devoted to the SoCal high school sports experience, bringing you scores, stories and a behind-the-scenes look at what makes prep sports so popular.
You may occasionally receive promotional content from the Los Angeles Times.