Column: Fifty years after Giants' Juan Marichal hit Dodgers' John Roseboro with a bat, all is forgiven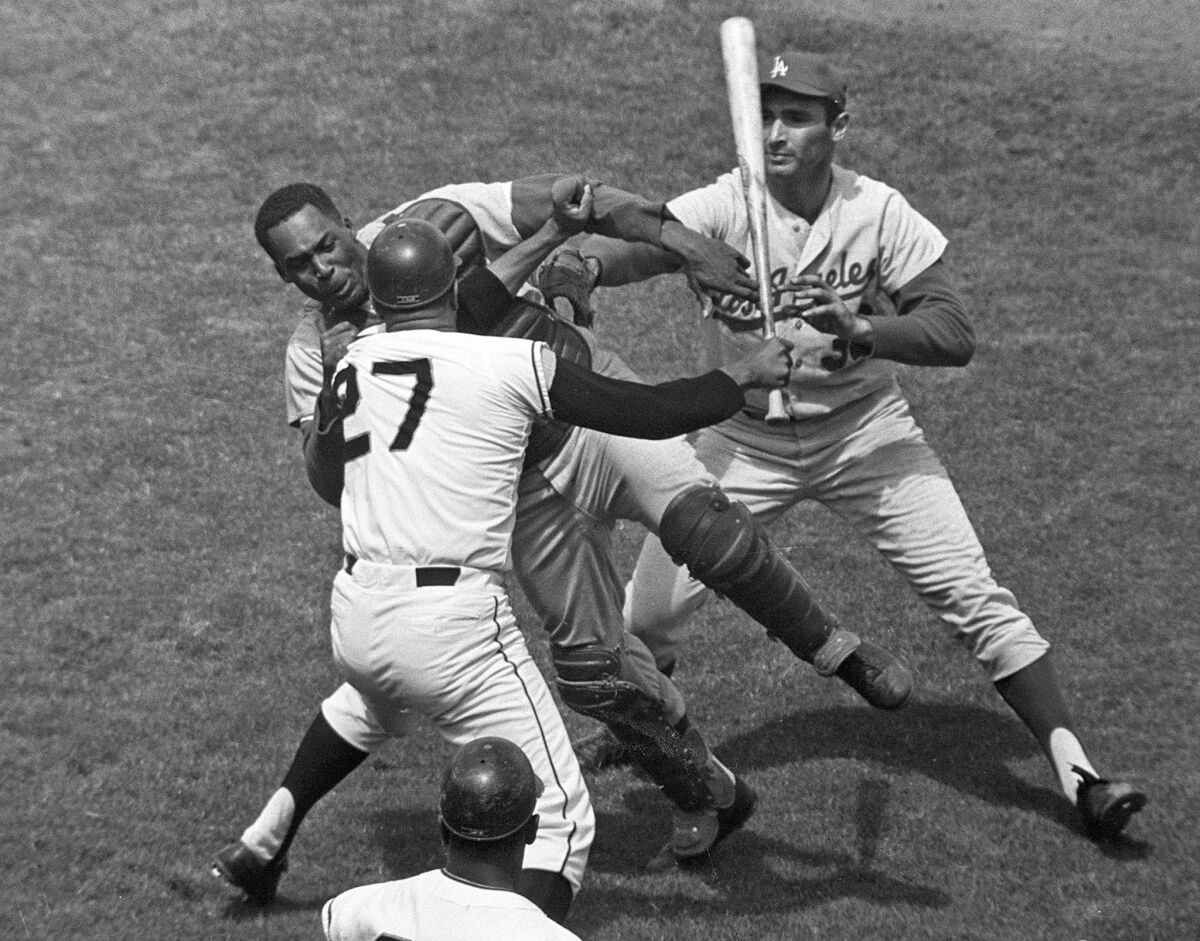 Fifty years ago this weekend, the San Francisco Giants' Juan Marichal brought a baseball bat down upon the head of the Dodgers' John Roseboro in a pounding moment in sports history.
It was a brawl that forever defined one of sports' fiercest rivalries, with an ugliness that offered a new and frightening definition of sports violence.
Yet, 50 years later, the most enduring memory of baseball's most famous fight is that it did not define the men.
Monday marks the 13th anniversary of a far more powerful moment, one occurring at Roseboro's funeral, when, in a hall filled with old Dodgers, an old Giant suddenly walked to the lectern.
It was Marichal, who wanted to say goodbye, and thank you.
"Johnny's forgiving me was one of the best things that happened in my life," Marichal told the surprised gathering. "I wish I could have had John Roseboro as my catcher."
::
You've surely seen the photo, the Neil Leifer image of Marichal swinging his bat above his head while Roseboro falls helplessly to the ground.
It was a Sports Illustrated cover that seemingly has been reprinted for 50 years. It was a picture that actually adorned the program at Roseboro's funeral.
Yet Morgan Fouch, one of Roseboro's daughters, said it's not even the most iconic photo in her home.
"The photos that I have are the ones of my father and Juan Marichal standing together smiling," she said.
The brawl was included in the first line in Roseboro's obituary when he died in August 2002, listed even above this four All-Star games, three Dodgers World Series championships, and his role in two Sandy Koufax no-hitters.
RELATED: Dodgers get seven hits but drop fourth in a row, 3-1 to Astros
Yet when his son Jaime talks about his late father's toughness, it has to do not with the actual fight, but its aftermath.
"When I think about guts, I think about what my father did in becoming friends with Marichal,'' he said. "If it's me, I don't know if I forgive him. Someone basically comes into your house and swings a bat at your head? My father was a bigger man than me."
John Roseboro stood only 5 feet 11, weighed less than 200 pounds, but he was absolutely huge, the immovable boulder who helped form the Dodgers foundation through their early glory days in Los Angeles. He spoke so infrequently, he was jokingly called "Gabby." But his presence was so strong that Koufax considered him perhaps the greatest Dodgers catcher ever.
"To me, John Roseboro was the catcher," Koufax once told me. "With him out there, I felt like I was never alone."
It was no surprise, then, that Roseboro was in the middle of the blast furnace that was the weekend series finale between the Dodgers and Giants on Aug. 22, 1965, at Candlestick Park. The teams were in the heat of a pennant race, and there had already been an incident between the Giants' Matty Alou and Roseboro earlier in the series that ended with Marichal screaming at Roseboro from the dugout steps.
"If he doesn't shut his big mouth, he'll get a ball right behind his ear," Roseboro shouted back about Marichal, according to John Rosengren's book, "The Fight of Their Lives: How Juan Marichal and John Roseboro Turned Baseball's Ugliest Brawl into a Story of Forgiveness and Redemption.''
On Sunday afternoon, after Marichal and Koufax had exchanged brushback pitches to Maury Wills and Willie Mays, respectively, Marichal took it a step further by throwing at Ron Fairly, at which point Roseboro told Koufax he would take care of it.
Sure enough, with Marichal batting, Roseboro returned the ball to Koufax by throwing it behind Marichal's head, allegedly clipping his ear. Marichal questioned the catcher, then Roseboro cursed the pitcher and stepped toward him, at which point Marichal raised the bat above his head and brought it down upon Roseboro's bare head, the lumber landing above his left eye, causing a two-inch gash and raising a welt.
"Stung the hell out of me, blood everywhere," Roseboro told me in 1990.
The ensuing tussle lasted 14 minutes, yet the vision of Marichal pounding Roseboro with the bat will live forever. Whenever any young Dodgers or Giants minor leaguer asks why their teams don't like each other, old-timers bring up that moment.
Marichal was suspended for eight days, barred from joining the Giants at Dodger Stadium for two late-season games, and fined $1,750. Roseboro, who required 14 stitches and suffered headaches the rest of the season, sued Marichal, settled out of court for $7,500, and that was the end of it. Or so everyone thought.
"The perception cast Marichal as the villain and Roseboro as the victim, and Roseboro embraced that, but then he felt guilty for it," Rosengren said in an interview.
Ten years after the brawl, the two men shook hands for the first time since then, when they met at a Dodgers old-timers game. By that time, Marichal actually had joined the Dodgers briefly, as a free agent at the end of his career. Their meeting was cordial, they even participated in a joint television interview during which Marichal apologized for the incident and Roseboro responded with, "You can't keep a grudge."
But a chill still lingered when, 17 years after the brawl, Marichal phoned Roseboro with a request.
According to Roseboro's wife Barbara, who died in 2012, here's how the conversation went.
"John, are you still mad?"
"No."
"John, I need your help."
RELATED: Dodgers downplay potential controversy over Mike Fiers' no-hitter
Marichal was embarking on a third consecutive attempt to enter the Hall of Fame after not receiving enough votes in his first two seasons of eligibility. He was certain that his fight with Roseboro was the reason for his exclusion.
Marichal needed a man whom he once could have killed to help make him immortal. He had come to the right place.
"My father was the most easily forgiving person I knew, and this situation was really like any other," Fouch said. "If I ever did anything wrong, I would say, 'Daddy, I'm so sorry,' and he would say, 'OK, let's go get ice cream.'"
Within weeks, Roseboro had flown with his family to the Dominican Republic to appear in Marichal's golf tournament and announce to the world that all was forgiven. Within months, Roseboro's phone was ringing again, Marichal again. He had just been voted into the Hall of Fame, and soon both men were crying.
"Thank you, thank you, thank you," Marichal said.
That gratitude was felt by Roseboro for the rest of his life. As the catcher lay dying from a failing heart at age 69 in the summer of 2002, Marichal phoned me from the Dominican Republic with desperation in his voice.
"Please tell John to hang on," Marichal said. "Please tell him I'm praying for him."
Marichal's voice broke as he added, "A wonderful, wonderful man. I have long ago forgiven him and I truly hope he has forgiven me."
Upon Roseboro's death on Aug. 16, 2002, Marichal continued to honor him by flying to Los Angeles to serve as an honorary pallbearer and deliver one of the eulogies at his funeral.
At that moment, the power of forgiveness was stronger than that of an angrily swung baseball bat. One of the ugliest chapters in this sometimes senseless Dodgers-Giants rivalry had finally ended, and for once, the human spirit had won.
Twitter: @billplaschke
Get our Dodgers Dugout newsletter for insights, news and much more.
You may occasionally receive promotional content from the Los Angeles Times.