Live
NFL Week 8 live: Chargers come up short in loss to Patriots 21-13
Welcome to another Super Sunday in the NFL.
This week the Chargers (3-4) are in Foxborough, Mass. to take on the New England Patriots (10 a.m., CBS).
Keep it here for updates from the Chargers game and other sights and sounds from around the league.
Chargers can't overcome mistakes in loss to Patriots 21-13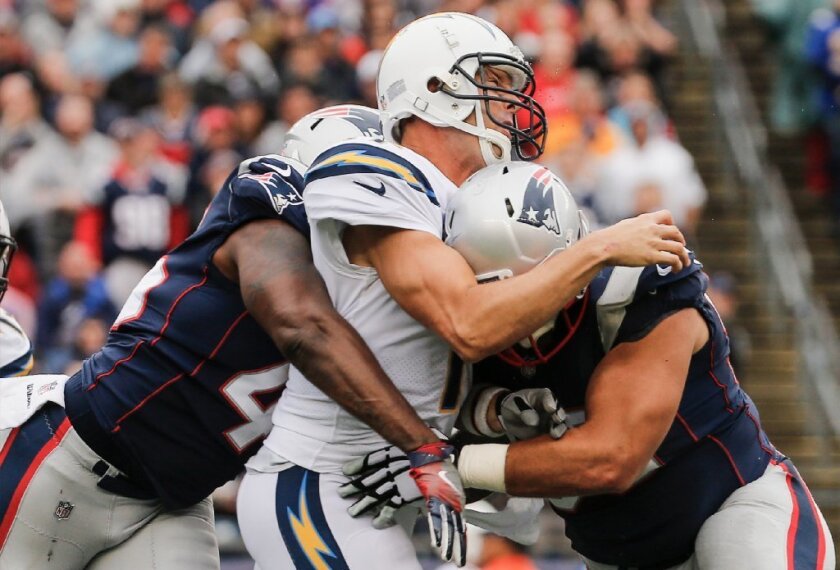 The Chargers traveled the road to Gillette Stadium and the New England Patriots with their foot pressed firmly down on the accelerator.
With wins over the Giants, Raiders and Broncos in consecutive weeks leading up to Week 8, the momentum only had them moving faster and faster.
But in a 21-13 loss Sunday to the Patriots, the team didn't just get stuck in neutral. They threw the transmission into reverse.
Wide receiver Travis Benjamin, who scored on a punt return a week ago against Denver, put points on the board again on Sunday — this time for the opponent. After dropping and picking back up a punt inside the Chargers' 10-yard line, Benjamin scrambled to get away from the coverage team.
And if his quest to turn up the field and make a big play, he forgot where the end zone was.
Benjamin was tackled by a pair of Patriots for a safety, an inexplicable decision that turned a defensive stop into five points for the Patriots — two for the safety and three on the drive following the free kick.
Prior to the gaffe, the Chargers were in pretty good position.
The Chargers were able to strike first when Melvin Gordon broke through the right side of the field for an 87-yard touchdown run, tied for the longest in franchise history.
Gordon's run came a possession after the Chargers marched into Patriots territory before facing a third and one from the 33. Instead of going for it, Chargers coach Anthony Lynn elected to try a 51-yard field goal.
Nick Novak's kick, which got tipped at the line, fell short and right.
New England and Tom Brady didn't have trouble moving the ball, but they only scored one touchdown — a 2-yard pass to Rob Gronkowski. The rest of the damage came on special teams, where Stephen Gostkowski made three field goals and missed two.
The Chargers will now have a week off before taking on Jacksonville in Florida in Week 10.