Raiders superfan 'Dr. Death' visits NFL meetings in Texas
As the NFL meetings at the Four Seasons Resort wound down Wednesday, Dr. Death relaxed in the middle of the lobby decorated with strings of garland and a floor-to-ceiling Christmas tree.
Ray Perez, the real name of the Oakland Raiders superfan, wore a hard-hat with foot-long fake knives sticking out, a black wig, shoulder pads and black-and-white-striped pants. Silver and black paint covered his face. "Dr. Death" was written on the back of his black No. 26 jersey.
As upbeat holiday music played and well-dressed guests checked into the hotel where rooms go for more than $400 a night, staffers shot confused looks at Perez. He didn't want to miss an opportunity to lobby NFL owners.
"We're here to support our team and let the NFL know we want to find a way to keep our Raiders in Oakland," Perez said. "It's frustrating because that should be Mark Davis' responsibility."
Davis, owner of the Raiders, wants to move the franchise to Las Vegas, where $750 million in public financing for a stadium awaits.
Like an experienced salesman, Perez ticked off the benefits of the Raiders remaining in the Bay Area. He doesn't think the problem is complicated. He believes there will be a solution. In the meantime, he blames Davis.
"He's taken our loyalty for granted," Perez said. "It hasn't been reciprocated."
Davis declined to speak with reporters Wednesday. And Dr. Death had similar plans if he encountered the owner.
"If I see Mark," Perez promised, "I'm not saying anything to him."
Chargers owner Dean Spanos speaks, sort of
Chargers owner Dean Spanos remained tight-lipped Wednesday about his team's future in San Diego — or anything else.
"I'm not going to make any decision until after the first of the year," he said in brief comments to a small group of reporters near the entrance to the Four Seasons Resort. "I really don't have anything else to say."
Spanos, wearing a black jacket, blue jeans and sunglasses, added: "Sorry."
Then he turned and walked to the parking lot, apparently in search of his ride to the airport.
Pittsburgh Steelers owner Art Rooney says coming weeks are critical for possible L.A. relocation
Pittsburgh Steelers owner Art Rooney said a lot can happen between now and Jan. 15, when the Chargers' option to join the Rams in Los Angeles expires, but he isn't terribly optimistic anything promising is happening in San Diego or Oakland.
"It's the old story, it's not over till it's over," said Rooney, a member of the league's six-owner Committee on Los Angeles Opportunities. "We'll see what happens in the next month or so."
What about stadium proposals in the two home markets?
"There's activity," he said. "I can't say whether there's anything that anybody's going to be able to hang their hat on. But there's activity in both markets. Whether that evolves into anything, we'll see."
Rooney said the league is still investigating the viability of the Las Vegas market for the Raiders, who will be eligible to apply for relocation only after their season ends. They are aiming for relocation approval from a three-quarters majority of owners by the annual NFL meetings in March.
"We'll have a lot of work to do once they make their application," Rooney said. "If they apply, we'll have a lot to do between then and March."
NFL owner: 'No reason for optimism' about San Diego, Oakland stadium situations
In some of the strongest comments by an NFL owner on the stadium situations in San Diego and Oakland, Indianapolis Colts owner Jim Irsay said Wednesday that there is "no reason for optimism in either market."
Irsay added that he doesn't "hear or see" anything productive going on in either city regarding new stadiums.
"There just isn't any opportunity in Oakland or San Diego," he said. "As owners, we're aware of that. It's unfortunate. You don't like to see it. But it's reality."
Irsay said he wouldn't be surprised if the Chargers act on their option to relocate to Los Angeles before the Jan. 15 deadline and noted that owners believe the nation's second-largest market can "unquestionably" support two teams.
Irsay doesn't see value in extending the option beyond Jan. 15.
"This process has been going on for a very, very long time in San Diego," he said. "That being said, to extend it, I think, would be fruitless. I really do."
Irsay dismissed the plan by Oakland, Alameda County and a group of developers to build a stadium for the Raiders.
"I don't sense much optimism there," he said.
NFL executive not positive about plan to keep Raiders in Oakland
Eric Grubman, the NFL executive vice president who has played a key role in new stadium efforts, didn't sound optimistic about the proposed deal to build a stadium for the Raiders in Oakland.
During a break at Wednesday's NFL meetings, Grubman described the plan as similar to past failed efforts to secure a new home for the Raiders in the city.
He also noted that New York-based Fortress Investment Group, partnering with Ronnie Lott for the project, has a confidentiality agreement with Oakland that leaves the NFL on the outside looking in.
On another topic, Grubman said he didn't want to speculate if owners would extend the Chargers' Jan. 15 option to move to Los Angeles. But he added: "The owners are entitled to make rules to apply to themselves."
Expert: Oakland attempt to keep Raiders is 'same thing all over again'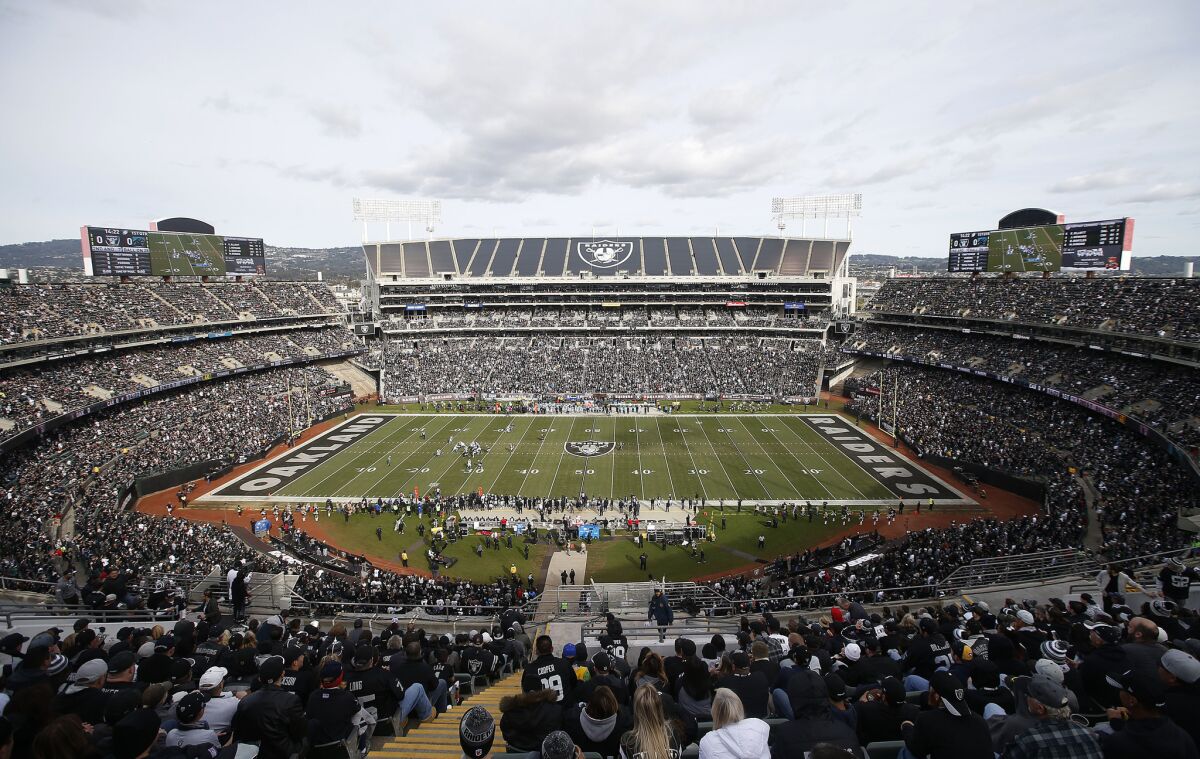 One expert isn't impressed by latest attempt to keep the Raiders in Oakland.
"You know that old saying, 'It's deja vu all over again,'" Marc Ganis, president of SportsCorp, a Chicago-based sports business consulting firm, said Wednesday at the NFL meetings. "This is exactly what the L.A. City Council did years ago with AEG and Farmers Field, dealing with a developer rather than the team and the league. It's the same thing all over again."
The Oakland City Council and Alameda County Board of Supervisors approved a term sheet Tuesday with a Ronnie Lott-led group of developers that want to build a $1.3-billion venue on the site of the Oakland-Alameda County Coliseum.
The plan includes Oakland contributing $200 million for infrastructure work. The city and county would donate more than 100 acres of land for the project that envisions a 55,000-seat stadium as part of a mixed-use development.
But Nevada's Legislature already approved $750 million toward a stadium for the Raiders in Las Vegas in addition to $650 million from casino magnate Sheldon Adelson.
Although Oakland-area politicians touted their proposed deal, Ganis doesn't believe the structure is attractive for the Raiders or the NFL.
"It didn't work for more than a decade in L.A., and it stifled any advances for a team to go to L.A. during that time period," he said. "It just seems like Oakland and Alameda County are doing the same thing L.A. did, hoping some deep-pocketed third party will somehow make a deal happen and take the politicians off the hook."
NFL owners approve Chargers' lease to play in Inglewood if they decide to move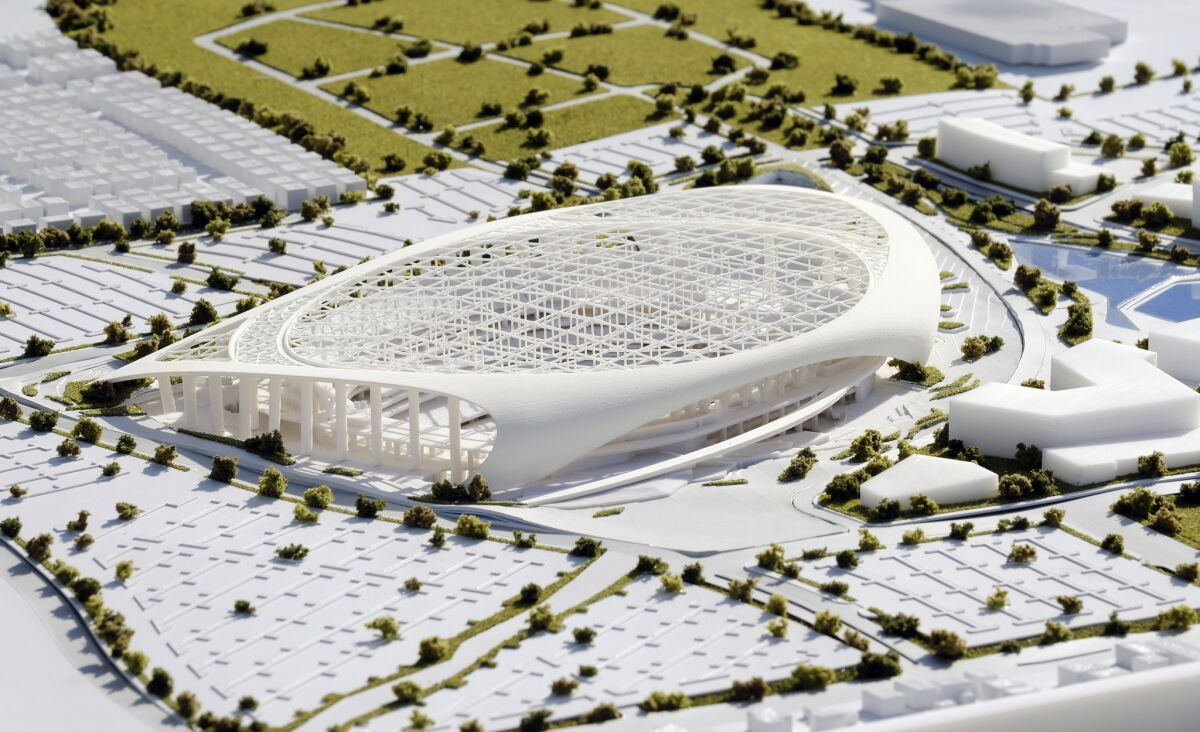 As expected, NFL owners have ratified the lease for the Chargers to play at the stadium Rams owner Stan Kroenke is building in Inglewood.
The Chargers have until Jan. 15 to decide whether to exercise their option to move to Los Angeles.
The framework for the Chargers' lease has been in place since owners voted in January to allow the Rams to move from St. Louis to L.A.
NFL owners approve debt waiver to help Chargers pay L.A. relocation fee
The NFL has made it easier for the San Diego Chargers to pay their $650-million relocation fee, should they opt to move to Los Angeles.
League owners approved a waiver of the debt ceiling, allowing the Chargers to borrow a portion of that fee from a bank and pay it off over a longer period, say 30 years, as opposed to the original agreement of $65 million annually over 10 years.
The debt ceiling for a team is $250 million.
The waiver is a routine request by teams building stadiums.
The relocation fee is to offset the increase in franchise value associated with moving from a smaller market to a bigger one.
Could Chargers get more time to decide on L.A. move? It's a possibility
One scenario floating around the NFL meetings Wednesday involves owners giving the Chargers the choice to extend their option to decide whether to move to Los Angeles.
Yes, that would amount to an option on an option.
The Chargers have a Jan. 15 deadline to make a decision on L.A. The NFL resolution that gave them the choice provided for an extension "if a referendum to approve public financing for a new stadium in San Diego is approved prior to Nov. 15, 2016." That didn't happen.
If the timeline for the Chargers to make a decision were extended, the Rams would still be able to sell personal seat licenses, suites and naming rights for the Inglewood stadium starting Jan. 15.
The resolution bars them from doing so until that deadline passes or a second team joins them in Inglewood, whichever comes first.
NFL teams can apply for relocation Jan. 2 — unless they're in playoffs
If the Raiders make the playoffs — and at 10-3 they're heading that way — they'll have to wait a bit until they can apply for relocation.
The NFL has clarified that longstanding tradition to owners. For obvious reasons, the league doesn't want teams to take that definitive step toward leaving a city until their season is over.
Otherwise, the first date a team is eligible to apply is Jan. 2, the day after the regular season ends.
The Chargers have already been approved to leave San Diego if they choose, so they wouldn't need to apply.
What could a Chargers lease at the Rams' Inglewood stadium look like?
The lease agreement that NFL owners are expected to approve Wednesday is likely to include the Chargers paying $1 a year to be a tenant at Rams owner Stan Kroenke's $2.6-billion stadium in Inglewood.
The deal, of course, would be contingent on the Chargers' decision by Jan. 15 to exercise their option to move from San Diego to Los Angeles.
The agreement hasn't changed substantially since NFL owners approved the Rams' relocation in January.
The Rams and Chargers would combine revenue from non-football events at the stadium, naming rights, personal seat licenses and similar rarely sold items. Each team would receive about 18.75% of the total; the rest would go toward financing the stadium construction.
Each team would retain its game-day revenue. That includes items like tickets, parking, game-day sponsorships and concessions.
The stadium is the centerpiece of a 298-acre mixed-use development that will include a hotel, performance center, homes and hundreds of thousands of square feet for offices and retail.
NFL owners expected to approve lease between Chargers and Rams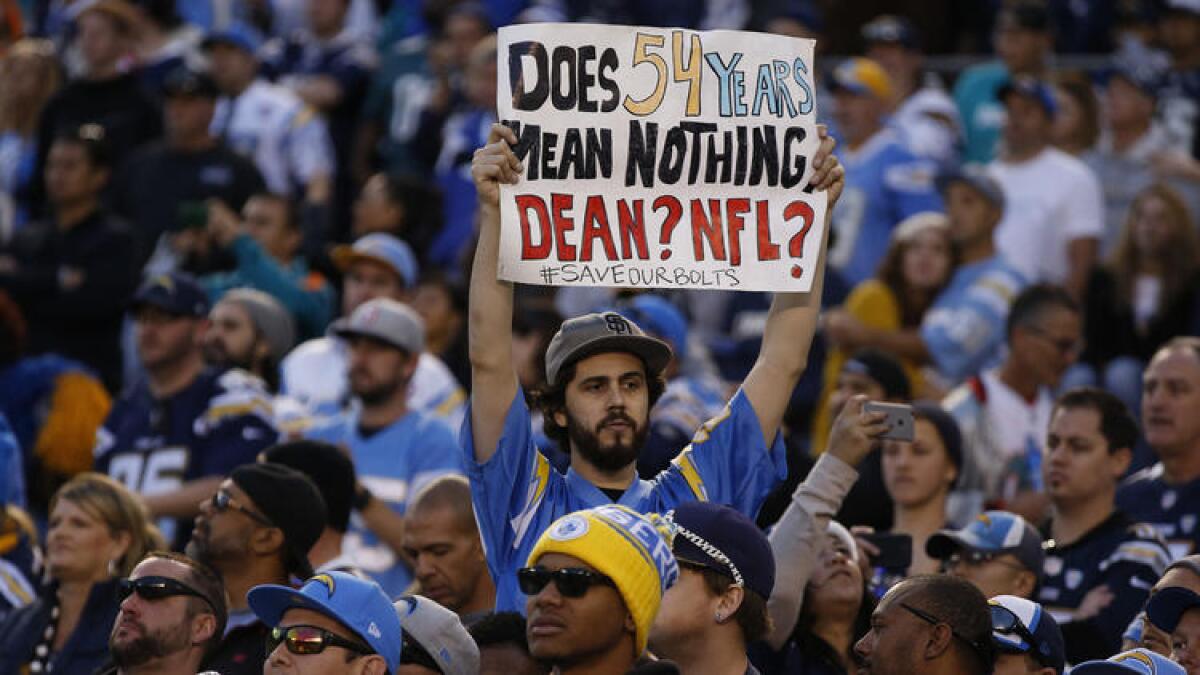 NFL owners are expected Wednesday to ratify the lease agreement between the Chargers and Rams to play at Stan Kroenke's stadium at Inglewood, the general terms of which were put in place months ago.
That doesn't necessarily mean the Chargers will wind up in Los Angeles or commit them to move, but is a necessary step should they opt to relocate.
The framework of the arrangement was shown to owners in January before they gave approval by a 30-2 vote for the Rams to move from St. Louis to Los Angeles.
The final agreement expected to be approved by owners is the long-form version drafted by the clubs' legal teams.
L.A. is still key agenda item at NFL owners meetings
NFL owners will meet Wednesday in the same luxury hotel where they staged their annual meetings a year ago to discuss the same problem.
In which cities can the league be most profitable?
Even after the Rams relocated from St. Louis to Los Angeles in January, the situation in the nation's second-largest market remains only partially resolved.
The San Diego Chargers must decide by the middle of next month whether to stay where they are or exercise their option to join the Rams as tenants at Stan Kroenke's $2.6-billion stadium in Inglewood that's scheduled to open in 2019.
Adding to the complex situation, the Oakland Raiders want to move to Las Vegas, but will have a one-year option on the L.A. deal if the Chargers turn it down.
No decisions in the two-team, four-city puzzle are expected until next month. But the one-day gathering of the NFL's 32 owners at the Four Seasons Resort at Las Colinas could lay the groundwork for a solution, which could include further incentivizing the Chargers to continue working on an answer in San Diego.