Declining offense in baseball: Just a blip, or an alarming trend?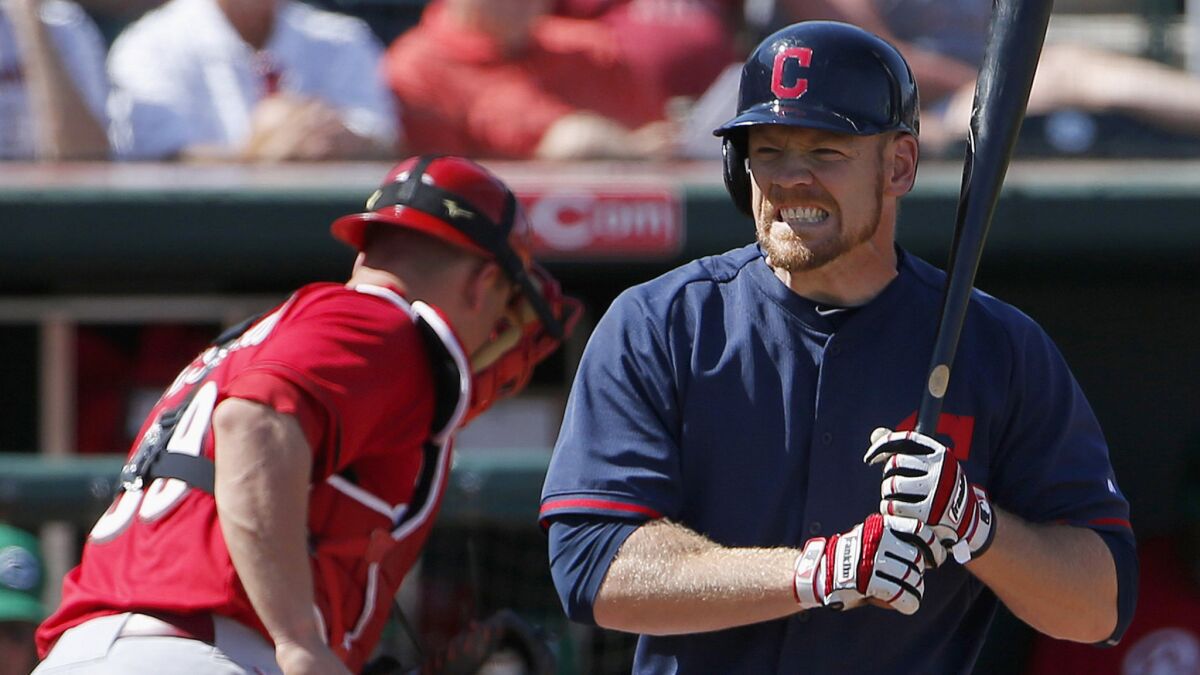 Reporting from Phoenix —
Hitting always came easy to Don Mattingly, or at least it seemed that way. He won a batting title and compiled a .307 career batting average in 14 seasons with the New York Yankees.
But a lot has changed since his last game as a player in 1995. Teams are hitting and scoring less than they have in a generation, and players are striking out more frequently than ever.
"The hitters aren't keeping up," said Mattingly, who is about to begin his fifth season as manager of the Dodgers. "Mechanics have gotten off. We've gotten away from guys who can just hit."
It was harder to get a hit last season than at any time since the designated hitter rule was adopted in 1973. Teams averaged fewer than 4.1 runs a game, the fewest since 1981, and batters hit just .251, the lowest mark since 1972.
Home runs have dropped 25% over the last 14 years, walks — at 2.88 per game last season — were at their second-lowest rate in 93 years, and strikeouts have climbed in each of the last 10 years, reaching a record 7.7 per game in 2014.
The last time hitters struggled so mightily for such a long span was about a century ago in what is referred to as the Dead Ball Era. Listen to Dodgers hitting coach Mark McGwire talk about the latest drought and you might call what's happening today the Live Arm Era.
"You have to give so much credit to pitching," McGwire said, citing increases in both the velocity and variety of pitches. "Pitching is so good today."
The decline in offense also coincides with drug testing and stiff penalties for the use of performance-enhancing drugs, but McGwire downplays any link.
"Go back to the history of the game," said McGwire, a four-time home run champion who has admitted using PEDs during his career. "It's done this all the time. It's like the stock market, it's up and down. That's just the way human beings are."
McGwire hit a then-record 70 home runs in 1998 and averaged slightly more than 36 a season over his 16-year career. But only five players in the major leagues hit as many as 36 last season.
McGwire specifically cited pitching specialization and the advent of the cut fastball as reasons hitters are producing less.
In 2001, McGwire's final season as a player, 591 pitchers appeared in major league games. Last year, the 30 teams combined to use 692. The average game included eight pitchers, and nearly two-thirds of the relievers faced four or fewer hitters.
Typically used for only a few batters, relief pitchers no longer worry about pacing themselves, so they throw harder and can put maximum effort into each pitch.
The velocity of the average big league fastball rose for the sixth consecutive season, topping 92 mph, according to Fangraphs. In the bullpen, the gas was of an even higher octane, with Cincinnati Reds closer Aroldis Chapman's average fastball topping 100 mph for the season — in part because he averaged fewer than 18 pitches in his 54 appearances.
Pitchers with power arms used to be starters. Now, McGwire says, teams see a dynamic fastball and say, "Wait a minute. Let's put them in the bullpen."
McGwire said the cut fastball — which looks like a fastball but has a late break — is the pitch that has "done the most damage to offense." Batters react to a fastball, but because the pitch breaks it misses the barrel of the bat and results in soft contact and a lot of broken lumber.
While offenses hit rock bottom, pitchers are reaching new heights.
The Dodgers' Clayton Kershaw last year became the first National League pitcher since Bob Gibson in 1968 to win both the Cy Young and most valuable player awards in the same season. Kershaw's career-best 1.77 earned-run average also made him the first pitcher to lead the majors in that category for four consecutive seasons. His 2.48 career ERA is the lowest of any pitcher with at least 1,000 innings since 1920.
Last season, a record 66 pitchers with at least 60 innings averaged at least a strikeout an inning, and 16 had ERAs below 2.00 — four times as many as in 2001, McGwire's last season.
Another contributing factor to the offensive slump is the prevalence of defensive shifts. The data-crunching company Inside Edge reported that shifts — moving defensive players into spots where scouting reports show a batter is prone to hit the ball — prevented 217 runs in 2014.
The last time pitching and defense were so dominant, the 1968 season, baseball adjusted by lowering the pitching mound to help the hitters. Five seasons later, the American League adopted the designated hitter and offense perked up again as batting averages, scoring and home runs all jumped.
McGwire doesn't think baseball needs to change. He is confident that the law of averages will catch up to pitchers and balance will return to the game. However, Rob Manfred, MLB's new commissioner, isn't so sure.
"We're trying to decide whether we have an aberration in terms of these numbers or whether we have a trend that's going to continue," Manfred said. "So we haven't even reached the conclusion we have a problem yet.
"Despite that, we are thinking about possible solutions in the event that we decide there's a problem."
New York Mets General Manager Sandy Alderson, chairman of MLB's rules committee, has suggested shrinking the strike zone. But that could lead to more walks and work against the commissioner's initiative to speed the pace of play.
The average MLB game last season lasted 3 hours 8 minutes — up from an average of 2:51 from 2008 to 2011. Games that lag, and with less hitting and action on the bases, have contributed to smaller crowds and television ratings. Overall attendance has dropped more than 5.75 million since 2007 and the average viewership for the 2014 World Series was the third-lowest since 1984.
Limiting the use of relief pitchers and how often teams can use defensive shifts are among the ideas that could shorten games and help offenses.
But to old-school baseball men such as McGwire and Angels pitching coach Mike Butcher, such talk is much ado about nothing.
"Leave the game the way it is and the game adjusts by itself," Butcher said. "That's all it is. They'll make the adjustment. They'll learn to hit.
"It would almost be like 'OK, let's shorten the distance to first base.' This game is sacred, man. You don't mess with those things. The game is the way it's supposed to be."
Twitter: @kbaxter11
---
Get our high school sports newsletter
Prep Rally is devoted to the SoCal high school sports experience, bringing you scores, stories and a behind-the-scenes look at what makes prep sports so popular.
You may occasionally receive promotional content from the Los Angeles Times.