Lakers' Jim Buss says it's not his decision when Kobe Bryant retires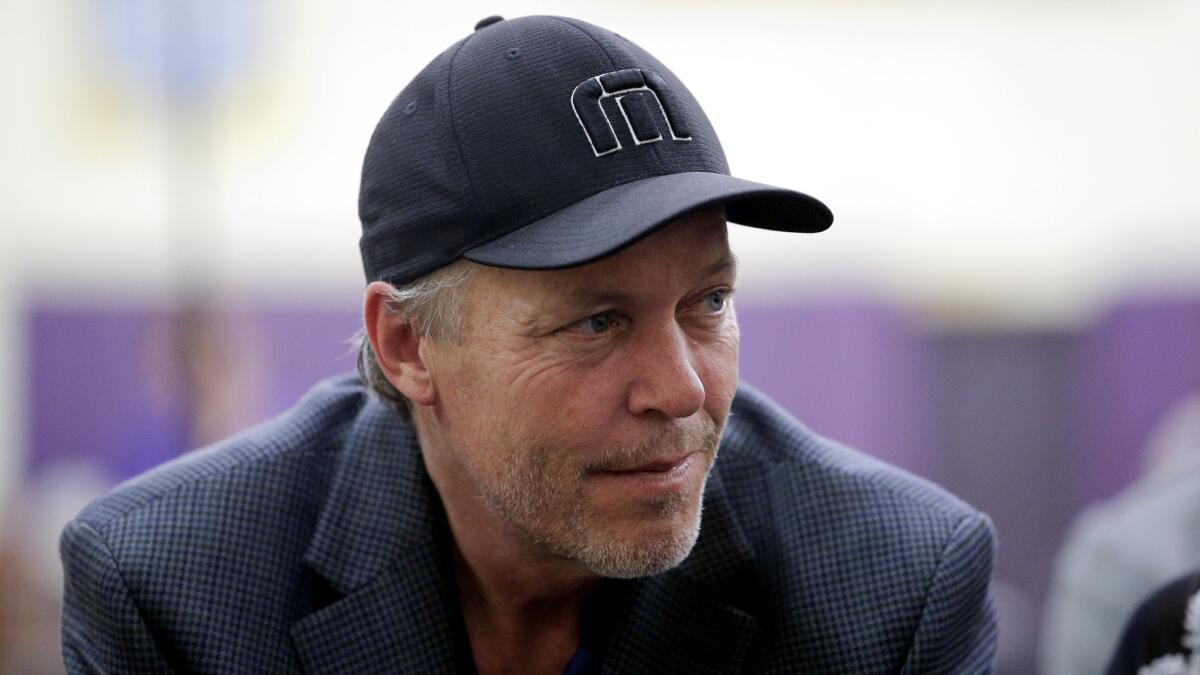 The Lakers start training camp in just over a month and there are still many unknowns.
How will Kobe Bryant play? Was rookie guard D'Angelo Russell the right pick? Can the team make the playoffs?
On Thursday Jim Buss, part-owner and executive vice president of basketball operations, spoke to The Times about the upcoming season, the team's draft picks, his rebuilding plan — and what could be the final season of Bryant's career.
"We're going to approach it like it is, but that doesn't mean it is," Buss said of Bryant. "I'm not going to sit there and say, 'This is it, Kobe, you're done,' because it's not my decision, it's his decision."
Bryant, with one year left on his contract, will be the highest paid player in the NBA this season at $25 million. Buss gave Bryant a two-year, $48.5-million extension in 2013 before he even returned from a torn Achilles' tendon six months earlier.
Since then, Bryant has played in only 41 games over the last two seasons because of a fractured kneecap, followed by a torn rotator cuff last season.
Buss has received plenty of criticism for over-investing in the aging star, who just turned 37 as he heads into his 20th season.
"The man has done so much for the Lakers and the fans of the Laker nation, he deserves the money," Buss said. "I don't understand anybody trying to break down what I did for him. Let's break down what he did for us, then say, what is he worth? To me, he's worth that."
So is this Bryant's final year with the team? "My arms are like this," Buss said, holding his arms wide open, about Bryant's future.
"He just has to know, at that age, and that many miles on you, what is your role? We'll explain the role, and if he still wants to do that and that's how he wants to go out, that's fine with me."
The Lakers went 21-61 in a painful 2014-15 campaign, the worst in franchise history, but Buss remains optimistic.
"I'm very competitive, so it hurts. It hurts terribly," Buss said. . "I try to look at the future while I'm watching the present, and that is to find core players. I think we've done a good job doing that."
He's upbeat about Julius Randle, selected with the seventh overall pick in 2014. The former Kentucky power forward went down on opening night last season with a broken leg.
Randle has since recovered, and is gearing up for what is essentially a second shot at a rookie season.
"He's a beast. He's been working out with some ex-NBA players and handling himself very well. He's super strong, very fit," Buss said.
Another player Buss is excited about is guard Jordan Clarkson, whom the Lakers selected with the 46th pick in 2014. After spending most of the first half last season on the bench, Clarkson proved to be one of the best of his class, earning a nod on the NBA's all-rookie first team.
"Watching Jordan Clarkson develop [this summer], he's followed that same path, how he got better and better every game," Buss said.
The Lakers have traditionally built their championship rosters with big men, but the team passed on Duke center Jahlil Okafor to take Ohio State guard Russell with the second overall pick in the 2015 draft.
"We've got high aspirations for him," Buss said. "We normally look to get bigs, but [Russell] was just that impressive, that we just didn't feel right passing up on him.
"My enthusiasm for D'Angelo Russell, I have to curb it because I'm so excited about it. He could be anything in this league."
The Lakers also traded for Indiana Pacers center Roy Hibbert, signed veteran free agents Lou Williams and Brandon Bass, and drafted forwards Larry Nance Jr. and Anthony Brown.
What the Lakers didn't accomplish this summer was to sign a major free agent.
"It's just that it takes time to build a core that guys want to play with," Buss said. "I understand a superstar doesn't want to come in and say, 'Oh, we still have two or three years of rebuilding.' I think with Jordan Clarkson, Russell, Randle, even Hibbert ... we're getting a core of seven or eight players."
With the NBA's new national television deal kicking in next year, the Lakers could have up to $60 million to spend in July, enough to go after two max-level free agents, including Kevin Durant.
"If a big name or two came, we have the room. That's the key," Buss said. "We've kept our flexibility."
Buss also believes strongly in Coach Byron Scott.
"He has the Laker blood in him," Buss said. "[Mike] D'Antoni and Mike Brown, they weren't Lakers. They loved the Lakers and they tried their best and I think they're both great coaches.
"I'll take blame for that, but there was a lot of people, including my father [the late Jerry Buss] and Mitch [Kupchak], who were in favor of these changes. But it feels like we've righted the ship. We've got the coach, we've got the players."
In April 2014, Buss told The Times he would step down from his basketball operations position "if this doesn't work in three to four years, if we're not back on top."
His sister Jeanie Buss, part-owner of the Lakers and the team's president and governor, has said she will hold her brother to that pledge.
"I don't mind that I said that, and I live by it. If we're not back contending in two years from now, then really I haven't done a good job," Buss said. "To me, the barometer of success at the end of next year ... is if we have eight core players that are going to be Lakers for the next five years.
"It's not a number of wins. It's not if we make the playoffs. It's not how far we go in the playoffs," he said about the upcoming season. "It matters that we have core players, and that these guys are our future."
Buss said he expects to deliver and rebuild one of the NBA's top franchises. "I'm the one who put it out there because that's the way I feel. I'm not a core player if I can't get this back to where we're supposed to be."
MORE LAKERS
Lakers agree to terms with Florida guard Michael Frazier
Jonathan Holmes signs with Lakers, but only $100,000 is guaranteed
Lakers, Metta World Peace have 'casual conversations' about a return
Follow Eric Pincus on Twitter @EricPincus
All things Lakers, all the time.
Get all the Lakers news you need in Dan Woike's weekly newsletter.
You may occasionally receive promotional content from the Los Angeles Times.