Column: Serena Williams squarely meets challenge, advances to quarterfinals
Reporting from new york —
The roar came from the bottom of her soul, from emotional depths Serena Williams didn't know she had.
After playing a nearly perfect opening set against Kaia Kanepi, Williams was pushed back by Kanepi's fearsome forehands often enough to lose the second set. Serving in the first game of the third set, which would determine who would advance to the U.S. Open quarterfinals, Williams faced the toughest physical and tactical battle of her return from giving birth and enduring serious post-partum complications a year ago.
Her third-round victory over her sister Venus had tested her emotions, tugged at her heart. This was a test of her conditioning, of the will of a woman who is secure enough to wear a frilly, one-sleeved purple tutu on the court because she feels like it. She met that challenge squarely in a 6-0, 4-6, 6-3 triumph, another emphatic step forward on a path toward a record-tying 24th Grand Slam singles title.
That opening game of the third set established the tone. Once, Williams had the game on her rackuet but double-faulted. Twice, they went to deuce. Finally, Williams ripped a backhand winner, prompting her to let loose a shout that vented all the frustration of the past year. It reverberated in the most distant reaches of Arthur Ashe Stadium and beyond. "It was a Serena scream," she said, smiling. "I don't try to do it. It just comes out."
From there, Williams was unstoppable. She broke Kanepi's serve in the second game, saved a break point in the third, and clinched her spot in the quarterfinals against No. 8 seed Karolina Pliskova with a forehand passing shot. "I'm on this journey to getting back to where I was," Williams said of her return.
She has been open in acknowledging her journey has been more difficult than she imagined, and that might explain why she got more support from the crowd when she struggled during that second set on Sunday than when she marched through that first set with stunning precision. Fans who were awed during the first six games — and with her pre-pregnancy feats — could more easily identify with her and sympathize when she stumbled. She's human, after all. It took her awhile, though, to admit that to herself.
"I was just living in this world where I thought it would just automatically come together," she said of regaining her form. "Yeah, my dress, I kind of look like a magical fairy, but it's not happening. So I had to realize and live in reality."
She put in the work, absorbed some setbacks, got progressively fitter and sharper. She reached the Wimbledon final without facing a seeded player until the semifinals, where she defeated No. 11 Julia Goerges in straight sets before losing the final to No. 11 Angelique Kerber. Here, she had to get past her sister, the No. 16 seed, before facing powerful Kanepi, who had upset world No. 1 Simona Halep in the first round. Williams hadn't lost a set in her first three matches, and the 97 minutes she spent on the court Sunday was her longest court time so far.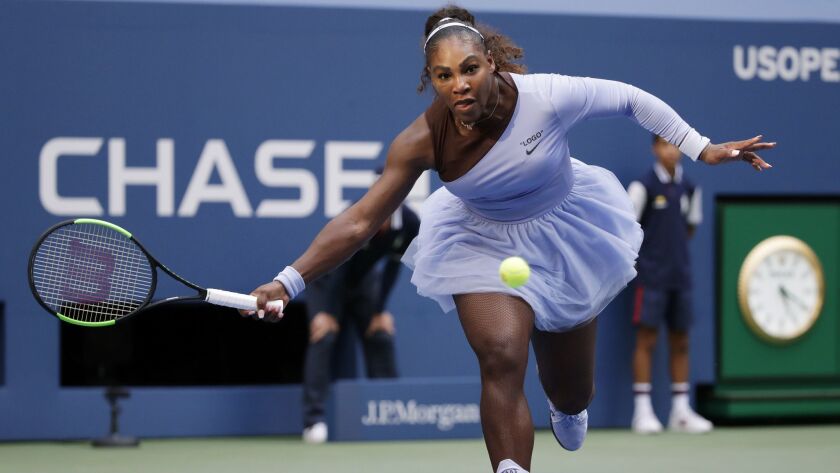 She seemed poised to breeze through the match after a first set so surreal that Kanepi smiled ruefully at one stage. "What else to do? I barely got a point," said Kanepi, who correctly described Williams' serve as "unreturnable." Is Williams as good as she ever was? "Yeah," Kanepi said, bringing back that smile.
Williams, a six-time champion here, isn't completely back to being her old, consistently dominant self. Facing Pliskova, who reached the quarterfinals with a 6-4, 6-4 victory over Ash Barty on Sunday, should provide Williams a good measure of where she stands. Williams and Pliskova are 1-1 in head-to-head matches, but Pliskova defeated Williams in the semifinals here in 2016. Pliskova called it "a dream" to play Williams again. "Since then, we didn't play. A lot of things happen between," Pliskova said. "I know she was the best at that time, but I just wanted to win. So that's why I won, because I believed I have a chance."
If Williams continue to improve, her opponents' best hope might be that she takes another maternity leave soon. Williams said she has thought about giving 1-year-old daughter Olympia a sibling or two. "And it will happen, God willing, in time. I think everything is going to happen in time," she said "Right now it's not time yet because I'm thinking about playing tennis and enjoying this time with Olympia. And then I'll have plenty, plenty of time in the future to hopefully, I don't know, to see, to add to that."
First, she has Grand Slam titles to add.
Follow Helene Elliott on Twitter @helenenothelen
---
Get the latest on L.A.'s teams in the daily Sports Report newsletter.
You may occasionally receive promotional content from the Los Angeles Times.