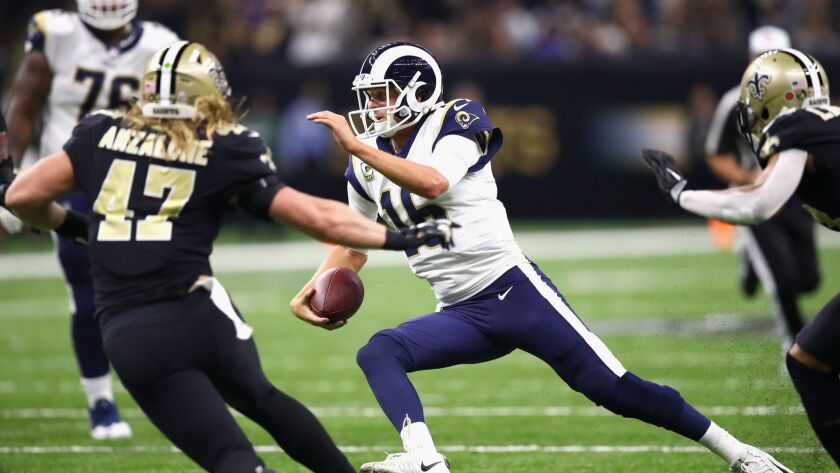 For all the success he's enjoying as a passer, Rams quarterback Jared Goff made one of his biggest plays of the season with his feet.
Five weeks ago against the Seattle Seahawks, Goff executed a quarterback sneak on a fourth-and-one play that clinched a victory at CenturyLink Field.
Goff is no Russell Wilson when it comes to video-game style elusiveness, but of late he has shown his running ability, including on a bootleg off a designed pass play against the New Orleans Saints on Sunday.
"Yeah, I'm getting really fast recently," Goff joked Wednesday. "So, I've been trying to really show off my legs a little bit. … I don't feel like I'm going to break any records, but can pick up some yards when I need to."
Goff is expected to mainly work from the pocket when the Rams play the Seahawks again Sunday at the Coliseum.
The Rams are 8-1 and appear on track to repeat as NFC West champions. Their 45-35 loss at New Orleans last Sunday put a crimp in their drive for possible home-field advantage in the playoffs, but the 7-1 Saints' remaining schedule is considered tougher than the Rams' schedule.
Goff is completing 67% of his passes, 20 for touchdowns, with six interceptions. He ranks second in the NFL in yards passing (2,816), second in yards per attempt (9.6) and third in touchdowns.
In the Rams' 33-31 victory over the Seahawks on Oct. 7, Goff completed 23 of 32 passes, one for a touchdown. Two passes were intercepted, one on a tipped ball near the goal line, the other on a Hail Mary at the end of the first half.
Goff has grown as a quarterback since that game, said Seahawks coach Pete Carroll, whose team is 4-4.
"Maintaining the kind of consistency is growth," Carroll said during a teleconference. "He hasn't gone up and down with his performances.
"I think he's been hot from the start and he continues to be."
Against the Saints, Goff rallied the Rams from a 21-point deficit. He tied the score 35-35 with a touchdown pass to receiver Cooper Kupp.
"He did a great job, because in a lot of instances you feel like you've got to kind of make it all up in one play," coach Sean McVay said. "He just took it one play at a time, made a lot of big-time throws."
Said Goff: "In the NFL, you have to understand how many drives you're going to have. In the second half, you're probably going to get the ball quite a bit and have a chance to really put some points on the board. So, don't press too hard."
After the Saints took the lead with a field goal, the Rams ran just three plays on a possession for the first time before having to punt. The Saints extended the lead with a touchdown, and the Rams again went three and out.
McVay took the blame — "I've got to put our guys in some better spots," he said — but if the Rams are to make a deep run into the playoffs, Goff and his teammates probably will have to prove that they can do more than simply come back from deficits.
"We've got to find a way that when you get back into it, then you've got to find a way to finish those types of games as opposed to just making it competitive," McVay said.
Etc.
Offensive lineman Rodger Saffold and Goff had an exchange during the game against the Saints after Saffold was called for a personal foul. Saffold tweeted Monday that fans were not wrong to be bothered by his actions and said he apologized to the quarterback. Goff said no apology was necessary. "There was emotions flying and I went over to calm him down," Goff said. "It's not a big deal. Stuff like that happens all the time and it just happened to get caught by the camera." Saffold said he was frustrated because a Saints player was holding him and he was getting "cheap-shotted" from the side while being held back. "Jared was trying to calm me down but I was still just in that super-emotional state," he said. "So kind of slapped his hands off me like, 'Just leave me alone, leave alone.' And, you know, a lot of people saw that and I got a lot of bad tweets. Most of the time you overlook that stuff. But sometimes you got people that are talking about their kids, and what their kids are seeing. So I took it to heart. Because, you know, I think about my son, think about my children, so I just wanted to bring out a little statement just to clear it all up."… Running back Todd Gurley did not participate in Wednesday's walk-through because of a non-injury issue, according to the Rams' injury report.
Follow Gary Klein on Twitter @latimesklein
---