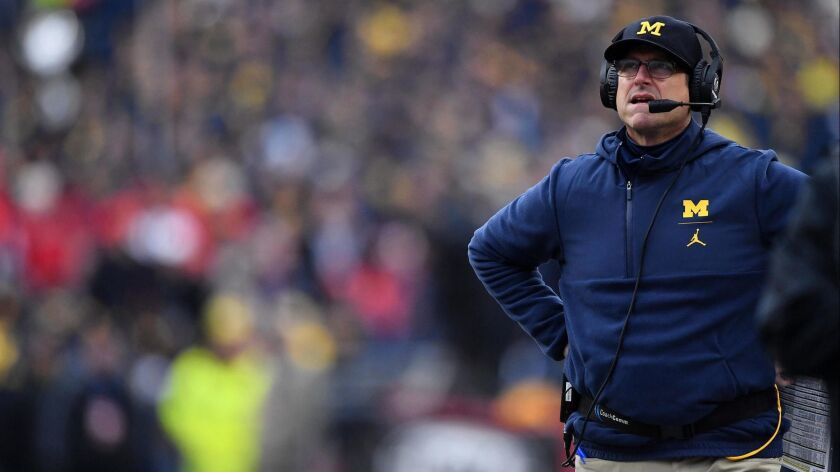 It could have been a restful holiday, a chance to lie around and watch television, maybe take a few naps.
It could have been another weekend of predictable games, the type that had kept the same four teams atop the College Football Playoff standings for almost a month.
But that's not the way it worked out, at least not for CFP voters.
By the time third-ranked Notre Dame held off USC at the Coliseum on Saturday night, the selection committee's 13 members found themselves with some work to do, some decisions to make, before they issue their penultimate rankings on Tuesday.
Two games were all it really took: Michigan's collapse at Ohio State and Oklahoma's win over West Virginia in a Big 12 Conference showdown that featured 115 combined points and — a couple of fumble returns notwithstanding — pretty much zero defense.
"What a great game for the Big 12, a great game for our guys to have a chance to win," Oklahoma coach Lincoln Riley said. "We're certainly excited about what lies ahead."
The immediate future holds that new set of rankings and the prospect of Lincoln's sixth-ranked team edging closer, if not jumping right into, the top four spots.
The Sooners present something of a puzzle. Defeating No. 13 West Virginia in Morgantown counts as a quality win, but the 59-56 final score on Friday night might trouble CFP voters, who have voiced concerns about Oklahoma's defense.
"We have mentioned it in several weeks," selection committee chairman Rob Mullens said recently. "But I think that's balanced by the dynamic offense that they have and their ability to find a way to win riding that offense."
Even a sliver of uncertainty might hurt the Sooners, opening the door for No. 5 Georgia to step into the final playoff spot.
And perhaps it could help No. 10 Ohio State sneak into the picture before next week's matchup against No. 19 Northwestern in the Big Ten Conference championship game.
"Yeah, we played well, so we've got to do it again versus Northwestern next week, and let the committee make a decision from there," Buckeyes quarterback Dwayne Haskins said.
Not that voters will have a tough time with other results from the past few days.
At least one potential debate fell by the wayside, obliterated by the snows that blew into Pullman, where No. 8 Washington State slipped and slid to a loss against No. 16 Washington on Friday night.
That defeat quashed any slim championship hopes for the upstart Cougars and the Pac-12 Conference.
"Very disappointed, because we had a lot riding on this game, big goals that we had set for ourselves," quarterback Gardner Minshew said. "That kind of depended on the outcome of this game."
On the flip side, top-ranked Alabama continued to look a cut above everyone else, racing past Auburn in the second half to set up a matchup with Georgia in the SEC title game next weekend.
"You accomplish a lot in the season," Alabama coach Nick Saban said. "I think the SEC is a very good league; for the team to go undefeated is quite an accomplishment."
No. 2 Clemson also took care of business against South Carolina, finishing just before the game at the Coliseum, where the Irish started slowly but took the lead early in the third quarter and never looked back.
Any sort of road win — even against a struggling program — garners extra credit, so the first three spots in the CFP rankings should remain stable. The real complication centers on Michigan, which has made a distressing habit of losing big games under coach Jim Harbaugh.
"When things go good, things go great — I mean good," Harbaugh said after falling to 0-4 against his school's arch-rival. "If it doesn't, then you take responsibility for it."
A victory would have put his team in that Big Ten title game, one victory shy of an all-but-guaranteed spot in the playoffs. Instead, the Wolverines' top-ranked defense surrendered 62 points, setting the table for a scramble.
So the next few days will reveal if the crucial fourth spot goes to Georgia, which trampled Georgia Tech, or to Oklahoma. They will determine if the Buckeyes rise high enough to position themselves for a move in the final week.
The selection committee must also chew over No. 9 Central Florida, which remained undefeated with a win over South Florida but lost quarterback McKenzie Milton to a severe leg injury. The ranking criteria allow voters to ponder a variety of factors, so the loss of Milton could affect UCF's standing.
Mullens likes to talk about every week being a "clean slate," a chance for contenders to be considered anew.
"We discuss the teams," he said. "We look at their body of work and their resumes, and then we rank them."
This week, it seems, the committee has a little more to think about.
Follow @LAtimesWharton on Twitter
---