After cycling through Chico on a weekend trip, you may have thoughts of settling there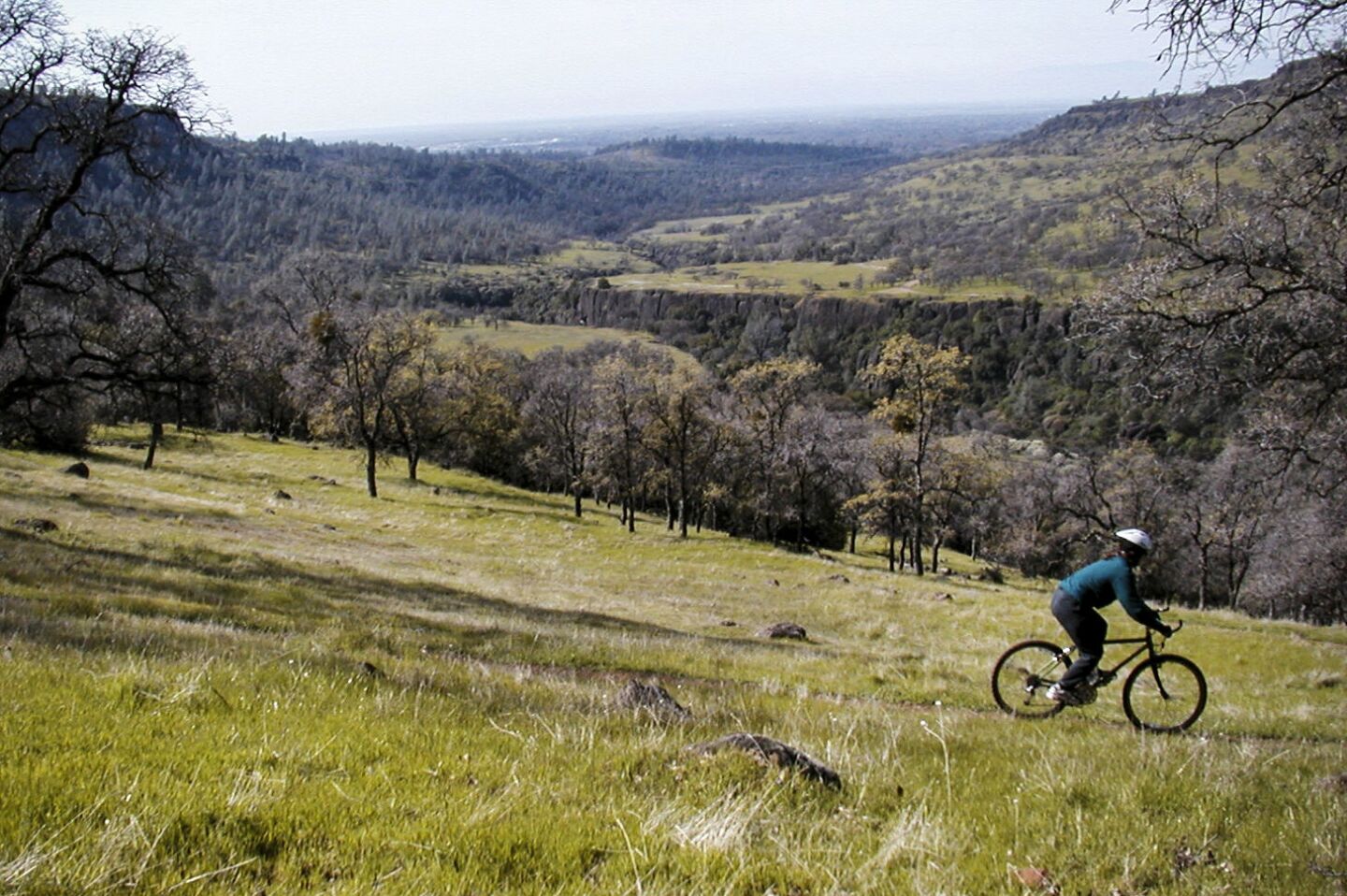 Bidwell Park mountain biking high over Chico, Calif.
(Brett Gonzales / Getty Images/iStockphoto )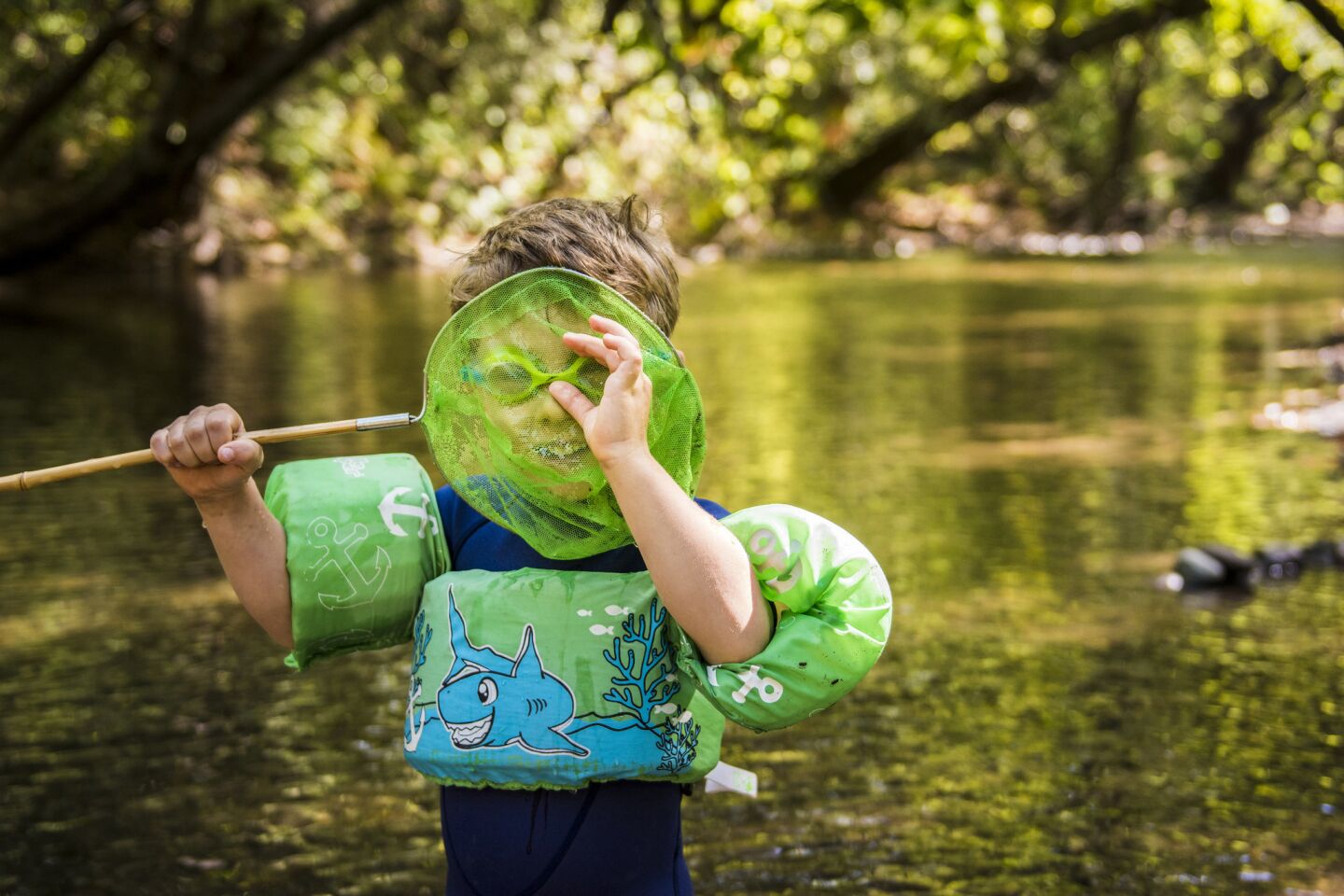 Boy with floaties and goggles peeks through net in creek at Bidwell Park, Chico, Calif.
(James + Courtney Forte / Getty Images/Aurora Open)
"Chino, with the cows?" "No, Chico, up north." "Oh, cool, the party school."
I had to concede a bit of a friend's point when I told him where my wife, Terri, and I were going for a recent getaway. Many people still know Chico, Calif., for its onetime designation as College Party Central. That's no more, I told him: "Cal State now carries a banner for its long-standing academic prowess." "Sounds thrilling," he said, deadpan. "Have fun."
He didn't deserve hearing about what else awaited us. His loss. Chico is a 90-minute drive from the Sacramento airport, making it easily accessible from Southern California. The tab: $179 a night, not including taxes, for our hotel, and $120 for two cocktails, two glasses of wine and dinner at Christian Michaels.
See the most-read stories in Life & Style this hour >>
The bed
The annual Chico Wildflower bicycle event brought us to town in April, so Marriott's Residence Inn [2485 Carmichael Drive; (530) 894-5500] was a no-brainer because we could walk or pedal to the weekend's festivities at the fairgrounds.
Our studio was nicely equipped, with a full kitchen (OK, no oven), sizable living area and plenty of elbow room, which helped given all the stuff we had in tow.
We didn't avail ourselves of the pool, fitness center or outdoor grills. The included self-serve-but-hot breakfast got us going each day and provided that much more value. Ask for a room on the west side away from the nearby freeway.
The meals
Locals we'd met recommended Christian Michaels [192 E. 3rd St.; (530) 894-4005] with its bistro hues and Italian/locavore cues. For mains, we shared veal meatballs in a bright pomodoro and braised beef shanks with polenta, local greens and tomato confit. For starters, we split a charred romaine salad and the garlicky bacon-potato pizza. B Street Public House [117 Broadway St.; (530) 899-8203] is a dream creation, a coffee bar that over the course of the day morphs from a spot for brunch and lunch to a dinner house and eventually to a late-night music scene.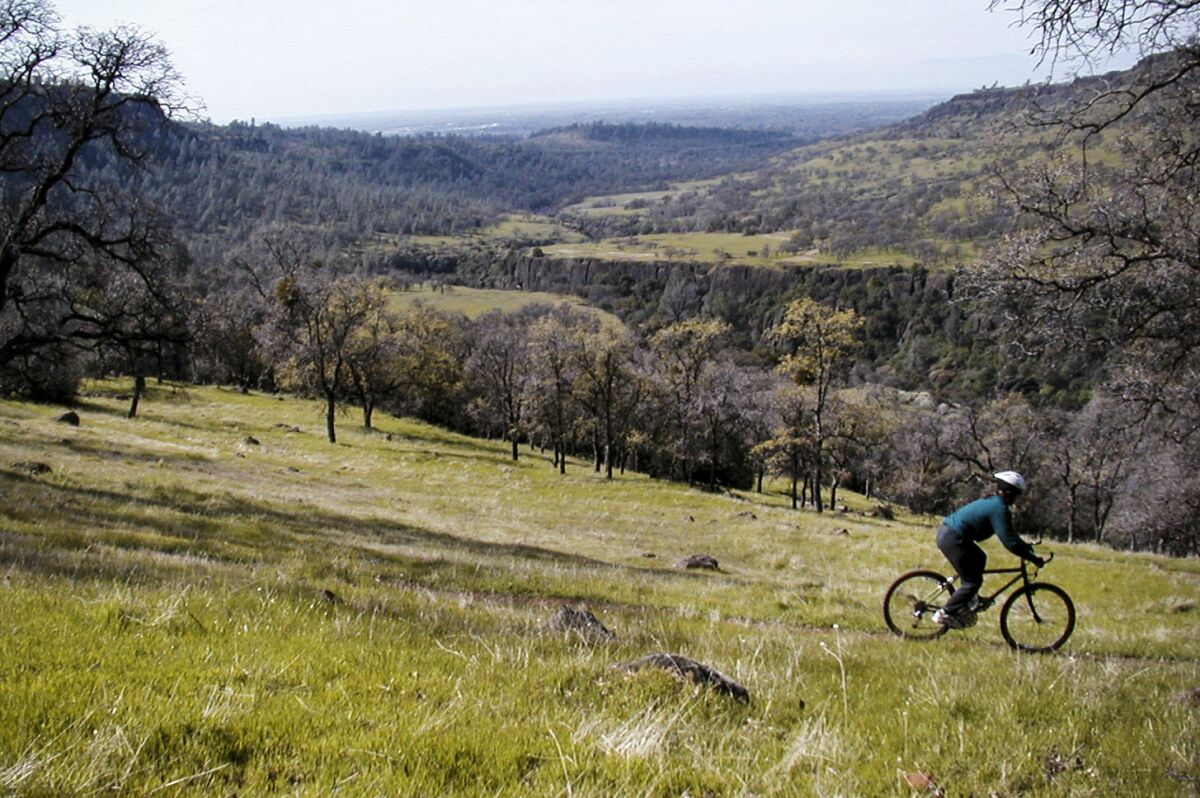 The find
Bicycling brought us to Chico, so outdoor fun was on our minds. What we hadn't anticipated was how outdoorsy it is. Chico has an urban park that rivals Forest Park in Portland, Ore.
Bidwell Park is divided into a nature-lover/park-rec "lower" section with an old-fashioned cement pond, play yards, ball field, horseshoe pits and walking and bike paths. "Upper" Bidwell, save the golf course, is minimally developed, with Big Chico Creek roaring through and hiking and mountain-biking trails.
The lesson learned
Chico is an amalgam of college town, farm community, regional hub and frontier outpost, which might sound silly in this day and age. Chico does a lot of stuff and does it well. I'd guess the big takeaway was a basic one. "I could live in a town like that," Terri said as we worked our way home. I didn't disagree.
---
Get inspired to get away.
Explore California, the West and beyond with the weekly Escapes newsletter.
You may occasionally receive promotional content from the Los Angeles Times.