Get fit and do good at the same time by joining a charity bike ride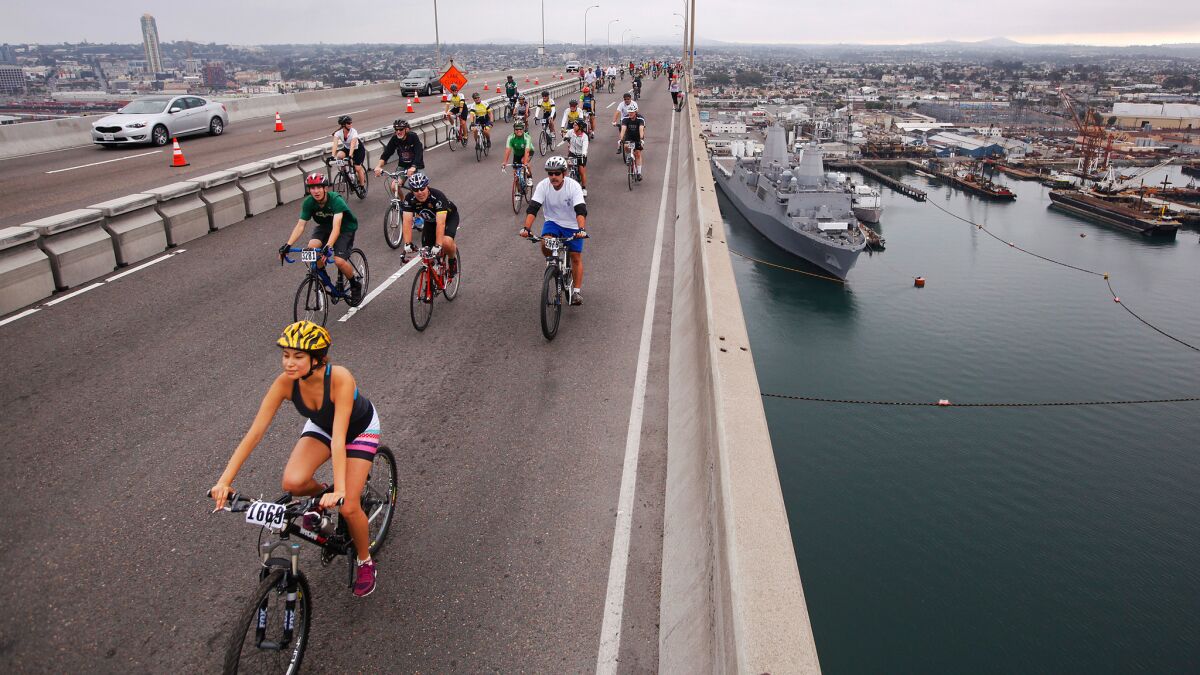 You have a bike? Everyone has a bike. It might be dusty. Perhaps encrusted with spiderwebs. But it's a bike. And bikes want nothing more than to be ridden and to help us shed a few pounds. So get that forgotten workhorse down off the wall, have your local bike shop give it the once over and start churning out the miles. All these good intentions are paving a road to good health and good causes. Yep, it's time for an organized ride.
Bike the Bay
Aug. 27, San Diego
During Bike the Bay the San Diego-Coronado Bay Bridge is open to cyclists who pedal down the Silver Strand and back up the city side of the bay.
Who sweats: No one. This 25-mile route makes the Florida Keys look Himalayan. OK, the bridge is 200 feet tall, but from then on striping paint along the route constitutes a rise.
Why ride: Every event doesn't have to be a 100 miler with four clicks of elevation. It's a family event, and a lot cheaper than hauling everyone to Disneyland.
Who benefits: San Diego County Bicycle Coalition, which promotes bike safety and outreach.
Fee: $60 per person for ages 10 and older
Mammoth Grand Fondo
Sept. 9, Mammoth Lakes
The Mammoth Gran Fondo in the Eastern Sierra is guaranteed to be snow-free; give the plow a head start in the morning, just in case.
Who sweats: Everyone. Three routes cover 42, 70 and 102 miles, with a starting point near 8,000 feet and 2,300 to 6,500 feet of elevation gain.
Why ride: The scenery. The challenge. Käse Spätzle, the Germanic pinnacle of mac and cheese, at Petra's Bistro & Wine Bar at the Alpenhof Lodge in Mammoth Lakes.
Who benefits: Mammoth Mountain Community Foundation, which supports youth athletics and academics.
Fee: $70 to $149 per person, depending on distance and registration date.
Foxy's Fall Century
Oct. 21, Davis, Calif.
If you're a fan of organized charity rides, make your way to Northern California and Foxy's Fall Century, one of the showpieces.
Who sweats: Anyone who is stuck on the 405 Freeway and not here pedaling. Thirty-, 63- and 100-mile routes, from flat to rolling to a good bit of climbing to Lake Berryessa.
Why ride: All rides roll through this last bastion of ag and oaks before the mania of the Bay Area. And it's all kind of historic, as these things go in American cycling, with roots in the '60s.
Who benefits: Davis Bike Club, which supports bicycling advocacy, safety and outreach programs.
Fee: To be determined.
El Tour de Tucson
Nov. 18, Tucson
El Tour de Tucson is a civic pillar, attracting 8,000 or more folks who know a good ride and good carne seca when they see it.
Who sweats: An event of this magnitude might have you thinking local transportation and public safety officials, but this ride goes off like clockwork. Five full routes of 28 to 106 miles, three short fun rides and an indoor option for spinners (no, you're riding outside).
Why ride: Because fall in Tucson brings warm days, chill nights and crystalline skies. And the food rocks, seriously: In 2015 Tucson was named the first UNESCO "Capital of Gastronomy" in the United States.
Who benefits: Easter Seals Blake Foundation (www.easterseals.com/blakefoundation), plus a host of other charities
Fee: From $145, depending on registration date.
Tour de Palm Springs
Feb. 10, Palm Springs
This year's Tour de Palm Springs rolled on despite a night-before rainstorm and uncertainty about 2018's form and locale. As hope, luck or prayer will do, it all came together, and rides and riders rolled out under bright sunshine with the tour's future assured in Palm Springs.
Who sweats: Exact routes are pending, but count on the mid-length rides (25 and 50 miles) gradually climbing on the return owing to the Coachella Valley's west-to-east decline. The 10-miler is a perfect ride for beginners and families. Most of the 100 miler's several thousand feet of climbing is front-loaded as cyclists traverse the northside foothills to start the ride.
Why ride: A street fair and expo, beer garden, food vendors and music turn this one-day ride into a two-day festival. If you don't plan on making a weekend of it, Palm Springs is easily accessible as an early-departure day trip.
Who benefits: Everyone. Scores of Coachella Valley charities have received a share of the $3 million the event has raised since 1999.
Fee: $15 to $70, depending on age and distance.
Solvang Century
March 10, Solvang, Calif.
The Solvang Century occupies many riders' calendars every year, lured by the charm (and pastries) of Solvang and the farm and wine aesthetic of Lompoc, Los Alamos, Los Olivos and connecting valleys. The weather is typically spot-on.
Who sweats: The Solvang ride is on the serious side of the ledger, with climbs, rolls and more climbs throughout the 51-, 70- and 100-mile routes.
Why ride: It would be too easy to call this one of the Golden State's iconic events, but it is: Ride this sucker because it is iconic.
Who benefits: Medically supervised summer camping experiences for children with severe congenital heart disorders at Camp Bon Couer, Camp del Corazon and Camp Taylor as well as the Tour de Cure American Diabetes Assn. ride
Fee: To be determined.
Get our L.A. Goes Out newsletter, with the week's best events, to help you explore and experience our city.
You may occasionally receive promotional content from the Los Angeles Times.