7 Images
Heathrow Airport
Heathrow Airport in London, Europe's busiest hub, has been a bottleneck for travelers all summer with flight delays and misplaced baggage among the biggest complaints.
Now Heathrow's Terminal 5, slated to open March 27, is supposed to alleviate some of the congestion by handling 30 million passengers a year.
A baggage claim area, shown here, in the new terminal.
(Graham Barclay / Bloomberg News)
Tony shops such as Harrods, shown here, Paul Smith, Tiffany and Prada are some of the retail names slated to appear at Terminal 5.
If you like the décor, pictures or the sofa in Paul Smith's designer-clothes store, you can buy an item and have it shipped home. Harrods will feature clothes and accessories rather than tourist goods.
(Graham Barclay / Bloomberg News)
Designed by Richard Rogers, the British architect known for the glass-and-steel structure of the Pompidou Centre in Paris, Terminal 5 is big and bright. Everything is visible, including infrastructure within the ceiling and massive tubular steel pillars that stretch up to support the glass-vaulted roof.
(Graham Barclay / Bloomberg News)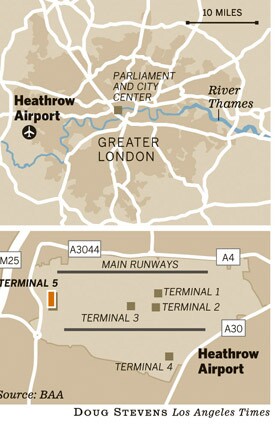 What will happen to the rest of Heathrow once Terminal 5 comes on line? "Over the next 18 months or so, we plan to knock down Terminal 2 [the crowded hub of European flights], which no one will miss," said Ben Morton, spokesman for BAA, which runs the airport. "Eventually we envision a new terminal, Heathrow East, mainly for European airlines."
Terminals 1, 3 and 4 will remain. For now, European airlines are concentrating on negotiations with BAA to move out of Terminal 2.
(Doug Stevens / Los Angeles Times)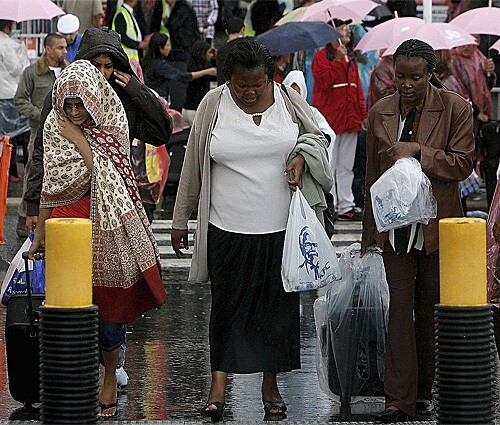 Heathrow's woes worsened in August 2006 when tougher anti-terrorist restrictions went into effect. This summer, passengers on British Airways, which uses Terminals 1 and 4, were frustrated with lost and mishandled luggage.
British Airways has a mishandled-luggage rate that is twice that of the worst U.S. carrier, and the airline is on track to mishandle more than 1 million pieces of luggage this year.
(Daniel Berehulak, Getty Images)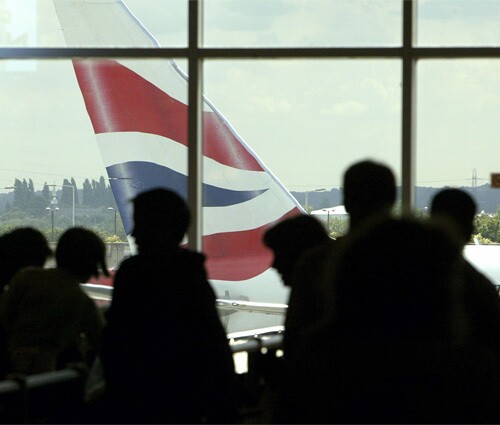 Aside from the advent of Terminal 5 opening, there's another piece of good news for travelers: Britain's strict luggage rules, which limit fliers to one carry-on item, may soon be loosened.
The rules, imposed in 2006 after a foiled terrorist plot, have contributed to a surge in checked bags that has often overwhelmed Heathrow's facilities. BAA is negotiating with the government to allow two pieces of hand luggage to be taken on board, spokesmen said.
(Shaun Curry, AFP/Getty Images)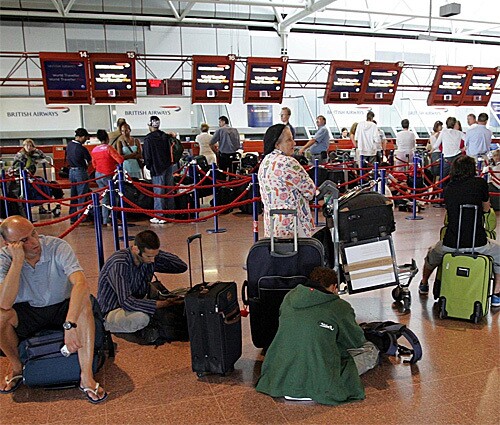 With the launch of Terminal 5, the Open Skies agreement takes effect. The agreement loosens restrictions on flights between the U.S. and the European Union.
The much-coveted routes between Heathrow and the U.S. have been dominated by a handful of carriers. Now, other airlines will get a shot too.
(Tim Ockenden, Associated Press)