Looking for budget fall color trips? California will have you turning over a new leaf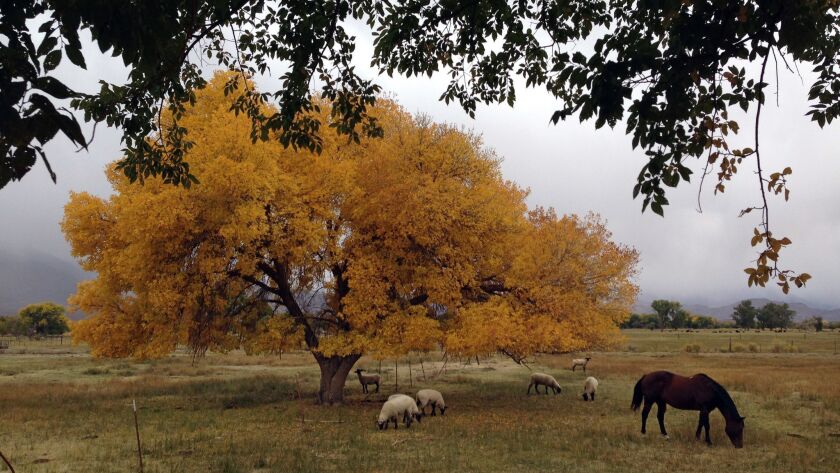 Something magical happens in autumn to leaves on deciduous trees and shrubs. They change color. Even in California. Or, as the tagline of CaliforniaFallColor.com says, "Dude, autumn happens here, too."
That means you can skip the flight and the precious but pricey inn in New England and save money by leaf peeping in the Golden State.
"Fall season overall is a good value proposition in California, which makes it a bit more affordable than the Northeast," said Gabe Saglie, senior editor for Travelzoo, a travel deal website.
California's changes in elevation, from sea level to more than 14,000 feet, give it one of the longest fall color seasons in North America, said John Poimiroo, founder of CaliforniaFallColor.com. His site tells travelers when to go and explains why deciduous trees drop their leaves and more. His recent post on wildfires confirmed what experts told me: The peak viewing season should be about the same as last year: late September to mid-October.
With help from Saglie, Poimiroo and TripAdvisor, here are three fall destinations that can color your world. (Prices quoted may no longer be available, especially for hotels at which demand governs cost.)
Bishop, Inyo County
Bishop sits at 4,190 feet on the northern end of the Owens Valley, sandwiched between the Sierra and the White Mountains. Its colorful trees include aspen, cottonwood and willow.
Recommended views: Travel journalist Lee Foster, whose website contains an Eastern Sierra leaf guide (lat.ms/sierraleafguide), recommends the drive on U.S. 395 to Bishop and likes views for aspen at the Bishop Creek watershed and the land surrounding North Lake, Lake Sabrina and South Lake.
When to go: Late September to mid-October
Lodging tips: The average Bishop hotel room rate was about $155 a night from mid-September to mid-October, a recent check showed. Best deals will be found at midweek. Bishop's Creekside Inn (which TripAdvisor rates first of 31 lodgings) was showing a rate of $145 a night for a midweek stay in early October.
Info: Bishop Visitor Center, 690 N. Main Street, Bishop; (760) 873-8405, bishopvisitor.com. Call for color updates.
Mammoth Lakes, Mono County
The town of Mammoth Lakes sits at 7,953 feet; the top of Mammoth Mountain is 11,053 feet. This resort area, which includes June Lake, offers more lodging options than Bishop. Trees that put on a show here include aspen, cottonwood, mountain alder and willow.
Recommended views: June Lake Loop, Convict Lake, Lundy Canyon, Rock Creek, Sherwin Summit, Virginia Lakes, Lee Vining and the panoramic Conway Summit north of Lee Vining and Lower Rock Creek to Upper Rock Creek.
When to go: Last week in September to mid-October
Lodging tips: Mammoth's average hotel rate was $160 a night between mid-September and mid-October, Travelzoo said. Among properties Travelzoo suggested: Sierra Nevada Resort & Spa (No. 7 of 31 listings) and Tamarack Lodge (2 out of 31). Nightly rates for that time at these properties averaged $149-$175, excluding taxes. Rates at Village Lodge Mammoth (No. 3 out of 31) and Westin Monarche Resort, Mammoth (6 of 31) averaged $169-$199 a night, excluding taxes, for prime fall color time.
Yosemite National Park, Mariposa County
The Ferguson fire, which began July 13 in the Sierra National Forest, grew to more than 96,000 acres and shut down Yosemite National Park during what should have been the park's summer peak.
The fire is now 100% contained, although visitors may see smoke and some spots that are still smoldering.
"Travel is the first opportunity to help these areas recover," Saglie said. Besides giving the area a financial shot in the arm, going there lets you see plenty of autumn. Colorful trees and plants include aspen, dogwood, non-native sugar maple, big leaf maple, black oak, white alder, cottonwood and poison oak.
Recommended views: The National Park Service devotes a page to where to see Yosemite's fall colors. Top spots include Yosemite Valley, Glacier Point, Wawona and Tuolumne Meadows.
When to go: Mid- to late October.
Lodging tips: Reservations for campgrounds are handled through recreation.gov. A check showed availability for some camp sites for mid-week in October, starting at $26 a night.
If you're looking for four walls and a bed, Saglie recommended Tenaya Lodge, which is about two miles from the park's south entrance. The lowest rate I found on a Trip Advisor search for a one-night stay in early October was $245, excluding taxes. Rush Creek Lodge in Groveland offers up to 20% off a stay until Nov. 15. The best rate I found was $275 on Oct. 14 for a one-night stay in a king room/mini-suite. Yosemite Westgate Lodge, also in Groveland, offered a pre-tax rate for Oct. 14 for $159.
Info: Yosemite National Park and Yosemite and Mariposa County
---
Get inspired to get away.
Explore California, the West and beyond with the weekly Escapes newsletter.
You may occasionally receive promotional content from the Los Angeles Times.